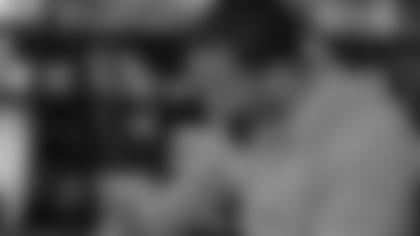 ](http://www.giants.com/media-vault/photo-gallery/Giants-sign-DT-Cullen-Jenkins/415fb5fe-b98e-48b7-bbc4-56e32e7145e8)
PHOTO GALLERY: JENKINS SIGNS
Twenty-four hours before the start of the NFL's free agency period, the Giants have already made a significant offseason signing by landing veteran defensive tackle Cullen Jenkins, who previously played for the Eagles and Packers.
"Much like Chris Canty before him, I thought he did his best work as a 3-4 defensive end that has some versatility," said Williamson, who was an NFL and college scout for the Cleveland Browns before joining ESPN. "You can align him at several different techniques on the defensive line, but the beauty of him and what he does best, I kind of look at him also like a John Abraham player or a [Dwight] Freeney where let's make him a little bit of a specialist and keep him fresh for the whole year, hopefully through the playoffs by not playing a high number of snaps but really specializing him as an interior pass rusher. And frankly, if I had to come up with the top 10 or 12 interior pass rushers in the league right now, Jenkins is still on that list, and those guys are hard to find."
The Giants' problems in 2012 weren't exclusive to the pass rush, however. Another major concern was stopping the run, which Williamson believes Jenkins can help solve if put in the right position.
"As a defensive tackle or a pure three-technique type guy, I think he's a liability there, but if you're playing a team that's a power running team, for example, and they're gashing you, I think he's versatile enough that he could be strong-side defensive end," Williamson continued. "And as defensive ends go for a 4-3, I think he's a very good run defender."
As far as Jenkins' resume, which includes two years in Philadelphia after seven with Green Bay, he is as familiar with divisional opponents as they are with him.
"Clearly he's going to know those offensive linemen in Philadelphia, too, that he went against in practice over and over," Williamson said. "And maybe more so, the Giants knew him. Their offensive line coaches, their head coach, their offensive coordinator, prepared to block Jenkins twice a year and found it difficult, obviously. They have input in these types of things.
"This is a strong organization. I trust the Giants, much like the Patriots, the Steelers, some of the better teams in the league, that they know what they're getting here. I don't think it's, 'Boy, I hope he's the player we hope he is.' They know who this guy is. They play against him all the time, they prepare for him, and they'll probably use him very well."