EAST RUTHERFORD, NJ - During his first day of work on Aug. 6 in his Connecticut hometown, Cliff Louis got a call. It was an unknown number from a familiar area code-201. He didn't immediately answer because he was fulfilling his duties at Enterprise Rent-A-Car. Late Friday afternoon he drove home and checked his voicemail. Still in his shirt and tie, Louis couldn't believe the voice on the other end. It was Giants assistant general manager Kevin Abrams.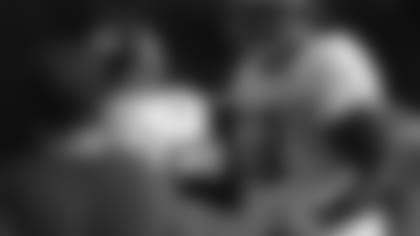 A knee injury suffered by Rueben Riley opened a spot on the Giants offensive line, and Abrams thought the 6-foot-8, 300-pounder was the man to fill it-for the third time. Louis, who had done two previous stints with the Giants, called back around 5:30 p.m., and Abrams asked if he was still in shape. Louis said "absolutely" and packed his bags.
"I just finished cleaning a bunch of cars and got the call and I was on the way," the former Morgan State offensive tackle said. "It's all God's will-not my will. I don't know. I don't know where it came from. I'm just thankful for the opportunity to help the team and to be a positive member of the New York Football Giants. It's one of the best teams around."
Driving from his hometown of Stamford, Conn. where he graduated from Westhill High School, Louis pulled into Albany around 1:30 a.m.-just in time for a 5:30 physical and that day's first practice starting at 8:30 a.m.
To know the Brooklyn-born Louis is to know perseverance.
After graduating college in 2007, Louis entered the NFL as an undrafted free agent with the Cleveland Browns before bouncing around the league (and even the United Football League) and now back to the men in blue for his third time in two years.
The first came in mid-August 2007, when he was claimed off waivers only to be released after two weeks during final cuts. After a few days with the Jacksonville Jaguars' practice squad in 2008, Louis was signed to the Giants' practice squad on Oct. 21, released on Oct. 29 and re-signed on Nov. 5, remaining on the practice squad for the remainder of the season. The Giants signed him to the roster on Jan. 12, 2009 and cut him in September. He was out of football until the Giants again reached out to him.
"I was walking around here and a couple of guys were looking like they saw a ghost," Louis said. "When you're away from it, when you're away from it for a long period of time you realize how much you love it and what you didn't do the first time. I'm really honing into the things that I didn't do the first time and trying to implement it now and just keep God first and just hopefully things work out this time."
This ghost was a slimmer ghost. A year had elapsed since his former coaches and teammates saw him, and Louis-who once weighed more than 330 pounds-shed 30 pounds while he was away from the NFL.
"When you become a regular guy and get a regular job, regular nine-to-five, you tend to not be able to eat as much and eat as well as you do when you're playing ball," said Louis, who was named to the 2006 All-MEAC second-team. "(The coaches said) 'Cliff, you're looking slim. You look like you lost some weight.' So that's pretty much what they've been saying. Other than that, I'm just working."
Knowing his competition had time and reps on their side, Louis curbed the disadvantage by remaining in shape with the help of a former world power lifter champion (and friend) in a gym in Mamaroneck, N.Y. Closing the gap even further, Louis is running sprints and doing footwork drills by himself after practice until the sun goes down.
"I'm behind the eight ball because these guys have been here since February," Louis said. "In February, I was working for Home Depot so I wasn't doing what these guys were doing right now. So I got to put in a little bit of extra work. I got to get in early and (stay) late. It will pay off. It will pay off. Hard work definitely does pay."
Besides the physical demands of the game, Louis came into camp with a new mindset. Admitting to a lack of maturity when he came into the league, the 25-year-old with a baby due at the end of the year understands it's a business on the football field.
Being signed, released and re-signed as many times as Louis has, it would be understandable to take things personally. However, Louis isn't focused on that anymore. He takes the opportunities at face value, planning for his future with or without the NFL.
"Being in the National Football League is definitely a privilege that's only afforded to a few," Louis said. "I've been afforded an opportunity a few times and I just thank God and I appreciate (general manager) Jerry Reese and all the scouts that have come and keep bringing me back. There's something about me that they like. So I'm just fortunate to have those guys keeping me there in the mix."
After three years, five different uniforms and nine contracts, Louis has never played in a regular season game. With his birthday at the end of the month, he doesn't want to jinx anything but still holds the lifelong dream making it all worth it.
"If it happens, it happens. If it doesn't, I didn't say anything about it so I can't be mad," Louis said. "I've always pictured it. You dream about it. You wish on it. You wish upon a star as a kid. Having the opportunity to go for it again, it's a blessing."
--- ](http://www.nyg2010.com/)**