MIAMI- Jeremy Shockey wants to set the record straight.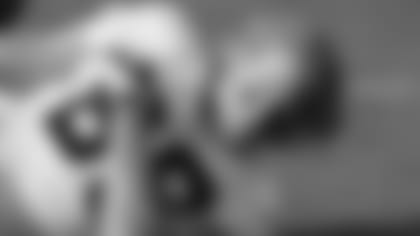 Former Giant Jeremy Shockey, now a member of the New Orleans Saints team that will face Indianapolis in Super Bowl XLIV on Sunday.


The Giants' former tight end was widely portrayed as being unhappy with the club after the Super Bowl XLII victory over New England two years ago today. Sidelined with a fractured fibula, Shockey was allegedly angry the Giants didn't fly him to Arizona and wouldn't permit him to stand on the sideline during the game, plus he chafed at the perception that the team began its late-season run only after and because of his absence.
But Shockey, now a member of the New Orleans Saints team that will face Indianapolis in Super Bowl XLIV on Sunday, said that portrayal of his thoughts and feelings is inaccurate.
"Everyone made it out to be, 'Jeremy was unhappy about his team winning, Jeremy was unhappy about the success the team was having without him,'" Shockey said during the Saints' interview session today. "And that's the complete opposite (of the truth). I was very excited for my teammates. It was much-deserved. It was just a great experience for them and it was a great experience for me just sitting there watching them and enjoying my teammates' hard work and being the underdog and actually controlling that game."
Shockey said he did fly to Arizona for the Super Bowl on his own dime, but not because the team forced him to.
"It was just a miscommunication," Shockey said. "I didn't give them an answer if I was going to come or not. And then at the last minute I said, 'You know what, it's a special thing.' I had a feeling they were going to upset the Patriots. I even told a columnist from the New York Post that the Giants were going to win. He said, 'Do you really think so?' I'm like, 'Yeah, they're going to win the game.' It was three days before the game."
Shockey was on injured reserve after breaking his leg in the season's 14th game against Washington. He underwent surgery and was placed on injured reserve. Shockey was recuperating at his mother's home in Texas when he decided to join his teammates at the Super Bowl, in large measure because he was confident the Giants would win.
"I was watching Steve Spangnuolo do a great job as defensive coordinator," Shockey said. "I just had a feeling. They were a wild card team. They beat Tampa Bay, they beat the Green Bay Packers and they wound up in the Super Bowl and I just had a gut feeling they were going to win. I'm not Nostradamus or anything. They're my team and obviously I'm going to think my team is going to win."
Shockey admitted the flight to Arizona was no joyride.
"Having a broken leg doesn't feel good," Shockey said. "Just being 6-foot-5 off the ground with crutches, and being 37,000 feet in the air with all the compression in the cabin (hurts).
"I got sandwiched in coach seats, all Patriots fans on there. I was in a middle seat. Big guy to my right, small person to my left, so I was leaning this way (left). My leg was broken. It was a painful experience getting on the plane and being up that high, but it was well worth it."
Shockey was the Giants' first-round round draft choice in 2002. He was selected to four Pro Bowls and caught 371 regular season passes, good for fourth on the franchise's career list. His 74 receptions in 2002 set Giants records for rookies and tight ends
But it was more than numbers that made him a favorite among Giants fans. Shockey was brash, emotional and cocky. He'd demonstratively signal for a first down after a big reception. His long hair and the colorful tattoos on his arm contributed to his rebel persona.
But friction developed between the Giants and Shockey in the months after the Super Bowl. When they situation became untenable, Shockey was traded to New Orleans for second and fifth-round draft choices. The Saints' head coach is Sean Payton, who was the Giants' offensive coordinator in Shockey's rookie season.
Payton was asked this week about the perception that Shockey is, well, different.
"I don't know that that's necessarily the case," Payton said. "Here's a guy that last night was floating around meetings rooms while half the team was out to dinner. He was looking at tape, getting iced. I think a little of that is mythical. It's fun to write about. He's a wiser, older player who understands that at this stage, you have to rest more and hydrate.
"I like his personality a lot. I like it. There's just something he has about him. There's a little confidence. Our receivers are kind of quiet. There won't be a lot of talking going on. But he brings a little something to the huddle that I like."
Two years after missing the opportunity to play in the Super Bowl, Shockey will suit up in the sport's biggest game and he'll do so in the city where he we was a star at the University of Miami.
"It's obviously a great a great feeling anytime that you put in a lot of hard work," Shockey said. "Your dream is always to play in a game like this and to be back in this city, where a lot of hard work got me where I am today, is very gratifying and humbling.
"I actually have a leg that's not broken, so that helps me out. I'm active, that's another thing."
The Saints are practicing this week on the Hurricanes' campus.
"(My teammates) saw the six national championships on the wall, so that speaks for itself," Shockey said. "But going being back there was something special."
Despite the common perception, so are his feelings and memories about the Giants.
"I had a great run for six years," Shockey said. "I have nothing but good things to say about the organization in New York and the city and everything. I hope the fans there understand that I wasn't forced out in New York. It was more of an option than anything. It was just my time to leave.
"There was a void there because obviously I'm a competitor and I want to play in the (Super Bowl). But I played for that team for six years. When you win a Super Bowl one year it takes building blocks. And I was part of that process and I felt great about that. I'm always proud to be a part of that team and the organization. I always consider myself an Ada Cougar (his high school team in Oklahoma), always a Miami Hurricane, always a New York Giant and always a New Orleans Saint."
*Shockey was asked about his relationship with Wellington Mara, the Giants' much-loved owner, who died in 2005.
"We had a connection," Shockey said. "He and my grandfather were about the same age and we'd always talk about little things. Just the things that he's done for that organization, for the NFL, for us as a team to be in a situation like this. He did a lot for this league and I don't think a lot of people realize what he did for the NFL."
*Shockey on the difference between playing with quarterbacks Drew Brees and Eli Manning:
"Eli was the man, the rookie thrown in there (in 2004)," Shockey said. "Kurt Warner was our quarterback. If my mind serves me correctly, we were 4-2 (it doesn't, they were 5-4). And then Eli comes in and we lose a couple of games. Not that it was his fault or anything like that, we just didn't play well and didn't execute. But, having a polished quarterback as Drew Brees, being in the league a long time, it's a lot easier.
"With Eli, we all knew he was going to be a special player, it was just hard to do as a rookie in that position, to come in and to really make a huge impact. I'm glad to see him doing really well now. It's always a pleasure seeing him play and growing up as a player and really leading his team."
If you'd like to submit a question or comment to Michael, click here.