James Bettcher, previously with the Arizona Cardinals, will be Pat Shurmur's defensive coordinator: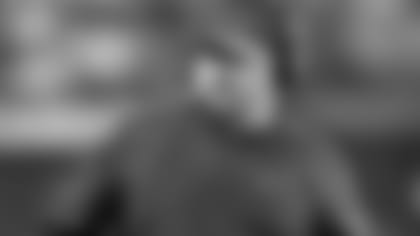 One of the first and most important things a head coach will do after he is hired is fill out his coaching staff. On Friday, at his introductory press conference, new Giants head coach Pat Shurmur announced James Bettcher will be his defensive coordinator.

"I've known James for a while, and I think he's a rising star in the profession," Shurmur said. "They've played outstanding defense in Arizona for a very long time. He's a little bit multiple in his scheme, which I think is good. Everybody I've talked to (says) he inspires the player and has a great presence. We're really, really fortunate to have him be with us."
"(They were) very hard to score against. They find a way to put pressure on the quarterback," Shurmur continued. "They do a good job in their coverage schemes and they've been good at stopping the run. He's had a top six defense the last three years and, for whatever reason with the teams I've been on, I've crossed over against him."
Bettcher was defensive coordinator for the Cardinals the past three seasons. Last year, they allowed the sixth fewest yards in the league, giving up just under 311 yards per game. They ranked second in yards allowed in 2016 and fifth in 2015.
No team sacked the quarterback more than the Cardinals did in 2016, when they had 48. Last season, they had 37, ranking 17th in the league.
The Cardinals were in the top ten in rush defense the last three seasons, never allowing more than 95 yards on the ground per game.
Bettcher's base defense in Arizona was the 3-4, a shift from the 4-3 the Giants have played in recent years.
"I think that's talked about often," Shurmur said. "Three-man front, five on the line, four-man front. I think all defenses play a version of that throughout the game. Even teams that play five on the line, they're nickel 60 percent of the time, so it's a four-man front. The ability to be multiple, in my opinion, as long as you can still remain fundamental, is something that's hard on the offense and I've faced that throughout the years."
Bettcher was the linebackers coach for the Cardinals in 2013 and 2014 before being promoted to defensive coordinator. Prior to that, he was the outside linebackers coach for the Indianapolis Colts in 2012.
Bettcher's career began in the college ranks. His first job was as special teams coordinator and defensive line coach from 2004 to 2005 at his alma mater, St. Francis, in Indiana. He then spent one year as a graduate assistant at Bowling Green before being a graduate assistant and defensive assistant for three years at North Carolina from 2007-2009.
In 2010, he was the special teams coordinator and defensive ends coach at Ball State before coaching linebackers and special teams at New Hampshire in 2011.
A Lakeville, Indiana, native, Bettcher will turn 40 years old on May 27.