EAST RUTHERFORD, NJ - Terrell Thomas and Steve Smith wonder if they would be in the NFL today if they hadn't played college football at USC. And if they would have enrolled elsewhere had Pete Carroll not been the Trojans' head coach when they graduated high school.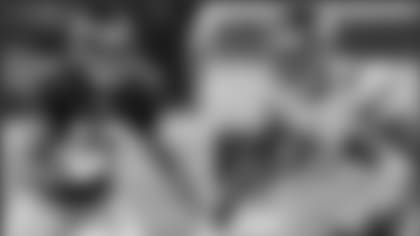 This Sunday, Thomas and Smith will oppose the man they largely credit with launching their careers when the Giants travel to Seattle to play the Seahawks, whose first-year head coach is Pete Carroll.
"He was the reason why I went to USC," said Thomas, a cornerback who is in his third Giants season. "When I first was getting recruited, I didn't want to go to USC. And he came to my house and it was just a warm welcome I felt by him and coach (Steve) Sarkisian, who's with the Washington Huskies right now. It was the best choice I made in my life. It got me to the NFL, and I owe it all to him."
"I never liked S.C. before he got there," said Smith, a fourth-year wide receiver who was a Pro Bowler in 2009. "They stunk when I was a sophomore in high school. Then my junior, senior years they started getting really good. He gave me the opportunity in college."
Carroll was USC's head coach from 2001-09. Smith played for him from 2003-06 and caught 190 passes and scored 22 touchdowns. In those four seasons, USC was 48-4. The Giants selected him on the second round of the 2007 NFL Draft. Thomas was a year behind Smith, playing at USC from 2004-07. He had 109 tackles and eight interceptions and played on teams that were a combined 47-5. Both players were on the USC teams that won the 2004 BCS national championship game and lost the 2005 title game.
"Those are terrific kids," Carroll said of Smith and Thomas. "They were great performers in our program for years. Both of those guys did everything that you would hope a college kid could do – they were terrific in school, they did a great job on the field for us in representing us and they're doing a great job representing in the league as well.
"I like their families, too. After all the years we were together and the tremendous amount of fun times and success we had, we'll always have a connection and those guys were really centerpiece guys in our program on both sides of the ball – they both had big impacts. The fun thing – those were good guys to deal with, too, they were fun to coach and to compete with."
Carroll, who had previous head coaching stints with the Jets and New England Patriots, has long had a reputation as an upbeat, rah-rah, let's-have-fun type of coach. Thomas and Smith said it was enjoyable playing for him.
"I had a lot of fun," Smith said. "He was just about energy, about working hard, about the ball, stuff like that. He also put us in great position to win games. You can be rah-rah all you want, but if you're not in position to win, then it doesn't matter."
"I think it helps it because what he allows us to do is be ourselves," Thomas said of Carroll's coaching style. "He allows us to have fun as long as we work, and he turned work at college into fun. We went out every day, 'Competition Tuesday' and 'No Turnover Thursday' and so on down the list, and it was fun for us to compete against each other. We had highlights and if you made a bad play or you got run over and it was shown in front of the whole team. So he made practice fun so that we all competed against each other, and we became a family in that way."
But that doesn't mean Carroll was soft on his players.
"Oh, he'll rip your (butt)," Smith said. "He'll get in your (butt) if you make a mistake several times or something."
Carroll has seemingly tried to turn the Seahawks into USC North. He had had eight former Trojans with him in training camp. Three of them are on the current roster: tight end Anthony McCoy, who has been inactive for every game this season; three-time Pro Bowl linebacker Lofa Tatupu, who preceded Carroll to Seattle; and wide receiver Mike Williams, a former first-round draft choice of the Detroit Lions who was out of football for two years before Carroll resurrected his career. Another former Trojan, CB Josh Pinkard, is on the reserve/non-football injury list.
Williams leads the Seahawks with 33 catches, 13 more than anyone else on the team. His comeback surprises even those who knew him at SC.
"It shocked me because I thought he was done," Smith said. "It seemed like he had a lot of opportunities and it just wasn't panning out. So it's good to see him get back."
To the former Trojans, it makes perfect sense that Williams would give his career one last shot under Carroll.
"He is a fun coach to play for and I am excited to go up against him and show him why he recruited me," Smith said. "I feel like he had unfinished business there (in the NFL) and he had peaked out in college."
Because his USC teams were so successful, Carroll was frequently mentioned as a candidate for NFL jobs before he finally joined the Seahawks. Whenever Carroll's name was in the rumor mill, questions arose whether his style of coaching would transfer successfully to the pros. Thomas and Smith believe it can.
"Guys are professionals here and they're older, but I think you still have to get guys motivated and he's a great one for that," Smith said.
"I think it all depends on the players," Thomas said. "If he gets a young group with the right veteran leaders that can orchestrate his message that he's trying to get to the team to be free, be relaxed, but when it's time to work, it's time to be disciplined. He's a great coach. He's sound in all his philosophies, and if you believe in him, they work."
The players suggested that because so much attention is placed on how he coaches, Carroll's strategic skill is overlooked. But Thomas and Smith said he can X and O with the best of them.
"All the techniques that we use here, I already knew from college," Thomas said. "I had great position coaches and Coach Carroll would always come over and help us out "
"He's a good defensive coach and he has good strategies," Smith said. "But that energy part of him is what people know him for."
Although they agree on their respect and admiration for Carroll, Thomas and Smith are split on whether they will seek him out for a pregame conversation.
"I might (approach him prior to the game)," Smith said. "If not, I'll see him after the game. And if he's too busy, I'll tweet him or something and say hey after the game."
"I'm going to shoot some stuff to him," Thomas said. "Hopefully, I make a good play in front of him. That's your old coach. You never forget that. So it's going to be fun to play against all those guys."
*The Seahawks announced that quarterback Matt Hasselbeck will not play Sunday against the Giants. Hasselbeck suffered a concussion in a 33-3 loss in Oakland last Sunday and reportedly did not pass a baseline test required of all players who suffer that injury. Backup Charlie Whitehurst, who has never thrown an NFL regular season pass, will start for Hasselbeck. Rookie Zac Robinson will be signed off the practice squad as a backup.
Whitehurst was acquired in a March 18 trade with the San Diego Chargers. He did, however, run for a 14-yard touchdown with the Chargers in 2006. In the preseason, Whitehurst completed 46 of 90 passes for 635 yards, four touchdowns and four interceptions.
*Osi Umenyiora today was named the NFC Defensive Player of the Month.
In four games last month – all Giants victories – Umenyiora had 18 tackles (10 solo), including 7.0 sacks and six forced fumbles. Umenyiora had three consecutive multiple-sack games in October: he had 3.0 sacks vs. Chicago, 2.0 at Houston and 2.0 vs. Detroit. Prior to that stretch, the two-time Pro Bowler had never had multiple sacks in back-to-back games. He also forced two fumbles in each of those three games.
"It is well earned," Coach Tom Coughlin said. "He has played very well.  He has played well against the pass, against the run.  He has been great from an attitude standpoint; outstanding with his teammates. He has enjoyed playing. He is having a lot of fun doing that. And I think that has been a real encouragement to his fellow teammates. He enjoys the success of others. He has played very well and he is very deserving of this honor."
Defensive coordinator Perry Fewell said, "I think that the guy has put his hard hat on and just came to practice mentally fit, he's been physically fit and he's just showing the talent that he has as a football player and I'm loving it."
Umenyiora, who is tied for second in the NFL with 8.0 sacks and he leads the league with seven forced fumbles, was quick to credit others.
"It's a team thing," Umenyiora said. "It's a defensive team award and I don't think I did anything special. I think the DBs did a very good job of covering, and everyone else did a really good job of playing the run. I was just in the position to make those plays. The coaches and the other players put me there, so thanks to them.
"Personally, things just happen sometimes. Sometimes they happen and sometimes they don't. Fortunately, things were able to happen. I give all the credit to the defensive players and the coaches. Personally, I don't think I did anything special."
Umenyiora is the first Giant to win a Player of the Month award since November 2008, when Eli Manning was honored as the NFC Offensive Player of the Month.
He is the first Giants defender to receive the award in nine years. Defensive end Michael Strahan, a close friend and mentor to Umenyiora, was named in October 2001, the year he set the NFL single-season sack record with 22.5
Since the Player of the Month awards were instituted in 1986, a Giants defensive player has been honored six times: Hall of Famer Lawrence Taylor in October 1986 and September 1989, cornerback Jason Sehorn in December 1997, linebacker Jessie Armstead in October 1999, Strahan and now Umenyiora.
*The reunion between Smith and Thomas and Carroll won't be the only one in Qwest Field on Sunday. Seattle's starting running back is Marshawn Lynch, who was obtained in an Oct. 5 trade with Buffalo – where Fewell was the interim coach last season.
"Oh, he's a hard runner," Fewell said. "I'll tell you, you better go and smack him in the mouth because he's tough, he knows how to break tackles, he's a bounce runner, he's a slasher, he'll cut the ball back on you, he has good vision – you better respect him or he'll make you gain respect. So we better bring our best game to play against him."
*Fullback Madison Hedgecock (hamstring) and defensive end Dave Tollefson (illness) did not practice today, joining center Shaun O'Hara (foot) and tackle Will Beatty (foot surgery) on the sideline. Umenyiora was limited because of his sore knee. Tackle Kareem McKenzie returned to practice after sitting out yesterday due to illness.
Coughlin said Hedgecock, who practiced on a limited basis yesterday, suffered a setback.
"He said it is not as bad as the first time," Coughlin said. "But he did have a problem. He caught a ball in the flat – went to turn and felt it and that was it."