Football is known as a game of inches. Life can be like that, too.
Damon Harrison was moments away from a future in stocking shelves instead of stuffing running backs until Steven Miller, upon becoming a coach at William Penn University in Oskaloosa, Iowa, got ahold of him before a manager at Wal-Mart could. Miller previously coached Harrison at Northwest Mississippi Community College, where both learned quickly that he wasn't ready to be a college athlete. Harrison had signed his release form and returned home to Louisiana, where he was working the overnight shift.
Then Harrison's mother, Brunella, received a phone call. It was Miller, offering a scholarship to her son.
"What's funny is Wal-Mart called a couple minutes later and offered me the full-time position there," Harrison said. "And had Wal-Mart called me first, I'd have taken the job at Wal-Mart."
Running backs everywhere shuddered. It was another hurdle cleared by the defensive tackle who never played organized sports until high school.
"Growing up in Louisiana, it was tough. I never played organized sports. I always played around the neighborhood, in the projects, that I grew up in, and we would travel to other neighborhoods with our football team and our basketball team and just compete against each other," said Harrison, putting "team" in air quotes. "But there weren't too many people where I came from playing organized sports."
That changed when it came time for high school. Harrison made the junior varsity basketball team as a ninth grader, excelling as a shooting guard before growing into the 6-foot-4, 350-pound frame that supports him today.
However, Harrison would have to make a tough decision. His parents couldn't afford to take him back and forth from practice after school, which was 3.5 miles from home.
"Eventually I had to quit," Harrison said, "because I was walking home from school after basketball practice because I was too proud to ask anybody for a ride home."
Eventually, the family moved to Lake Charles, more than 200 miles west of New Orleans and near the eastern border of Texas. He enrolled at the Boston Academy of Learning, which was close enough for him to walk to as his athletic career took off.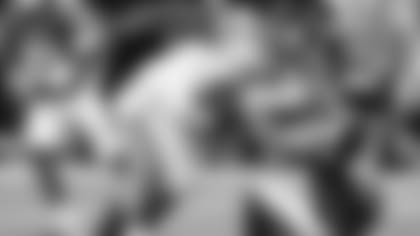 Damon Harrison runs over Minnesota Vikings fullback Zach Line.
While still playing basketball, football paved Harrison's way.
He was named the team's Offensive and Defensive MVP as well as the Offensive Lineman of the Year while picking up first-team All-Southwest Louisiana honors. Yet, he wasn't recruited. But no one tells Harrison what he can or cannot do. So he sent emails to coaches asking for an opportunity and promising to prove himself worthy of a scholarship.
One coach responded. It was Miller.
And so Harrison was on his way to Northwest Mississippi Community College and then to William Penn, where he started all 44 games that he played. Harrison concluded his career with 224 tackles, six sacks, four forced fumbles, three fumble recoveries, and four passes defensed. When draft time came around, Harrison was told he had grades as high as the fourth round and as low as a tryout player.
"So the third day [of the draft], I was expecting a call, and I didn't get the call," Harrison said. "I was in constant contact with some teams throughout the sixth and the seventh round. When the call didn't come, life just kind of hit me, and I was just wondering what I'm going to do now."
I don't allow anyone to put limitations on my life. I don't like anybody to tell me what I can or what I can't do.
The only call he received was from his agent explaining the process of moving ahead as an undrafted free agent. His best opportunity was at with the Jets, where he was told the first two years would be spent on the practice squad and the third he'll be fighting for a roster spot.
"There's one thing about me, anybody who knows me, I don't allow anyone to put limitations on my life," Harrison said. "I don't like anybody to tell me what I can or what I can't do. That really, really bothers me. So that was one of my things that I used as motivation."
He made the 53-man roster in Year 1. He was a full-time starter by Year 2.
From 2013 to 2015, Harrison started all 48 games as the Jets finished No. 3, No. 5 and No. 2 in run defense. It then came time to cash in.
With a new head coach in Ben McAdoo, the Giants headlined free agency this offseason by bringing in Harrison, defensive end Olivier Vernon, and cornerback Janoris Jenkins – three of the top players on the market at their positions.
"It was hard. I didn't want to leave, to be honest with you," Harrison said. "It was a very emotional decision, and it just took a while to – I won't say let that go – but just accept that that's no longer a part of my current life."
From green to blue, a new fanbase was introduced to the man nicknamed "Snacks." Meanwhile, Harrison leaned on fellow defensive tackle Johnathan Hankins to ease the transition.
"Big Hankins is my guy, man," Harrison said of the Giants' second-round pick in 2013. "I would say that was the first person I reached out to from the Giants organization on the player side. Because we're big guys, we can relate to each other a lot."
Brick by brick, the 670-pound wall on the interior of the defensive line was laid.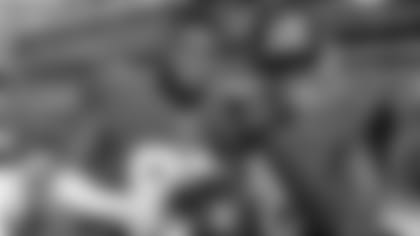 Linemates Johnathan Hankins and Damon Harrison pal around during pregame this season.
Harrison and Hankins have grown to be close friends, whether they're eating dinner or eating running backs. Harrison, four years the elder, is on Hankins every single day, pushing him to be better because the better he is, the better the line is, and the better the team will be.
"He gave me permission to do it," Harrison said. "I think now he's regretting it. But it's all in good faith and all in good fun."
That's what it is all about as Harrison helps the Giants achieve the ultimate goal.
He, like fellow newcomers Vernon and Jenkins, has never played in a postseason game, let alone the Super Bowl. The thought doesn't escape them as they are surrounded by visual reminders of the Giants' history, beginning with the four Lombardi Trophies greeting them at the entrance of the Quest Diagnostics Training Center.
"I love that every time I go to work I get to see everybody that's done so much for the Giants franchise," Harrison said. "From Lawrence Taylor, to see all the former owners, the Pro Football Hall of Famers that they have, I get to see all of the newspapers on the wall from when the Giants were doing some great things from way back in the day to Eli Manning and the two past Super Bowls.
"So just the history, it's chilling. And you get to see the four Super Bowl trophies, too. Everyday. To see that, that's everybody's goal. You started playing this game to win a Super Bowl."