EAST RUTHERFORD, N.J. –** In one sense, this week Spencer Paysinger is no different than millions of other Americans. He hopes to take lessons he learned in college and apply them to his professional life.
---
RELATED NEWS
Papa's Perspectice
The Giants will need resilience and the support of their fans...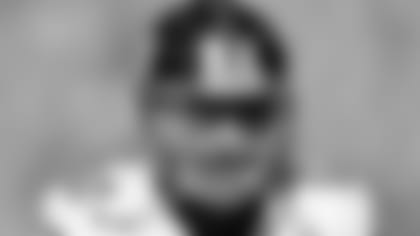 Know Your Opponent: Eagles Roster Paysinger was a three-year starter at weakside linebacker at the University of Oregon. For four years, he practiced against Chip Kelly's offense, which operates at a high speed and is capable of scoring points in bunches. Paysinger was a redshirt freshman when Kelly was named the Ducks' offensive coordinator in 2007. Two years later, Kelly was named head coach.
Now Kelly is the first-year head coach of the Philadelphia Eagles, who will visit MetLife Stadium Sunday for an NFC East clash. Paysinger and his mates will try to slow down an attack that is second in the league in total yards (458.8 yards per game) and first in yards per play (6.9), rushing yards per game (198.3) and per carry (6.1). The Eagles are the first team in NFL history with more than 1,000 passing yards and 750 rushing yards in the first four games of a season. Their 18 scoring drives (11 touchdowns and seven field goals) have averaged just 2:19, the quickest pace in the NFL.
Despite those gaudy numbers, Kelly's offense hasn't overwhelmed the NFL. Since jumping out to a 33-7 lead in their season-opening victory at Washington, the Eagles have been outscored, 131-66. And Philadelphia is 1-3.
But the offense is certainly capable of putting up big numbers. Paysinger is eager to face it.
"When I saw that he was going to the Eagles it kind of took me back to, okay, we used to play against it in practice all of those years and now I'm about to play against it as a professional," Paysinger said. "I was kind of excited to see if I still knew the Oregon motions and shifts and adjustments and stuff. I'll be interested to see, once I'm on the field, if I hear any calls or stuff that kind of bring back some memories."
Of course, it's not just the scheme that makes Philadelphia's offense so dangerous. The Eagles have several outstanding players capable of turning every snap into a touchdown, including quarterback Michael Vick, running back LeSean McCoy and wide receivers DeSean Jackson and Jason Avant. McCoy leads the NFL with 468 rushing yards and is averaging 6.0 yards a carry. That latter figure looks great except when compared to Vick's 8.8-yard average.
"Vick is obviously an excellent player," defensive coordinator Perry Fewell said. "McCoy is an extremely good player and then you've got Jackson, who's a really good player, and Avant. Those skill levels are really good, so when you add that with the things that you're doing now, it's an offense that can move the football all over the field."
The Giants' task becomes harder if the three cornerbacks – Corey Webster, Aaron Ross and Jayron Hosley - and starting defensive tackles – Linval Joseph and former Eagle Cullen Jenkins – do not play. All of them missed practice today.
"We have a plan as far as what we'd like to do and how we'd like to do it going into the game, but they've done a good job in practice this week," Fewell said. "Even though we have some missing parts, they've done a really nice job. That's not a big, big deal for me right now because if we continue to stick together and execute the plan that we have, then I think we can carry it out."
Kelly was named the successor to Andy Reid as the Eagles' head coach on Jan. 13, which is roughly when Fewell began studying his offense.
"(I started) when the Eagles hired him," Fewell said. "There's no doubt about that. It was something that was new coming into the National Football League and so obviously you wanted to go and prepare for something that was new and challenging coming into the league.
"We've watched a lot of tape on the Ducks over the last…not only their 2012 season, but '11, '10. There are some things that are similar. He hasn't put his whole offense in yet, we feel like. There are things out there that haven't been tested, but there are similarities."
The Eagles run a rapid no-huddle attack in which they attempt to run a lot of plays in a short amount of time. Because it is so fast-paced, defenses have difficulty substituting.
"I think the biggest challenge is confusion - and chaos," defensive end Justin Tuck said. "They go fast, there is no doubt about that. But I think defenses - you've got to simplify things and they know that. But you do have to simplify it. I think the teams that have been at the line of scrimmage ready to go when they're ready to go have better success against them. When you're looking to the sideline for the call or you're trying to get lined up and you're scrambling, that's when you see them hit huge plays. One thing you have to pride yourself in against them, they're going to get yards, you have to play great defense and hopefully keep them from getting touchdowns. Give up the field goals and things like that because in-between the 20s they're going to make plays. There's so much talent over there that they're going to make plays. You have to bull up in the red zone and hopefully get them to kick field goals."
"At the end of the day they're still going to make big plays," said cornerback Terrell Thomas. "That's the type of offense they have, they're going to catch you off balance, but it's just continuing to line up and continuing to do your job. In the end, the defense will win. The stats show that against them. Unfortunately, they haven't been successful in the red zone so all the big plays come up short. If anything, if they do get the big play, we just want to tackle them and line back up and give ourselves another chance."
The Giants began working in training camp on matching the Eagles' tempo and have focused on that in practice this week.
"We've been practicing what we will see in the game, on the clock, the whole deal," coach Tom Coughlin said.
Like Paysinger, the Giants on Sunday will finally test all of that preparation in a game.