DALLAS - The last line of defense for both teams in Super Bowl XLV first put down professional roots in East Rutherford.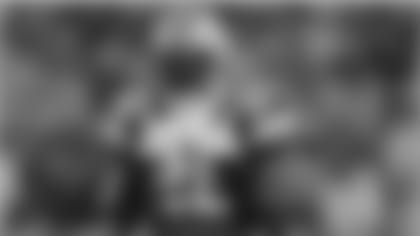 Free safety Ryan Clark of the Pittsburgh Steelers and strong safety Charlie Peprah of the Green Bay Packers each wore a Giants uniform upon entering the NFL. Clark was signed as a free agent in 2002 from LSU and spent two seasons with the team. Peprah was a fifth-round draft choice from Alabama in 2006. He was released in the final roster cutdown and never played a regular season game for the Giants.
This season, Clark started all 18 regular season and postseason games for the AFC champion Steelers. Peprah started 13 games for Green Bay.
Both young men are engaging and outgoing and each speaks fondly of his brief tenure with the Giants.
"I'm forever grateful to that organization for giving me an opportunity," Clark said. "As an undrafted free agent, I didn't have a lot of teams that would give me a chance to try to come in and compete. And they did that. Without them, I don't get that start. I made the team and was later put on the practice squad. But the next year I played a lot of football before being cut. But I understand those steps and the things they allowed me to do and allowed me to learn there helped me a great deal to get to this point."
As a rookie, Clark played in the first six games before spending the rest of the season on the practice squad. The following season, he played in all 16 games with four starts and had 23 tackles on defense and five on special teams. The Giants chose not to retain him and Clark played two seasons for the Washington Redskins before signing with Pittsburgh in 2006. He now has an opportunity to win his second Super Bowl in three seasons.
Clark showed some promise as a young player with the Giants, but not the ability he has displayed as a veteran. His improvement is due at least in part to maturing physically.
"One thing about Ryan, he is very smart," said Michael Strahan, who, of course, was the Giants' defensive star in Ryan's two seasons with the team. "Physically, he wasn't as big as he is now. I see him and he's all jacked up and he's hitting people. He would do that, but you would look at him compared to the other guys we had at the time and say he's the runt of the litter. But Ryan was always the brightest guy out there, extremely smart. He made sure he was where he needed to be and knew where everyone else was supposed to be. When he was with the Giants, the one thing he was known for was being a very smart football player."
Strahan has maintained a relationship with Ryan, as he has with many of his former Giants teammates.
"I saw him last week in Pittsburgh and I text back and forth with him just about every week," Strahan said. "I'm proud of him, because this is a guy they literally told, 'You know, son, you're good, you're a good guy, you're smart, but you're not cut out to play on this level.' Now he's in year (nine) and he's in his second Super Bowl. I'm envious that he has a chance to win a second one. If he wins one, I'll really be mad, because he'll have one more ring than me."
Clark is close with Giants cornerback Corey Webster, a fellow LSU alum.
"Corey's an extremely good athlete, but mostly a great person," Clark said. "I saw him over the summer at LSU. We were working out together. We keep up with each other. We talk after good plays and good games. Those are guys you don't root against. You want to be around when those guys have great things happen for them."
Peprah is another young man who manages to find a positive in almost every experience. Take his stint with the Giants. It didn't last long enough for him to see the leaves change color in New Jersey, but he believes he grew as a player in that short time span.
"I have great respect for the organization," Peprah said. "I like the whole staff. I didn't take it personal (when he was waived). I know how the business goes. Every time I see those guys, it's cool."
Peprah still considers the day he was drafted one of the most significant in his life. He was at his family's home in nearby Plano, about 25 miles north of Dallas.
"I remember getting a phone call from Tom Coughlin – actually, I missed the first call," Peprah said. "I got a voice mail that said, 'Charlie, pick up, we're trying to draft you.' I went outside to get some service and they said, 'How do you feel about becoming a New York Giant?' I said, 'Great.' They said, 'We're going to take you with this next pick.'
"The funny thing about it was, when they televised the draft and they cut to commercial, sometimes the ticker would still be rolling. But sometimes they'd cut to commercial and everything would wipe out. It just so happened when they drafted me, the ticker said, "Giants next selection, Charlie Peprah' flashed for maybe 1.3 seconds. And then the ticker at the bottom disappeared. So I missed my name getting announced. But I remember it was an exciting day. It was one of those days you feel all the hard work that you put in paid off. But then you later realize that it's just the beginning. But it was a special day, because you accomplished one of your goals that you set as a kid."
Peprah impressed the coaches at times in training camp and during the preseason games. He had an interception and 19-yard return in a victory over the Jets. But the Giants waived him in the final cut.
"It's disheartening, but it's not like they said, 'This guy sucks, get him out of here, we hate this guy,'" Peprah said. "I know what it is. There are no hard feelings. I think I did well enough in the preseason to make the team. But for whatever reason, they decided to go with James Butler at the time. They tried to put me on the practice squad, but that didn't work out, because Green Bay claimed me off waivers the next day. And here I am."
The Giants almost had a second chance to get Peprah in 2009. He hurt his knee in a training camp practice and was waived with an injury settlement on Sept. 10. When Kenny Phillips went on injured reserve two weeks later, the Giants spoke to Peprah about filling the vacancy in the back of their defense.
"When I got hurt they tried to pick me up again, but I wasn't healthy yet," Peprah said. "So they signed Aaron Rouse (another former Packer) instead. Everything happens for a reason. God's plan is perfect. He put me in this position."
Peprah played two games for the Atlanta Falcons in 2009. He didn't receive a qualifying offer from the Falcons and re-signed with the Packers last April 26.
Now he will play the Super Bowl just a 30-minute drive from where he used to star at Plano High School.
"Words can't even describe it," Peprah said. "It's a blessing and it's overwhelming. I've tried to keep my composure throughout the week. There's nothing like the hype surrounding the Super Bowl, let alone in your hometown in front of your friends and family. It's definitely special."