East Rutherford, NJ - Michael Strahan has been named to the NFL's All-Decade team for the 2000s.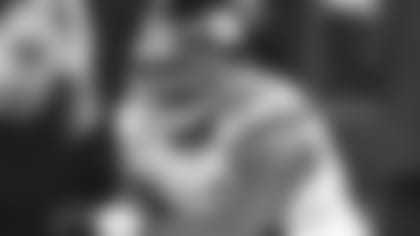 Former Giants DE Michael Strahan has been named to the NFL's All-Decade team for the 2000s.


Strahan, one of the greatest players in Giants history, retired after the Giants won Super Bowl XLII after 15 seasons with the team. He is the franchise leader in games played (216) and sacks (141.5).
Strahan was the only Giant named to the team. He is one of four defensive ends on the All-Decade team, joining Indianapolis' Dwight Freeney, Carolina's Julius Peppers and Miami's Jason Taylor. Of those four, only Strahan did not play in 2009.
The NFL All-Decade teams are chosen every 10 years by the Pro Football Hall of Fame Selection Committee members.  The 2000s will mark the ninth All-Decade team to be selected in NFL history.
This decade's 53-player team will be comprised of two quarterbacks, four running backs, one fullback, four wide receivers, two tight ends, four offensive tackles, four guards, two centers, four defensive tackles, four defensive ends, six linebackers, four cornerbacks, four safeties, two kickers, two punters, two kick returners and two punt returners. Two head coaches have also been chosen.
Strahan was the third player to wear a Giants uniform for 15 seasons, joining Hall of Famer Mel Hein (1931-45) and Phil Simms (1975-93). His 216 regular season games played eclipsed the former record of 207, which was held by tight end Howard Cross. Strahan also played in 10 postseason games.
Strahan finished his career with 141.5 career regular season sacks, the fifth-highest total in history (since sacks became an official statistic in 1982). The former Giants record-holder was Hall of Famer linebacker Lawrence Taylor, who had 132.5 sacks. Taylor had 9.5 sacks as a rookie in 1981, the year before sacks became an official statistic. Those additional sacks give Taylor an unofficial total of 142.0.
In 2001, Strahan set the NFL single-season sack record with 22.5. He also topped the NFL in 2003 with 18.5 sacks, the second-highest total of his career. Strahan is the only Giant to twice lead the league in sacks. Strahan also holds the Giants' postseason record with 9.5 sacks.
Strahan's 141.5 regular season sacks were divided among 64 quarterbacks. His most frequent victim was Philadelphia's Donovan McNabb (12.5 sacks), followed by two now-retired quarterbacks, Jake Plummer (7.5) and Drew Bledsoe (7.0).
Strahan played in seven Pro Bowls. Only Taylor (10), Harry Carson (9), Rosie Brown (9) and Emlen Tunnell (8) were selected to more Pro Bowls as Giants.
In addition to his impressive statistics, Strahan was a team leader whose gregariousness, insight and humor made him a go-to guy for the media and a favorite among his teammates. The defensive line meeting room has long been known as an area where thick skin is requisite, in part because of Strahan's skill at delivering – and his willingness to receive – a cutting barb.
If you'd like to submit a question or comment to Michael, click here.