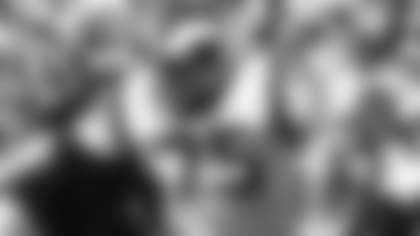 PHOTOS: Giants Sack Leaders
EAST RUTHERFORD, N.J. –
Michael Strahan awoke this morning to a text message from Tiki Barber informing him that David "Deacon" Jones, his dear friend and mentor, passed away last night in Los Angeles at age 74.
"I was shocked, because he was one of those guys you never thought would die," Strahan said today during one of his periodic visits to the Timex Performance Center. "He had that energy about him."
Jones was one of the very best and most influential defensive linemen in NFL history. He was inducted into the Pro Football Hall of Fame in 1980 and was selected to the league's 75th anniversary all-time team.
Jones joined the Los Angeles Rams as a 14th-round draft choice in 1961. He played 11 seasons for the Rams and two for the San Diego Chargers before finishing his career with the Washington Redskins in 1974.
Although few players in history have terrorized quarterbacks as Jones did, he is not listed among the NFL's career sacks leaders because sacks did not become an official statistics until 1982. A story about Jones on the Hall of Fame's website says that according to research by pro football historian John Turney, Jones amassed 173.5 sacks during his NFL career, a total that would rank third on the all-time list behind Bruce Smith (200) and Reggie White (198).
Strahan, who played his entire career with the Giants from 1993-2007, is fifth on that list with 141.5 sacks, including a single-season record 22.5 in 2001.
"Deacon coined the term 'sack,'" Strahan said. "Deacon made the position glamorous, which was hard to do. Quarterbacks are glamorous – not defensive linemen…until Deacon Jones came along.
"Deacon was outstanding. The first time we ever spent a lot of time together we shot a photo for Sports Illustrated. It had the old and the new sack master. We were about to step down on a sand castle on a beach. He was always so encouraging. He was funny. He always had a great story to tell. Deacon was appreciative of the younger talent of the guys who came in after him and he felt played the game the way it was meant to be played – which was fun, but yet you took no prisoners when it came to the opposing team or the opposing player on the other side. You did whatever was necessary to get to the quarterback."
Jones' signature move was the head slap. When executed, he would take his huge right and use it to club opposing tackles on the helmet. The head slap was so lethal the NFL outlawed it.
So what did Strahan learn by watching tape of Jones?
"I learned I couldn't head slap anybody, I know that," Strahan said. "Deacon would describe how he would do it, how he would cup his hand, how to hit them over the ear hole and try to bust their eardrum if you hit them the right way.
"Deacon took pride in what he did. He was fun to watch, because he was long and lanky. You have a lot of players who play the game who do what other players have done. But Deacon did things that people hadn't done before. He made them outlaw something that he did. He found another way to get better, another way to succeed. He forever changed the position. He is the founding father, in my opinion, of defensive ends."
Strahan and Jones were close in the last dozen years or so. When Strahan hosted a charity golf tournament in Westchester County, Jones would fly in for the event. Strahan would visit Jones in Los Angeles. Strahan once received an award in Kansas City and asked Jones to introduce him. Jones agreed to fly to the event without hesitation.
"It meant the world to me," Strahan said. "I literally loved Deacon. You often hear the term, there's only one of somebody. But there's truly only one Deacon Jones. There are no ifs, ands or buts about it. I was a young player; he didn't have to take me under his wing. He could have just dismissed me, but he took me under his wing. He was just good to me. It was just so good to have a legend believe in me as a young player, which made me better throughout my career."
Strahan said he will work to keep the memory of Jones alive.
"He'll live forever," Strahan said. "He'll live forever through me and he'll live forever hopefully through guys I've taught. And maybe guys can look back and put something together so guys can see what Deacon brought to football and they can appreciate him in future generations."