MIAMI – Steve Spagnuolo and David Merritt have been longtime assistants under two of the very best NFL head coaches of their generation, Andy Reid and Tom Coughlin.
Reid is sixth on the league's career list with 221 victories (207 regular season and 14 postseason) and will try to win his first championship Sunday when his Kansas City Chiefs meet the San Francisco 49ers in Super Bowl LIV. Coughlin is 12th on the all-time list with 182 victories (170 regular season and 12 postseason) and led the Giants to victories in Super Bowls XLII and XLVI.
Spagnuolo coached under Reid from 1999-2006 in Philadelphia and again this season as the Chiefs' first-year defensive coordinator, and was Coughlin's coordinator in 2007-08 and 2015. Merritt was a defensive coach during Coughlin's entire 12-year Giants tenure (2004-15) and this season joined Spagnuolo in Kansas City.
So, how are the two great coaches similar and/or different?
"It's funny," Spagnuolo said this week. "When I first went up there to New York, I remember people asking me about differences between Andy and Tom, similarities. I think at the core, they are very much the same. They believe in the same things - an organization and building with chemistry and character. Now, they operate a little bit differently. Andy's a little quieter. Tom wears his emotions on his sleeve and God bless him that he does, because that makes him unique in who he is. Andy is such a steady presence, whether it's up or down or whatever we're going through. But both of them are some of the best coaches in the NFL. I think we all know that."
"There are so many similarities," Merritt said. "Andy Reid, first of all, I've been trying to beat him to work. I can't beat him to work. Then I've tried to stay later than him. I can't outlast him at night. I don't know when he sleeps. He must go back in his office and sleep.
"The one thing they have totally in common is their work ethic. These guys are old school guys, throwbacks if you want to say. The beacon for the organization, when you have your leader that's there working as late as he works and puts in as much time as he puts in and still has the energy to come in every day and to feed us what we need, that's what you look forward to. That's what Tom had also. These two guys, I'm working for two Hall of Fame coaches."
*Spagnuolo and Merritt both worked with Eli Manning and followed his retirement announcement last week. Merritt was on the Giants' staff for both of their recent Super Bowl victories, while Spagnuolo played a big part in the Giants Super Bowl XLII triumph.
"I texted him the other day," Merritt said. "I told him, 'Well done, young fella.' He said, 'Thanks, coach.' I'm happy he retired a Giant. Once a Giant, always a Giant. I feel the same. What he gave to the city, he was the right quarterback for the time while he was there. Tom Coughlin was the right coach at the time that they merged together and won those two championships. Those are two things that I will never, ever forget. None of us. To bring championships to the organization and to have that coach and to have that player for that media market, that was the perfect match."
"You know how I feel about Eli, how much respect I have for him," said Spagnuolo, who reinserted Manning as the starting quarterback when he became the Giants' interim head coach with four games remaining in the 2017 season. "I was happy to have been with him those years in '07 and '08, and then again when I went back in '15, '16 and '17. I wish him well. I'm waiting for his phone to not be all blown up and then fire him a text. Listen, Peyton has been great to me, Archie has been great to me, I love the family and I'm really happy for Eli."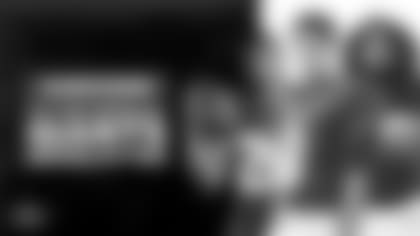 Sign up for the Giants Newsletter
Breaking news and exclusive content direct to your inbox