DALLAS - One of the popular theories making the rounds in the blogosphere is that Eli Manning threw a career-high 25 interceptions in 2010 in part because he was adjusting to new quarterbacks coach Mike Sullivan. But Manning said today the presumption is without merit.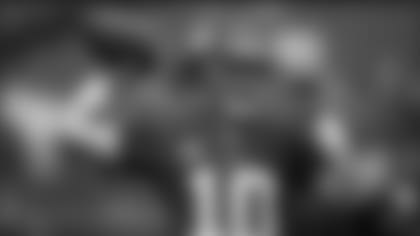 "That doesn't go into decision making," Manning said. "I've been playing this game long enough where I know not to throw it to the opposing team. Coach Sullivan did a great job of getting me prepared and having game plans and breaking down all the film I wanted him to. That wasn't part of it. I just had some bad plays, sometimes trying to make too much happen and trying to force things. I have to learn you can try to make stuff happen, but throwing it to the other team is not going to help out the cause."
Manning, in town to promote Oreo Double Stuff cookies and appear at an event for Reebok, spoke to a group of Giants beat reporters while making the rounds at the Super Bowl XLV Media Center. He also sat down with the NFL Network and did several radio interviews.
Sullivan was the Giants' wide receivers coach for six years before switching to quarterbacks last year. He replaced Chris Palmer, who left the Giants to become head coach of the Hartford Colonials of the United Football League.
Manning threw a career-high 31 touchdown passes, the third-highest total in team history. But the 25 interceptions were 11 more than Manning threw in 2009 and tied a franchise record. They were also the primary reason the Giants led the NFL with 42 turnovers.
But Manning said having Sullivan coach him instead of the receivers had nothing to do with those giveaways.
"It's just different," Manning said. "When you play quarterback or you coach a quarterback you've got to know everything. It's not about what routes the receiver is running. You have to be responsible for protections, how you're going to block this up. If there's a blitz it's not just, 'How are you going to protect it,' but what routes go well with it. You're in charge of a lot of decision making, the run game. It's just kind of how you see things. Some things look good on paper, but all of a sudden you get in a game as a quarterback, you kind of have thoughts as a quarterback of if you can make that throw or the timing of things and the pass rush. Just a lot of things can change."
Manning addressed another current events topic, safety Antrel Rolle's recent criticism of Tom Coughlin on a South Florida radio station. He dismissed it as nothing more than a player who is new to the team getting accustomed to the coach. And like the other current and former Giants who have commented publicly, he strongly supported Coughlin.
"Coach Coughlin is the only NFL coach I've played for," Manning said. "I like the routine, I like how it's structured. I like knowing what our schedule's going to be, I like knowing how our practices are. He gets us prepared. It's not a lot of hootin' and hollerin' like (Jets) Coach (Rex) Ryan, but it's about getting prepared and going out there and trying to play good football. In that case, I enjoy it and I think he does a great job and a lot of people like the way it is.
"I don't think it'll be a huge issue and it probably won't be talked about a lot more."
Manning preferred to discuss the Super Bowl. He picked the Green Bay Packers to defeat the Pittsburgh Steelers in a close game.
Green Bay defeated the Giants in the second-to-last game of the season, which enabled the Packers to wrestle control of the sixth and final NFC postseason berth from the Giants. The teams finished with identical 10-6 records, but the Packers clinched the berth on the season's final weekend.
Because of that, Manning admitted it's tough to look at the Packers without thinking, "That could have been us."
"That's why we always just say 'You just want to make the playoffs.'" Manning said. "You get in, you can be the hot team and you can make the run. That's just the way it is. You just kind of look to some missed opportunities that you had during the season where you could've got that 11th win, whether it was the Philly game or an earlier game. We had our chances. If we win that Philly game (when they wasted a 21-point fourth-quarter lead) and then going into that Green Bay game that became like a playoff game for both teams. If we would've won in Green Bay we would've made the playoffs. They were playing great football. They were kind of the hot team and have been playing great ever since."
The sixth-seeded Packers are trying to become the third team to win the Super Bowl after winning three postseason games on the road to get there. The last team to accomplish that feat was the 2007 Giants, who won Super Bowl XLII three years ago today. Manning, like many people, sees similarities between the teams.
"You want to be playing great at the end of the season, give yourself a shot, have a little confidence going in," Manning said. "It's kind of like in '07 for us. We went in with great confidence, thought we were playing well. I think they did the same thing. They won their last two. The week before they played us they lost a game, they didn't play really well. All of a sudden they got hot, played well, got their confidence, and they're running with it still."
No matter who wins the Super Bowl, attention will soon shift to the negotiations for a new collective bargaining agreement between the NFL owners and Players Association. A team captain, Manning has also ready taken steps to ensure that the Giants players will get in their work to prepare for the 2011 season if there is any kind of work stoppage.
"I've talked to some players to kind of figure out … you have to wait and see, but kind of make some plans to get a high school field to throw at or find a place to lift weights or get a training room for guys who are coming back from injuries," Manning said. "There's a lot to think about. But yeah, we definitely have a little time schedule where if it doesn't happen, we have to start it up and get going by ourselves to make sure we're ready."
Manning was asked if he is the point man in organizing the players.
"I think so," he said. "There will be a couple of key guys, but from the offensive standpoint, definitely. And you have Justin Tuck and other guys to make sure everybody is set and say, 'Hey, we have to still take care of our responsibilities and make sure when the season starts up we're ready to go.'"