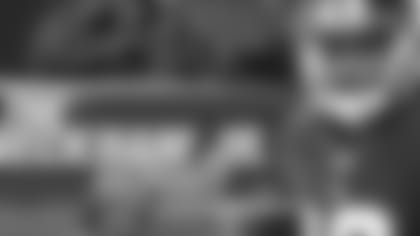 1. Your rookie season has drawn comparisons to the first year of Randy Moss in 1998 when he had 69 catches for 1,313 yards and 17 touchdowns with the Minnesota Vikings. Did you watch him while you were growing up? How are you two similar, different?Beckham: "Randy was one of my favorite receivers. We both like to go deep. We're not similar in size, but I think we're similar in speed and a lot of other ways."
2. You've now excelled at the highest level of your profession. What was the first time that you remember standing out in a sport -- football or otherwise?Beckham: "Playing soccer when I was 3 years old. I scored three goals in my first game."
3. The Giants' season ends on Sunday against the Eagles, and you'll no longer be a rookie. What is the number one thing you need to work on this offseason?Beckham: "Playing against corners who like to press at the line of scrimmage. I'm going to work on my release against press coverage."
Check out photos of Odell Beckham Jr. vs. the Rams