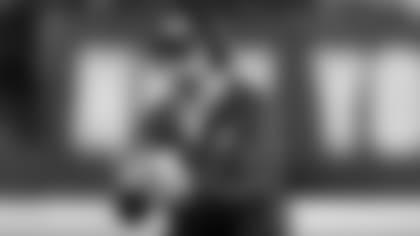 ---
Have you been pleased with the players' attitude, focus and effort coming off the bye?
"Was I happy with the way they came back? They're very much aware of the circumstance we've put ourselves in and the importance of the final eight games of the year and the schedule now is an eight-game schedule, one game at a time, but the significance of which is great. They did come back focused and they came back rested.* *There's no doubt how we've challenged them now. We have to have great focus, we have to have great concentration, no distractions. We have to give superb effort on the field and in the class room and we have to do it consistently day in and day out. And there's nobody who can tell me that they can't do it with this eight-game schedule."
You are always very clear with them about the big picture, where you stand in the division race, for example. But right now, is the big picture pretty much you have to win the next game?
"We have to win. You don't depend on anybody else. We have an exciting and challenging schedule, but you have to take care of yourself. You have to be prepared, you have to go win football games. Now five of them are at home, that seems this year to have great significance around the league as I see it, and I'm hoping that that is a very significant factor as we move forward here."
The defense has played well lately, allowing no touchdowns in the last 10 quarters. What has been the difference in the defense in the last two-and-a-half games?
"Well, number one is that we're performing better and we continue to do a nice job against the run. I think we're contesting the pass better and we're turning the ball over. We're plus-two (turnover differential) two games in a row without an offensive turnover. That's really been the difference. Now, can we shore up and eliminate the colossal special teams error, one a week? That's a tremendous challenge for the people that we play against. What happened against Philadelphia (Zak DeOssie's punt snap that sailed over Steve Weatherford's head) was as bizarre as anything I've ever seen."
He's never even done that in practice.
"Never even been close. I know it was Halloween, but what was that?"
Nobody ever asked you, but should Steve just kick the ball out of the end zone in that instance?
"Yes, absolutely. Kick it out, take the safety, get it out of there."
---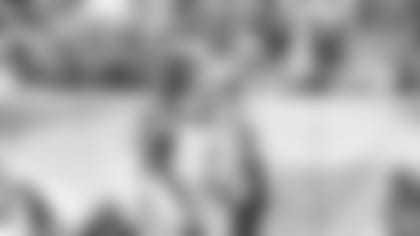 ---
Terrell Thomas was the NFC Defensive Player of the Week for his performance in that game. As he continues to demonstrate his knee is strong enough to withstand the rigors of the season, are you more confident placing him in different situations so he can expand his role? After missing two years, he seems to be playing an important role on the defense.
"Yes, he is and the plan all along was to get him into the season. Was it frustrating for him and for us that we have one day a week where he can't practice? So this will be his day (to work) a Thursday or Friday. I hate to use the word gratifying, but it was very good to see him have the kind of game he did and tackle the way he did. All of a sudden, you're reminded what an outstanding tackler he was. Some of his tackles are absolute form tackles and you remember when he was a starting right corner that he was a superior tackler and a physical football player. He is a good football player."
Eli Manning did not throw an interception in the two victories prior to the bye. Was he making better decisions or better throws?**
"I think both. He's also got the benefit of balance. There's not a lot of yardage to show for it, but 32 and 31 rushing attempts in the last two games, it's important. If you keep track of statistics, how many games do we win when we rush the ball over 30 times? I'll bet there's a bunch."
One of the glaring midseason statistics is just 15 touchdowns scored in eight games. Is it too obvious or simplistic to say you have to score more points?
"You've also got to look at the limited number of big plays. We were a big play offense, it was nothing for us to have 10 big plays in a game. We're scrambling for big plays right now. That, and then obviously we're not going to complain about any win, we want to win games. I don't care if it's 3-2, but we're noticeably not getting into the end zone. Again, we didn't turn it over, we kicked five field goals, we won a game, we played good defense. We'll take that, look at it, analyze it, take the good, analyze it and try to improve on the bad and go on to the next one."
You said this week you're going to have a plan for the running backs going into the game. But is that a position where if a guy gets hot sometimes, you'll stick with him?
"Sure, you always want to keep the hot hand in the game, but what does that mean? I see around the league watching games last weekend, the hot-handed back comes out of the game because he's tired, he's maybe had three carries in a row or something like that. So yeah, you have to use good judgment there. Strategically, how you plan on using them normally works out."
---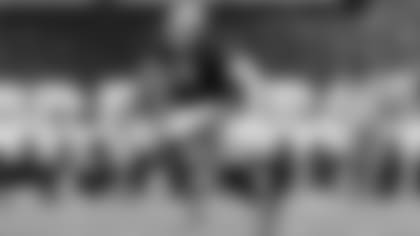 ---
This week you're playing Oakland and their young quarterback, Terrelle Pryor, who is big and fast. He is one of the large, athletic, mobile quarterbacks you see in the league now. Cam Newton is another. Is that something that has changed in your time in the league?
"You've got a 6-4 kid who is 230 that runs a 4.41 or something like that. Very athletic, strong arm. Is that one of the things that has changed in the league, the running quarterback? Yes, sure it is. There's a few of them in the league that are like that."
They have two fullbacks and they often line up with two backs, which occurs infrequently now. Is it a little different preparing for a team like this?
"They use the fullback to create all the different formations. He (Marcel Reece) is obviously a very versatile veteran player who is smart enough to handle all of that and they use him in a lot of different ways. They're in that personnel set more than anything else, but they use him as a lot of people would use a second tight end or whatever. He's everywhere."
They have 10 new starters on defense. Do they look like a cohesive unit?
"They do, and they've put together a nice string of games with the exception of two games – Denver and Philadelphia."
Dennis Allen is a head coach you haven't faced before. You've studied his background and his schemes, but have you also investigated, for example, does he like to go for it on fourth down, what he likes to do in specific situations? I would imagine when you play Andy Reid you already know a lot of that information. Do you need to know about the head coach entering a game?
"You do. You need to know something about his past, where he's from, what coaching tree does he come from, what do they traditionally believe in, what style does this guy come from. But you do also have to know when you look at a young staff or a new coaching staff where the different coordinators have come from and what background they have. You study all that." * *
This week, two head coaches, John Fox and Gary Kubiak, had serious medical issues. Fox underwent heart surgery. They are friends of yours. How difficult was it for you to hear about what happened to them?
"Normally you wouldn't be aware of it, but it happened to be the bye weekend, so the information about John came Saturday and, of course, Gary was at halftime of the Sunday night game. Your concern is for those men and their families and the fact that they're good friends. They're people that I've known for a long time. I've known John and enjoyed his company. I can remember the last time the league meeting was in Hawaii, we sat down with our families and friends down in the big lobby one night and just told stories and had fun with that."