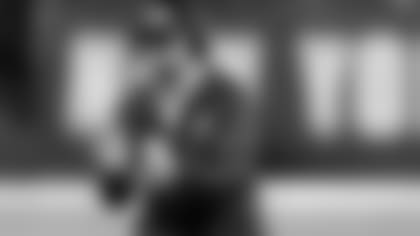 ---
Did you have a normal Wednesday workday on Christmas?
"Our introduction to a new opponent is normally on Wednesday, so what we did was moved the initial meetings back. The players' reporting time was 12 and we had the players out of here at five o'clock. So we were able to have our workout, which was a jog-thru, our normal Wednesday routine and introduce the opponent and bring them up to date on the Washington Redskins team."
In 2011, you used the theme "finish" on your way to winning the Super Bowl. These are different circumstances, but can you bring back the same theme?
"That's what we're using, yes. That's it – finish. Finish the season, finish with pride, finish strong. Create hope, fight your tail off, give it everything you have. Win at home, win in the division – there are a lot of themes here."
And I would imagine to you there's a huge difference between finishing 7-9 and 6-10. **
"Huge, incredible difference. Plus you go into the offseason having won your final game. It's a more pleasant atmosphere to work in."
If you do win, you'll be 7-3 in your last 10 games. Would that remove some of the sting from the season for you?
"We'd recognize the fact that this is a group of young men that has refused to give in to all the negativity that surrounded the 0-6 start. It shows the strength of character, it shows the competitive nature of the individual, it shows the fact that they do believe. It hasn't been in any way the kind of season that we wanted it to be, but nevertheless we've tried to do the best we can. And the idea that if we were to finish like that would be a nice indicator for these players and the coaches of what has taken place here. Do I personally reflect on it? No. Did someone bring it to my attention? Yes. My focus is winning the game, obviously. After that, I'm sure you will let me know these things that have happened that could possibly be focused on."
What you just referred to - the competitive nature, the pride - did you see that in Detroit? You lost a halftime lead, you fell behind in the fourth quarter, but you rallied to win in overtime.
"Absolutely. The competitive nature of the game, again the resiliency of this group of young men, you saw all of that. You come out with a halftime lead and you're three-and-out, three-and-out, three-and-out. They ran a punt back to the 30-yard line, all of the kind of things that happen in the course of a game, which is still very bothersome to me because we all have the same 12-minute halftime. But to relinquish the lead that quickly like we did is just…but we came back in the fourth quarter and found a way to win, which is, well we didn't win it until overtime, but we found a way to get the thing into overtime, which is what we always talk about. Get the thing into the fourth quarter with a chance to win."
---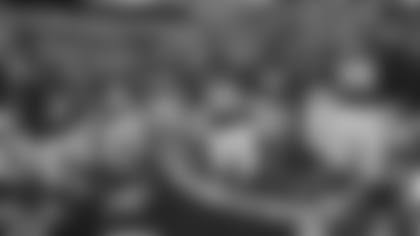 ---
You mentioned win a game at home, win a game in the division. Is that one of the things you have to improve, the results at home against the NFC East?
"It looks to me like the nature of what's going on in the NFL this year has been the higher percentage of home teams have won. You want to play well at home, you want to use your home base as a place where you perform at the highest level in front of your fans and your family and so on and so forth. I don't really know the record. I know we lost, 24-21, to Dallas and I know we lost to Philadelphia earlier in the year, so here we go. We beat Washington in Washington in a very tight game; the thing came down to the last drive of the game and Will Hill made the rip away steal, stole the ball. You'd like to think that your season will end by great effort in your home stadium, something that the fans and everyone else can take great pride in."
You've used 63 players this year, including 46 different starters, which are four short of the NFL record. That includes seven different offensive line combinations. I know you're always focused on the next game, but does it seem to you like there's been a lot of roster and lineup turnover this year?**
"Sure, because it's by necessity. You deal with what you have to deal with. Unfortunately, we've had guys – hey, look at Brandon Mosley (who broke his hand early in his first career start last week). What a terrible story. Here's a kid who has a chance to play, has a chance to start in a game in the National Football League against one of the best defensive lines in football. What's he play – three plays? It's difficult to establish continuity under those circumstances."
Jerrel Jernigan has been around here three years and is starting to make some plays. Did you always see potential in him?
"He's been (moves arm up and down), but of late, he's shown everything. Toughness, and if you really do study this young man and know a little bit of him, this is when he plays better, late in the year. But you talk about toughness, even the play against Seattle was a tremendous toughness play. The big safety (Kam Chancellor) couldn't even him knock him down. But the real good thing was he's made some very tough catches. The fourth-and-seven (last week in Detroit), he's either getting it or nobody's getting it. That's what I look at. He went down and got it. God bless him for it."
---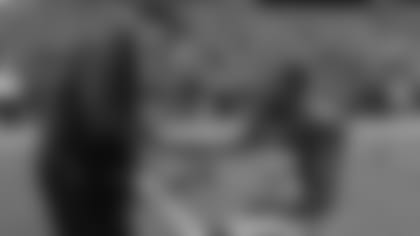 ---
How about Will Hill - do you think he has a high ceiling and can be a good NFL safety?
"I think he does. He loves to play. He does have outstanding endurance, he is physical. Obviously, he catches the ball when the opportunity is there. So yes, he's a talented young man."
How much has the Redskins' offense changed since they replaced RG3 with Kirk Cousins at quarterback? Have they eliminated the read option to use a more traditional attack?
"I'm not so sure. They had 476 yards (two weeks ago) against Atlanta. They turned it over seven times, but Cousins comes in and they're averaging three or four points more with him in there. He's done a nice job and they're playing like heck for him. I'm telling you now, they play hard. They are a physical, physical offense. The defense is flying around."
This is probably the last game of London Fletcher's 16-year career. Do you have a lot of admiration for someone who has played in 255 consecutive games and started 214 in a row?
"And he's tough. He really is a football player. He loves to play, he's very physical, he's very smart, he can lure you into circumstances you don't want to be involved in. He's had tremendous durability. He's been an outstanding leader, a very smart football player. Remember, we always called him a tackling machine. He always had an incredible number of tackles every time he plays. I have the utmost respect for a man like that who plays the game the way he plays it for as long as he has with great passion."