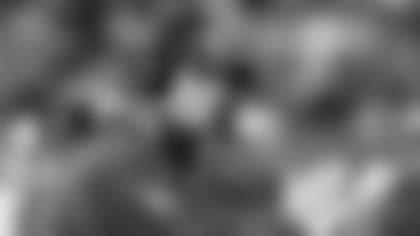 Q: Before the season finale against Dallas last year you called it an "all or nothing" game because you had no margin for error. You still have three games to play, but does this week's game in Atlanta present a similar situation?**
Coughlin: "It's similar from the standpoint we have a one-game lead with three games to go. So obviously there's not a lot of room for error, especially in the division. The second tiebreaker (division record) is not a good one for us."
Q: The players clearly understand the importance of these games, but do you change your approach in practice at this time of year, for example, emphasizing attention to detail, to drive the point home that these games are critical?
Coughlin: "They know because it's brought to their attention every day. Every day we're on something really hard. When you come out of a game like last week (a 52-27 victory over New Orleans) you have three or four things that are extremely critical to you if you're going to make the jump to the next level to try and continue to improve every week - as you have to at this time of the year to be the best you can be. Those things you never leave alone. Penalties on offense - where did this come from? All of a sudden, we're a penalty team on offense. Six in the last two weeks. It's ridiculous. So that area of it, just pounding away at that. No turnovers. Stop the run. Special teams again, guess what. They have great coverage teams and an outstanding kick returner (waiting for them in Atlanta). Wow. Every week. You're into that every week, but you see the power of field position based on last week. There is no question about it."
Q: In the loss in Washington, your average starting point was the 15-yard line and you scored 16 points. Against New Orleans it was at the 49-yard line and you scored 52 points. You can almost make the case with the turnovers and third downs that you played better in Washington, but you had much better field position against New Orleans.
Coughlin: "That's been said. That's been floated around in this building from the coaches, but we had nothing to show for it. Don't forget in this game our turnovers gave us the ball in good field position, too, and all of those things contributed to that. By kickoff alone we got the ball on average at the 48-yard line. So there isn't any question about the benefit of that. You don't have to be a mathematician to figure out first downs from there."
Q: It seems like the importance of field position is underrated in general.
Coughlin: "It's not talked about much, but it's so critical. For us there's also time of possession against these great offensive teams, and we've done a good job there, too. We had the ball more than Washington and we were 30 seconds behind the other day. It will be critical again this game."
Q: Last week, your players seemingly had extra motivation because they had lost three in a row to New Orleans, including a defeat last year. The Falcons have the same added incentive this week after your 24-2 win in the playoffs last season. Do you believe that kind of motivation comes into play and do you mention that to the players that this is a team looking to avenge its defeat in the playoffs?
Coughlin: "Well, most of the time I spend talking about them being 11-2 and having the most wins in the National Football League, so I'm not as concerned about where they were. I'm sure they talk about that, but what I'm concerned about is the fact that throughout the course of the entire season, it's a long season and there's a lot of ups and downs for everybody, no matter what your talent level is, no matter where you are and this team is 11-2. So they're a good football team."
Q: You've had success in the Georgia Dome. What's the key to maintaining poise in the noise?
Coughlin: "It's very loud. It'll be louder now because of the success that they've had, but it has to be done. The communication process is something that's not easy. The focus, the concentration has got to stay imminent at every second, because right now what I really do preach is the fact that the intensity level of every snap now - if you stop and think about it last week, we said there was 240 to 260 snaps left in the regular season, 120 on special teams. Well, take 60 away and here is where we are. Every snap is critical and when you look at some of the things that Atlanta has done in late game-type heroics you understand that. They've also had 49 points this year off of drives that were four plays or less. They are a quick strike outfit and so there are a lot of things that you do have to understand when you talk about the intensity of every snap right now."
Q: Eli Manning threw an interception that was returned for a touchdown early in the game last week. He later threw another pick that led to a score. How do you deal with him during the game when that happens? Do you immediately say something to him?
Coughlin: "I didn't when he came to the sideline. He walked off right near me, I think on both occasions, and I didn't say anything at all with the first one and then we ran the kick back (for a touchdown), so it was exciting. The second one I simply say what he already knows and what he's saying coming to the sideline. When the timing of the play is disrupted and you begin to force or stare down a receiver, it's attracting people. Throw it away. Just simple stuff. Nothing complicated."
Q: Is your approach in that situation to try to offer encouragement?
Coughlin: "I try to. With him, I've always done that. I always try to encourage or say something that's meaningful for him to put that whole thing in perspective. You don't erase it, but you try to create an opportunity to improve."
Q: David Wilson scored three touchdowns and set records last week. He handled the disappointment of not playing earlier in the season and now he's had some success. He got a lot of attention this week. Do you think he is ready to handle that success?
Coughlin: "I hope so, because he said the right things. He said the type of things you'd want him to say. He's focusing, he's working hard because he wants to be a guy that contributes and not the guy that prevents us. He's going to be a target now. He's going to have to know that and so I hope he can handle it and I have to believe he will."
Q: He's not the biggest guy in the world. Sometimes people look at smaller running backs and say they're going to get beat up if they get a lot of carries. But a lot of times it seems those are the guys who avoid the big hits more than some of the bigger backs. Do you agree with that?
Coughlin: "I don't know. I would just say this to you. It's the individual. These guys are not small. They're short. They're not small. They're thick. They're muscular. This guy has very, very good leg strength and he has got one ingredient that you look for in everybody and it's stamina. He has outstanding stamina. It appears that he can go all day long, so those are going to be assets he needs right down the stretch here."
Q: The defense seems to play solid for a stretch and then gives up a long play (58 of 20 or more yards this season). How concerned are you about the long plays?
Coughlin: "I'm very concerned, but there's a combination of things that occur when that happens. It's not just the ball in the air. How did the quarterback get that much time? What was the coverage? Where are people supposed to be? What are they seeing? Do we see the ball in the air? Are we playing the ball in the air? Are we in perfect position? You have a lot of things that you have to evaluate when you talk about that. I certainly think we have to improve. We can't give up the big plays. We gave up some big plays the other day in a big win; too many, actually."
Q: On both of Stevie Brown's interceptions last week, he seemed to read the play immediately. Does he have unusually good anticipation?
Coughlin: "That second interception was so important to our success, to shutting them down, to creating a negative on their part, denying them an opportunity to score like that and then running it back 70 yards to the other 20-yard line. He anticipated, he saw it, he knew what they were trying to do trying to get (tight end Jimmy) Graham in position down the middle of the field, which they had done so many times with big receivers, either Marques Colston or Graham. So his anticipation was excellent."
Q: As you studied the Falcons this year in the offseason, did you have to study their new coordinators?
Coughlin: "Absolutely. They have two new coordinators (Dirk Koetter on offense, Mike Nolan on defense). You look at them from years gone by, but it's the personnel you're looking at. You don't get to study what they really are with the two new coordinators until the season. So we've gotten information about them, but what really is important is the way they played this season."
Q: On offense, the Falcons have two terrific receivers in Roddy White and Julio Jones and on defense they have outstanding safeties in William Moore and Thomas DeCoud…
Coughlin: "Strong. Big and strong. Look at Jones run through arm tackles and make plays. He had a great play against Tampa when the corners really got him and they're going to tackle him and they can't tackle him. The guy is so strong and White is the same way. Big and strong. The two safeties are outstanding. Moore is physical. He's going to put the hat on anything that moves."
![](http://shop.giants.com/)