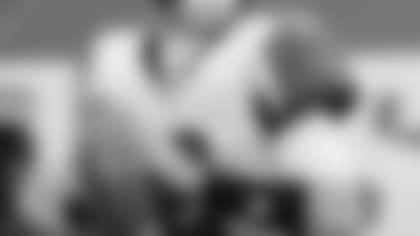 Opponent:** Atlanta Falcons
Common opponents: Carolina (W, 30-28), @ Washington (W, 24-17), @ Philadelphia (W, 30-17), @ New Orleans (L, 31-27), @ Tampa Bay (W, 24, 23), New Orleans (W, 23-13), @ Carolina (L, 30-20)
Last meeting: The Giants defeated the Falcons, 24-2, in a 2011 NFC Wildcard Game in MetLife Stadium. In their last regular season meeting, the Giants defeated the Falcons, 34-31 (OT), in Week 11 of the 2009 season.
Opp. Passing: 234.9 (16th)
Opp. Rushing: 127.0 (23rd)
Giants-Saints Connections: LB Michael Boley was selected in the fifth round of the 2005 draft by the Falcons, where he played four seasons before signing with the Giants in 2009; Atlanta Defensive Coordinator Mike Nolan held the same position with the Giants for four seasons (1993-96); Atlanta Secondary Coach Tim Lewis spent three seasons as the Defensive Coordinator for the Giants (2004-06); K Matt Bryant began his NFL career as a free agent signed by the Giants in 2002, where he played until he was released prior to the 2004 season.
Head Coach: Mike Smith, 54-26 Overall (5th year)
Back at headquarters in Flowery Branch, Ga.: "The message is real simple," Smith said Monday after the Falcons' loss to Carolina. "We didn't play our best. We didn't play up to our capabilities and up to our standards. We've got to get back in here and to the office to get the corrections and come out here on Wednesday and prepare for the New York Giants. They're playing very good football right now. The last two weeks they've played outstanding football and it's going to be a big challenge. They're right in the middle of the playoff hunt.
"There is one spot that's been basically determined in the NFC and there are five that are yet to be determined. I think over the next three weeks there are going to be a lot of things that are going to take place in terms of who's going to be seeded where and who's going to get in the tournament. That's what makes the final quarter so interesting."
*Stay tuned to Giants.com for a full scouting report from Michael Eisen later in the week.
![](http://shop.giants.com/)