EAST RUTHERFORD, NJ - The famed offensive line from the Giants' Super Bowl XXI championship team will reunite this spring to benefit a charity that was a favorite of Wellington Mara's.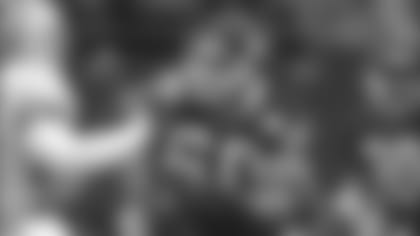 Center Bart Oates, guards Bill Ard and Chris Godfrey and tackles Karl Nelson and Brad Benson – known collectively as "The Suburbanites" – will be honored at a dinner to benefit Life Athletes, an organization which encourages and teaches young men and women to lead lives of virtue, abstinence (chastity), and respect for life. The dinner will be held in the New Meadowlands Stadium Legacy Club on Thursday May 12, beginning at 6:30. Giants Hall of Famer Frank Gifford will be the master of ceremonies.
Proceeds from the dinner will be used to further Life Athlete's educational efforts and help the organization deliver its message and curriculum into the schools in the tri-state area.
"Life athletes got started many years ago when Wellington Mara and Andy Robustelli invited a bunch of us guys from the '86 team to create a video called "Champions for Life," said Godfrey, the longtime president of Life Athletes. "It has since grown to include over 300 professional and Olympic athletes. Wellington Mara was a big supporter of ours from the beginning and he helped us organize our first dinner back in 1994 at the New York Athletic Club."
A video of Mara talking about Life Athletes is still on the organization's website (lifeathletes.org).
The Suburbanites became celebrities during the Giants' 1986 championship run. In addition to blocking for Joe Morris and Phil Simms, the five linemen were frequently the targets of Coach Bill Parcells' motivational and wise-cracking orations.
With that in mind, and because Mother's Day is four days prior to the dinner, Godfrey thought it was a good time to honor The Suburbanites.
"Parcells shot a lot of jibes at us and one of them was that we all looked like guys that mom drove to practice," Godfrey said. "We all had responsible offseason jobs and families out in the suburbs, and he was relentless with his little digs.
"This dinner is an opportunity for Giants fans to share their Giants passion with mom by visiting the stadium and the Legacy Club and all the neat stuff that's up there."
To reserve a table or to receive more information about the dinner, please visit lifeathletes.org.