EAST RUTHERFORD, NJ - Andre Brown has a secret.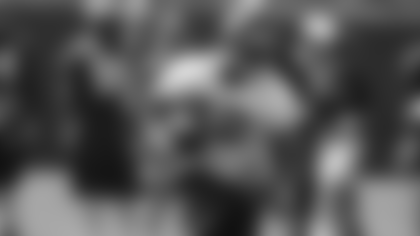 "I've never been to an NFL game," the Giants' running back said.
That begs the question, why didn't he attend one last season since he was, well, being paid by an NFL team?
"Since I was little, I had this little thing that my first NFL football game will be the first one I'm playing in," Brown said this week at the Giants' training camp.
Brown thought 2009 would be his year to play in and see a pro game for the first time. The team's fourth-round draft choice, Brown impressed his coaches early in training camp. But a year ago today, Brown ran down the field and jumped for a pass thrown by Andre' Woodson in a practice at the University at Albany. He screamed in mid-air, then fell to the ground and grabbed his left leg. Brown would soon learn that his Achilles tendon was ruptured. He soon underwent surgery and spent his rookie season on injured reserve.
"I didn't even get a preseason game," Brown said. "It hurt a lot. Not being able to step out and lace up the shoes and put on the uniform and run out the tunnel at Giants Stadium – I never did that. I'm not going to now. But a new stadium, new team - I'm ready."
On Monday, he will finally attend his first pro football game, as a participant. Brown, fully recovered and again playing well in camp, should see plenty of action when the Giants open their preseason schedule – and the New Meadowlands Stadium – against the Jets.
"I just can't wait until Monday. I'm excited," Brown said. "As far as just suiting up and walking out of the tunnel with the guys, man, it's been so long. Under the lights, it's primetime, and I can't wait. I just want to run down there and hit somebody else besides the guys out here. So I'm exciting about doing this and to make it to a game at least this time.
"Is it going to be a regular game? Nah. It's a big game. I'm going to appreciate every game this year, because last year, having it all taken away from you and not being able to go out there and contribute to at least something on special teams and doing something, it really hurts. I'm just excited about this whole process right now."
And the Giants are thrilled to have him back.
"Absolutely," very much so," Coach Tom Coughlin said. "He's had a good camp, he was on the goal line the one time we were live and he did a nice job."
Coughlin said Brown looks like the explosive back who was earning playing time as a rookie before he was hurt.
"He doesn't look like there's any real effect in terms of speed," Coughlin said. "He looks very, very close to normal."
It might sound crazy, but Brown insists he's better than that.
"I'm not going to lie, I feel a little bit faster," Brown said. "But everything is back as far as football-wise and contact, that's still coming because I took a year off. I haven't hit anybody in awhile, so that's coming with every practice. The more practices that I go through, the better I feel and the more I feel comfortable out there."
Brown, who is 6-0 and 224 pounds, faces tough competition to find playing time when the regular season begins. Veterans Brandon Jacobs, Ahmad Bradshaw and DJ Ware are all ahead of him on the depth chart. But Brown's work in the spring camps and here at the University at Albany has caught the attention of his coaches.
"It's hard to judge a guy until he's actually played a game," running backs coach Jerald Ingram said. "But as far as his heart, his desire, you get even hungrier when you sit around all year long. He has that heart and desire, he just needs reps to play to be an NFL player. I haven't seen an NFL player just step on the field and play yet, but I'm looking for one.
"He had some spurts last year where we were like, 'Hey, this is a guy we drafted who has some talent out there.' He hasn't had a chance to get on a NFL field and play in a game. So he's excited. We're excited about the hungry players that we have in our backfield. Everybody has a reason for something to prove and that's where you want to be as a team, as a coach – that it carries through the season. That's what's great about right now. As coaches, we're just out there trying to see who can do what right now in those situations and do the best job of game planning and getting those guys in there as we go."
Early in the spring, Brown wondered how his repaired Achilles would hold up under the duress of football moves. Now he says he never gives it a second thought on the field.
"In the spring it wasn't as strong as we wanted it or I wanted it to be," Brown said. "But as minicamp came, I made a couple cuts and it started feeling better. Then when training camp got here, I made a couple of cuts and it's great. I felt good about it.
"A couple of months ago I thought it wouldn't happen, but now I'm out there running and playing football again. So just being out there - I'm just enjoying every moment of it."
He is trying to prove to the coaches that they can trust him in a variety of roles. In addition to his duties at running back, Brown is expected to return kickoffs Monday night.
"I love it," he said of the return game. "It's another shot for me to be out there to make a play. I'm just focusing on getting out there. Coach Ingram told me that they're not expecting me coming in being an every down back. They just want me to be a role back and come in as a change of pace guy on third down and catch the ball out of the backfield. So that's what I'm looking forward to and that's what's going to happen."
Brown was a versatile player at North Carolina State, where he carried the ball 523 times for 2,539 yards (4.8-yard avg.) and 22 touchdowns, caught 70 passes for 631 yards (9.0-yard avg.) and two scores and added 341 yards on 17 kickoff returns (20.1-yard avg.) for 3,511 all-purpose yards. His last game for the Wolfpack was Dec. 29, 2008, when N.C. State lost to Rutgers in the Papajohns.com Bowl. That was 592 days ago.
When he runs onto the field Monday, Andre Brown might be the most excited guy in the entire stadium.
"I'm going to be hyped. I'm going to amped. I'm going to be emotionally ready," Brown said. "Nerves are going to set in. Then the excitement is going to go in, and you know once you get hit, that's when it all comes out and it's back to playing football again. Yeah, it's going to be emotional. There might be a tear before I come out there, but you know, I'm just excited to go out there."
Who can blame him? It's his first NFL game.
*Because the two teams rotate home games in their annual preseason series, the Giants will be the visiting team when they face the Jets in the first NFL game in the New Meadowlands Stadium.
"We're excited to be in the new stadium, but at the same time, we also understand that we're really the visitors," center Shaun O'Hara said. "It is a stadium that we are going to share, but it's going to be decked out in green and we're big blue."
O'Hara suggested, jokingly, that the outcome of the game could fix that.
"Well this is the New Meadowlands Stadium, and the Jets are the home team," he said. "If we want to put something on it, if they want to bet something on the line, then I'm sure we'll be willing to pony up."
*Because the Giants have so many players who are nursing injuries, Coughlin last night changed today's practice to a light, no-pads workout.
"We have a number of people that are playing in a limited fashion and a number of people that are out," Coughlin said. "I wasn't willing to go ahead and risk having somebody else pull up. So we got a good mental day, it was real good right until the end."
*Coughlin declared several players out of the Jets game, including guard Chris Snee , tight end Kevin Boss, wide receiver Steve Smith, safety Kenny Phillips, linebacker Keith Bulluck and wide Tim Brown. Safety Michael Johnson is unlikely to play.
Because the situation is fluid, Coughlin was not prepared not reveal a final list of players who will sit out.
"I'm not going to go down a list of people," he said, "because there's many people from now until game time that if they improve enough they could play a little bit."
*Coughlin said wide receiver Mario Manningham should play…Tight end Scott Chandler (hip flexor) returned to practice and might play Monday.
*Tickets are available for the first Giants Kickoff Luncheon to be held in the New Meadowlands Stadium. The charitable event will be held on Wednesday, September 1, 2010 from noon to 2 p.m. in the Gridiron Club, located between the Pepsi and Verizon gates at the New Meadowlands Stadium.
In addition to introducing the 2010 Giants, the team will honor Amani Toomer with the Giants Alumni Man of the Year Award.
Hackensack University Medical Center and the Giants have begun a partnership that gives fans a unique opportunity to support one of the nation's healthcare leaders while showing support for New York's favorite team. All proceeds from the luncheon and raffle will be donated to a very special program: the Touchdown Fund: Score for Kids, Cardiac and Cancer launched earlier this year by the Medical Center and the Giants and focusing on three core areas of healthcare.
Giants fans can join Head Coach Tom Coughlin and the entire team and the raffle will include a grand prize trip to Super Bowl XLV in Dallas (including round trip airfare and hotel accommodations for four nights).
For more information, call 201-996-3722.
*Today's practice, held on University Field, was attended by 4,480 fans, the largest crowd for one practice during the current camp. That increased the camp total to 33,370 for 12 days and 19 practices.
---
I am a huge Bradshaw fan and do you think he could have a huge year? If so, how many yards could he produce in your opinion? Rumors of him starting #1, is this true?
As Tom Coughlin and his assistant coaches point out, none of the backs will be designated as first, second, third, etc. Their workload will be determined by production, the game plan, the opposing defense, the play call – any number of factors. Given all that, Do I think Bradshaw can have a big year? Of course. His offseason surgery corrected his foot and ankle problems and he has run well in training camp. I wouldn't predict a yardage total for him, but he ran for 778 yards last year on bad wheels, so think what he might do when healthy.
If you'd like to submit a question or comment to Michael, click here.
--- ](http://www.nyg2010.com/)**