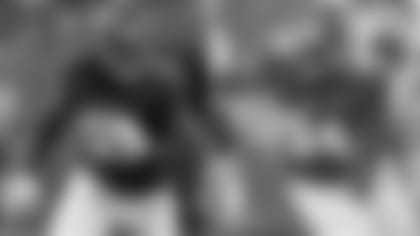 Second-year defenders Dalvin Tomlinson and Avery Moss are adjusting to their new roles:
Dalvin Tomlinson logged 588 plays on defense as a rookie, but his snapometer has been reset to zero.
Last year's second-round draft pick is learning a new playbook all over again under defensive coordinator James Bettcher, who brought his 3-4 scheme from Arizona. Tomlinson, a 6-foot-3, 317-pound defensive tackle, played in Steve Spagnuolo's four-man front in his first NFL season.
"It's pretty much like starting over," Tomlinson said with the team in the middle of its offseason workout program. "But it's been fun. I love the guys in the room. The coaches are amazing; they help out a lot. Just the people all around you, we're all studying together and getting better."
In 2017, Tomlinson became the Giants' third consecutive second-round draft choice to start all 16 games as a rookie, joining safety Landon Collins (2015) and wide receiver Sterling Shepard (2016). He was the first Giants rookie defensive lineman to start 16 games since Barry Cofield in 2006.
Stacked up against the rest of the league, the Alabama product led all rookie defensive linemen with 50 tackles, earning All-Rookie Team honors from the Pro Football Writers of America. He did so starting alongside Damon Harrison, who leads all NFL defensive linemen since he became a starter for the Jets in 2013.
The two, however, combined for just 2.5 sacks. Tomlinson sees that number increasing in Bettcher's attacking-style defense. In order to do so, Tomlinson has been working on his get-off this offseason.
"I'm excited for the new scheme we have," said Tomlinson, who played in a 3-4 with the Crimson Tide. "I'm looking forward to it. It's a lot of one-gaps. I get to go a lot more and just attack, so I'm pretty excited about it. … [Bettcher] wants to get upfield, make tackles for losses and sacks. Defensive linemen make a lot more plays in this defense."
The sheer volume of defensive linemen has also increased.
The Giants used two of their six draft picks this year on defensive tackles – B.J. Hill in the third round out of N.C. State and R.J. McIntosh from Miami in the sixth. General manager Dave Gettleman's reasoning was twofold. First, you want competition. Secondly, you want depth.
"The problem you get into, and I've seen it a number of times, you have a really good 11 or 12 guys and you don't have quality depth behind them," Gettleman said after the draft. "What happens is the coaches, and rightly so, don't want to put in the backups that aren't very good. Okay? So, what happens is, guys end up playing 95-98 percent. In the fourth quarter, their tongues are hanging out. They are gassed.
"Let me tell you something right now, you see teams that consistently blow fourth-quarter leads. Obviously that's on the defense. I promise you they've got no depth. They've got no depth. You have to have quality depth. This is not about here or here, here, here. And I'll tell you this: you've got a powerful defensive line and you can get pressure with four, you and I can play back there."
Meanwhile, Avery Moss, another second-year pro in the front seven, is looking to add to the depth that Gettleman seeks.
A defensive end last year, Moss said the coaches have him as an outside linebacker right now, a transition also being made by Olivier Vernon and Romeo Okwara. In preparation for the move, Moss worked on his hip mobility over the offseason with side-to-side drills.
"I think I can fit the role," said Moss, who played in 11 games with two starts as a rookie. "I've got to learn a little bit of the drops [in coverage] and all that kind of good stuff that goes with it, but I think it will be fun in this new defense. … Those guys were defensive ends, so we're all learning this together. It's all new, so we're going through the same mental struggle together and everything like that, so it's good."
Moss added: "You've got one role where it's like more mental, more schematic where you're trying to learn the coverages. And then on third down, it's pin your ears back and just go. … I love that attacking, not holding blocks and just going. That's something I've been waiting for, and I love it and I love how Coach Bettcher's got it going. I think it's all going to be fun."
While they learn their new positions, they can lean on Kareem Martin, an outside linebacker who spent his first four seasons with Bettcher in Arizona. Martin will be an extension of the coaching staff on the field for returning players like Moss, as well as the incoming draft picks, who report for rookie minicamp at the end of the week.
"I can't wait to congratulate and welcome the new guys to the team," Moss said. "And then with the guys that came from Arizona, it's great having those guys because they already have the mental background with the defense and they know everything, so it's good to have that support system of help that's right there with you."
Really, though, Moss is just happy to pass off the rookie tasks to the next class.
"I'm glad the rookie year is over with," he said.