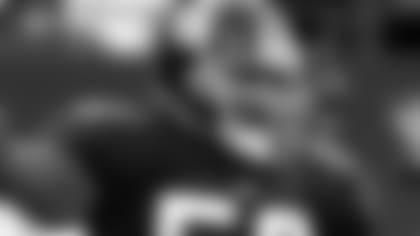 ](http://www.giants.com/media-vault/photo-gallery/Top-Five-Free-Agents-4-Micheal-Barrow/c892f8d4-3b36-4f1d-a589-d99f5bff8d1f)
 **CLICK MICHEAL BARROW **PHOTOS Number 4: LB Micheal Barrow**
Suiting up for five teams in his career, Barrow joined the Giants in 2000 after playing with the Carolina Panthers and the team that drafted him in the second round in 1993, the Houston Oilers. Barrow started 61 of 62 games in four seasons with the Giants, not including all three postseason games en route to an appearance in Super Bowl XXXV.
In that 2000 run, Barrow's 92 tackles were second on the team behind fellow linebacker Jessie Armstead. Barrow also posted four double-digit tackle totals that season, including a team-high 11 in a 20-10 victory over Philadelphia in the Divisional round before the 41-0 shutout of the Vikings to reach the Super Bowl. Playing alongside Armstead and Ryan Phillips, Barrow helped the Giants defense finish fifth in the NFL in total yards allowed in 2000. In 2002, Barrow and the Giants had another top-10 finish in yards allowed.
In his final year in New York, Barrow, an All-American out of Miami, led the NFC in tackles in 2003 with 148. He finished his Giants tenure with 489 total tackles, 14 sacks, 10 forced fumbles and one interception. The Giants were 35-33 during that span (2000-2003), including two postseason berths and a combined winning record over current NFC East teams.