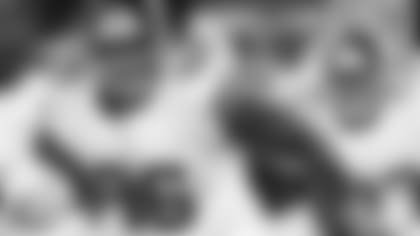 For every road game this season, Giants.com will catch up with a member of the team for a travel Q&A. This week, get to know defensive tackle Jay Bromley's travel habits:
Q: What are the must-haves in your carry-on bag when you're flying?
JB: Toothpaste, toothbrush, deodorant. If we can, got to get your favorite potato chips or something like that. I bring a Bible, that's a must. The tablet is a must, too, so I can watch my Netflix originals and be able to space out. Right now I'm on "Van Helsing" – I don't know why and I'm waiting on that new Will Smith one to come out. Of course, you've got to have headphones.
Q: What do you like to do on the plane?
JB: I like the movies on the plane because they always have whatever movies recently came out. So I always like to catch movies that I haven't seen yet. I always like the movies.
Q: Who's your favorite teammate to sit next to on the plane?
JB: Nobody. I like to sit by myself. But if I have to have somebody to sit near, I like Will Tye. He's a funny dude to keep around. Or Kerry Wynn.
JB: Snacks (Damon Harrison). A big mouth, bro.
Q: What's the longest flight you've ever been on?
JB: Last year when we went to England to play the Rams. That was like seven hours. That was longest for me personally.
Q: What's your routine when you get to the team hotel?
JB: Relax a little bit. Get in my room and put my chargers in. Then I get with my guys, whether it be Kerry or Romeo (Okwara), a handful of us get together and try to find a good place to eat nearby. So I always like to try to find the food of that city and try to go and try it out.
Want more Giants LifeStyle? Click here