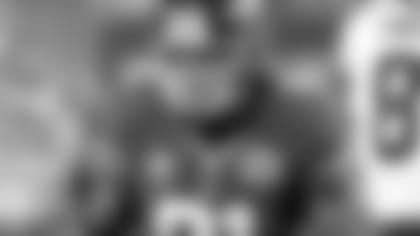 As Cullen Jenkins officially signed with the Giants, DE Justin Tuck gave his take on his new teammate:
"You're talking about a guy who brings a lot of diversity to the D-line, because he can play pretty much anywhere along the line," said defensive end Justin Tuck, who welcomed Jenkins to the team via Twitter ("@CullenJenkins welcome to the gold young brother. We got a lot of work to do.") "It gives us the opportunity to continue to give teams different looks. He's a big, strong, athletic guy who knows the ropes and knows what it takes to be successful in this league.
"I had the opportunity to talk to him and he's hungry and wants to get back to the top of his game and with his team, as well. After losing Chris, we knew we had to step up and fill that void and I think we did. With the loss of Chris, who was very successful in our scheme, helped us win a championship and played very well for us, obviously, that's a huge hole to fill. Like always, Jerry Reese goes out and he scouts players and he knows what the best fit for our team is. He found another good fit for us and hopefully we'll win another Super Bowl like we did with the other D-tackles he brought in."
Jenkins is eager to line up with Tuck, Joseph and the rest of the Giants' defensive linemen.
"I look at it as a big challenge, because you see the level of play that they play with, especially being in Philadelphia the last two years," he said. "You see the intensity they play with, the skill – I look at it as a challenge to come in and help them out and be a part of it – not just hide behind, but help them out in any way I can and help the line and the whole defense to be better."