EAST RUTHERFORD - The Giants knew they would have to eventually replace Jeff Feagles. Now it appears eventually is for the 2010 season.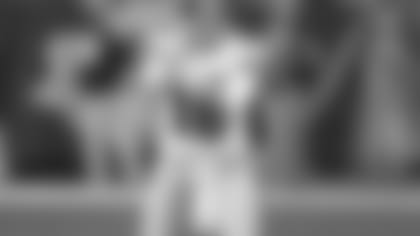 Tom Coughlin and Jerry Reese revealed at their post-NFL Draft news conference today that the 44-year-old Feagles has informed the team he might be physically unable to play this season, which would be his 23rd in the NFL and eighth with the Giants. Coughlin said "yes" when asked if he would be surprised if Feagles wanted to continue his career.
Knowing that Feagles might retire, the Giants selected East Carolina punter Matt Dodge on the seventh round of the draft, the 221st overall pick.
Feagles last week visited with Coughlin in the Timex Performance Center and followed up their conversation with a phone call. He is expected to make a final decision on his status this week.
"That led us to make the pick in the seventh round," Coughlin said. "Jeff is going to come in and we are going to continue to talk further. Jeff came in to see me and then called me again and we talked about where he was in terms of what his thinking was and his considerations about perhaps retiring. So we felt like that we would go ahead and not pass on this punter, who was one of the two people that we felt were draft-worthy in this particular draft."
"Jeff's really not sure that physically he is going to be able to do it," Reese said. "He has been working out really hard in the offseason trying to get himself ready to go because I think in his mind he really wants to do it, but I don't think he's sure that his body can do it. We are trying to protect ourselves in that respect. We will address that middle of next week sometime, so we will see which way that's going to go."
Feagles is the most durable and prolific punter in NFL history. He has never missed a game in his career, playing in a league-record 352 consecutive regular season games - the third-highest games-played total in history – and 11 postseason games, including Super Bowl VLII. The two-time Pro Bowler holds the NFL records with 1,713 punts, 71,211 yards and 554 punts inside the 20-yard line. He has placed at least 20 punts inside the 20 in 20 consecutive seasons.
If Feagles doesn't play, the Giants will look at Dodge, who averaged 42.9 yards on 261 punts at Appalachian State and East Carolina, and former Australian Rules Footballer Jy Bond.
"If Jeff is not in the mix, we will try to groom these guys to get us ready for our season," Reese said. "We need to get going right away with these guys; that's very important to me. We need to get going right away."
Coughlin was asked what he has seen from Bond since he signed on March 18.
"'Mate.' 'Mate.' 'How are you doing Mate?'" Coughlin said of the Aussie's standard greeting for everyone. "He has been involved in the program. There has been no getting outside. He has worked with (special teams coaches) Tom (Quinn) and Thomas (McGaughey), but I haven't made an appearance in those things just yet. I am his mate. I passed that test."
The Giants would also have to find a new holder for placekicks without Feagles. Coughlin said backup quarterback Jim Sorgi, who once handled that duty with the Indianapolis Colts, began working there last week.
Coughlin was not expecting to hear that Feagles might not play when the two men sat down last week.
"I was surprised. I wouldn't tell you any different," Coughlin said. "Jeff was trying to do the right thing by letting us know with the draft in front of us rather than behind us. So he did the honorable thing as he always would do, having the best interest of our team at heart. Whether we were going to do anything about it or not, that obviously was up to us. So he is coming in this week and we will see what the final status of this is. But obviously we felt it was important enough to act."
Feagles said when he re-signed last month that he did so only after working out and strengthening his legs. Coughlin was asked if Feagles is now hurt or tired.
"No, he is 44 years old," Coughlin said. "He worked very hard for approximately a month right after the season just to try to tell himself again that he could do this and wanted to be able to do it. And then he ran into some – as we went on and started the offseason program – ran into some of the physical tests that you have to go through as you continue to advance almost on a weekly basis. He has a program which is unique to him, but he is having some physical issues. And so he has decided to deal with them."
Coughlin said the addition of Dodge will not influence Feagles' decision.
"If he decided that he wanted to do this and could – I think the question is 'could do this,'" Coughlin said. "(If he) could continue at the highest level to do this, it wouldn't matter who he had to compete against. That wouldn't be a factor. He has done this before."
But it appears he will not be doing it again.