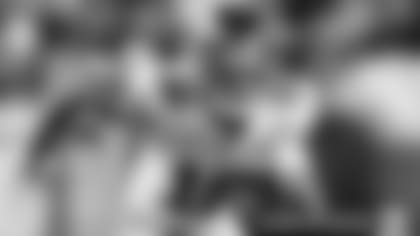 For every road game this season, Giants.com will catch up with members of the team for a travel Q&A. This week, get to know wide receivers Roger Lewis and Sterling Shepard's travel habits:
Q: What are the must-haves in your carry-on bag when you're flying?
Shepard: Headphones and iPad.
Lewis: iPad, headphones, some food
Q: What do you like to do on the plane?
Shepard: Listen to music and sleep.
Lewis: Watch TV if it's on.
Q: What are you watching right now?
Lewis: I'm about to start Ozark. * *
Shepard: I might sneak a little bit of Stranger Things in there.
Q: Who's your favorite person to sit next to on the flight?
Lewis: Yeah, that's my guy.
Q: What about least favorite person to sit next to?
Shepard: AA (Andrew Adams)
Lewis: I don't know. The way he sleeps, he just looks weird.
Shepard: He talks too much.
Lewis: Yeah, he just keeps talking.
Shepard: He don't have a good grade of hair.
Lewis: He thinks he has good hair, it's actually not.
Shepard: It is! My hair is naturally curly. If you've seen my mother's hair, I got a mixture.
Lewis: My hair is curly too.
Shepard: No it's not. They're dreads.
Lewis: No, I didn't do this.
Shepard: Exactly. Your hair is just matted up. My hair is never matted, it's curly.
Q: Once you guys get to the hotel, what do you like to do?
Lewis: Eat, watch college football. * *
Shepard: Same thing. We share a room.
A: It's fine because I used to share a room with Jerell Adams, but he snores so they took me out of that room. Roger doesn't snore so it's all good. I can get a good night's rest.
Want more Giants LifeStyle? Click here