MIAMI - It was an odd way to conclude a news conference for someone who had just scored the game-winning touchdown in the Super Bowl.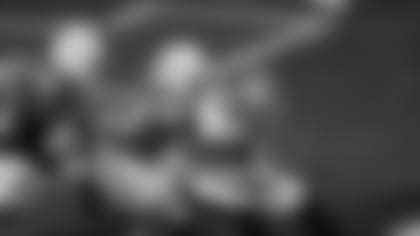 The New Orleans went on to defeat the Indianapolis Colts, 31-17, Sunday in Super Bowl XLIV in Sun Life Stadium.


"I hope you write anything bad about me," Jeremy Shockey told a group of reporters standing three deep around at his podium. "I know there are a lot of people out there that have negative thoughts about me."
It's safe to say that today none of those people are in New Orleans. Shockey's two-yard touchdown reception from MVP Drew Brees with 5:42 remaining gave the Saints the lead for good and New Orleans went on to defeat the Indianapolis Colts, 31-17, Sunday in Super Bowl XLIV in Sun Life Stadium. 
On a second-and-goal, Shockey was split wide to the right. At the snap, he made a simple in-cut, caught Brees' pass in front of cornerback Jacob Lacey and backed his way into the end zone. The completion was Brees' 32nd and last of the game, tying Tom Brady's Super Bowl record.
"It's a pretty simple play that we've always practiced," Shockey said. "I've probably run that route a thousand times in my career. I've caught a couple of touchdowns off of it, but only one in the Super Bowl. It was a great play, a great throw by Drew and a great call by Sean. I'm just happy that we scored."
Shockey admitted he was just happy to play in the game. Two years ago, a broken leg suffered in the 14th game kept him out of the Giants' Super Bowl XLII triumph over New England. Shockey watched the game from a suite upstairs in University of Phoenix stadium. Before the team's next training camp he had been traded to the Saints for a pair of draft choices.
"A lot of people made it out to be me being jealous of New York winning," said Shockey, who caught three passes for 13 yards. "But it was the complete opposite. I was very satisfied and happy for my teammates, who worked hard.
"I talked to Steve Spagnuolo (the defensive coordinator for that Giants team and now the head coach of the St. Louis Rams) earlier this week and he wished me luck. I was really close to him with the Giants. He gave me some good words of advice. I have great memories from everywhere I've been.
"Obviously, winning is very special. I have great memories of winning in high school, junior high, college, with the Giants and with the Saints. It's about as special as it gets."
Reporters tried to get Shockey to say that this victory was more satisfying to him than the Giants' triumph, but he largely avoided the bait.
"It's gratifying to be in the game, much less catch a pass for a touchdown," Shockey said. "A lot of hard work has been put into this since I was in the seventh grade. This is the game you dream about playing in. Everything worked out pretty easily."
Shockey makes his offseason home in Miami and promised to return to South Florida very soon. But first he plans to take part in a championship rite that he missed two years ago: a parade.
"We've got a parade in New Orleans, which is going to be very satisfying for our fans, the city, Mr. (Tom) Benson (the Saints' owner)," Shockey said. "It's a privilege to play for an organization like New Orleans, being a part of something that's been building. The organization had never had any success in the postseason and being a part of that is very special.
"This is going to do a lot for the city of New Orleans. They've been through a lot of tough times. This team and coaching staff have put a lot of hard work into everything that was possible today."
Shockey had high praise for Brees, who completed 32 of 39 passes for 288 yards, two touchdowns and no interceptions.
"He was spectacular," Shockey said. "He did everything that was asked of him. He played at a very high level. To see him do the special things off the field is very gratifying and very humbling. He's one of the best teammates I've ever been around and one of the best people I've ever met. Things like that rub off on you – his personality, the way he holds himself, his character, his leadership – that has definitely rubbed off on me. I'm fortunate enough to be a part of his career.
"When I got traded he gave me a book and he wrote a special message in the book about the career I had with (the Giants). He went out of his way to tell me that he wanted to help me out in my career. You can't play this game forever."
But now Shockey has another memory he'll enjoy that long.
*New Orleans is the 18th different franchise to win a Super Bowl. The Saints, Ravens, Buccaneers and Jets are the only teams to win in their only Super Bowl appearance.
*Saints coach Sean Payton is the sixth former Giants assistant to win the Super Bowl as a head coach, joining Vince Lombardi, Tom Landry, Bill Parcells, Bill Belichick and Tom Coughlin.
*Payton is the 28th different head coach to win a Super Bowl. This is the fifth consecutive year a new coach has been added to the list – Bill Cowher, Tony Dungy, Coughlin, Mike Tomlin and Payton.
*New Orleans is the first No. 1 seed to win the Super Bowl since the 2003 Patriots and the first top seed in the NFC to win the title since St. Louis in 1999.
If you'd like to submit a question or comment to Michael, click here.