EAST RUTHERFORD, NJ - Nobody can accuse the Giants of running with the crowd in the NFC East.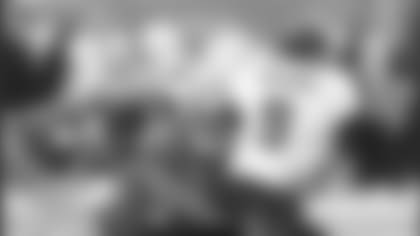 Last week, they were the only team in the division to lose. This week, they were the only NFC East team to win.  The results of the weekend, including the Giants' 24-20 victory yesterday over the Jacksonville Jaguars, leave the Giants where they were 10 days ago, in a first place tie with the Philadelphia Eagles (who lost yesterday in Chicago).
The Giants are one of four NFC teams with a 7-4 record (joining Philadelphia, Green Bay and Tampa Bay). Atlanta is 9-2 and New Orleans and Chicago are 8-3. Only five of those seven teams can make the playoffs, because the NFC West winner is guaranteed not only a postseason berth, but a first round home game. St. Louis and Seattle currently share the lead with 5-6 records.
But their big comeback victory yesterday accomplished exactly what Coach Tom Coughlin said his team needed to do, which is to keep pace in the crowded race.
"I do know that we're in this stage of the season – from Thanksgiving until the end of the season is pretty much where you try to put yourself in position," Coughlin said today. "It's an exciting time and it's exciting to be involved in it, so we'll go ahead. We're in the division again this week with a Washington team that has played very well with the exception of the one week that Philadelphia was playing incredibly well and we'll try to get ourselves ready for another game and it's at home."
The Giants have five games remaining, beginning at home Sunday against the Redskins. All are in the NFC, three are against division foes and two will match them up against teams that currently have the same record (the Eagles and Packers). The Giants also play at Minnesota and finish the season in Washington.
Given the competitiveness of the race, is every game a must-win for the Giants?
"Most definitely, with the way teams are playing across the league," linebacker Michael Boley said. "It's pretty important that we keep winning because there are some teams up there who are doing pretty good right now. It's simple, take every week and hopefully everything works out."
The Giants fell a game off the pace in the division race when they lost back-to-back games to Dallas and Philadelphia. But they treated it as a minor setback and not a reason to panic.
"We never felt we were out of the mix and that's just football," quarterback Eli Manning said. "You're going to lose some games. There's going to be a big game in the season like last week that doesn't go your way, but it doesn't mean you're – there is still a lot of football left. A game in Week 10 (actually, 11) of the season is never going to decide a season for you. There is going to be a lot of football left and we're going to have to play Philadelphia again and we've got Washington this week and they're a team that has beaten some good teams. We haven't played them this year. They have a new defensive coordinator, new looks on offense, so we've got to have a great week of preparation and just worry about us. We've got to worry about the Giants and continue to go out there and find ways to win."
That's exactly what the Giants did yesterday, rallying from a 17-6 halftime deficit to earn the kind of emotional, exciting victory that can serve as a catalyst for the season's final month. Manning threw fourth-quarter touchdown passes to Mario Manningham and the game-winner to Kevin Boss with 3:15 remaining to complete the comeback.
"I think that it (the fourth-quarter resurgence) is a plus provided that it is kept in the right perspective," Coughlin said. "You come back and win a football game that you've been down at the half and really not having a whole lot of success stopping the other guy when in fact, to be honest with you, the plan was built around being able to stop them, so there were a few things that had to be overcome there mentally, psychologically, the whole bit. So I think it is a huge plus for us because of the goal that we set for ourselves in terms of trying to keep pace here and having responded and played well under those circumstances, at least to come back to play well in some circumstances is a positive and it can be built on."
In the postgame locker room, many players credited Justin Tuck and Osi Umenyiora for providing the necessary spark with their blunt criticism at halftime of the team's first half performance and their demand for improvement when the Giants returned to the field.
"There were a couple of guys that had something to say at halftime, and they said what needed to be said," defensive tackle Chris Canty said. "Coach Coughlin really didn't have much to say after that. We knew what we needed to do. The coaches really didn't have much to say. The players pretty much took over the locker room at halftime, and we all hashed out and everybody said what needed to be said and we went out there and took care of our business."
Although it received much attention, Coughlin said the oratorical inspiration was not unique.
"We've had that really on numerous occasions," he said. "I'm not sure why it's being so heavily publicized now. It was a good thing, yes. I think that Osi originally began to talk in a very businesslike fashion at halftime with the defensive team and I think his message was that we had to communicate and line up and play the defense called and let's get that straightened around and then I think Justin came on and I think Justin was – I caught maybe half of it, but he was very emotional and he did a great job of using himself as an example. He said, 'I'm not satisfied with the way I'm playing and I'm tired of looking around and seeing them run the ball or the quarterback keep the ball and we're not doing much about it and this is something that has to be corrected, we can't put up with this any longer.'
"I think that the defensive guys did rally and then we came together really just before we went out and a few comments were made and we talked about how if we shut them out in the second half, we would have a great chance to win it. We didn't quite shut them out, but it was close (limiting the Jaguars to three points in the last two quarters)."
The offense, despite owning the ball for about 11 minutes less than the Jaguars, also had its moments, despite playing without five key players (three linemen and two wide receivers). With new starter Brandon Jacobs leading the way, the Giants rushed for 135 yards and averaged 5.2 yards a carry. Manning completed only 14 passes, but they accounted for 226 yards, and his passer rating of 117.7 was his second-highest of the season.
Most importantly, for the first time this season the Giants had zero turnovers. Coughlin is forever preaching about the importance of taking care of the ball. If the Giants are as diligent the remainder of the season as they were yesterday, it will be a big boost in the critical games remaining on the schedule.
"I think there was a good concentration on ball security," Coughlin said. "I thought guys did get both hands up on the ball. Certainly that wasn't the example on the first drive with Derek (Hagan), who was still bobbling that ball and didn't ever get it secured. It's just mental, and it is an alertness thing. It's instinctive, and it has to be instinctive. We made some progress in that direction yesterday."
"Sometimes luck is helpful," said Manning, who was part of the five-turnover outing in Philadelphia last week. "Sometimes, being unlucky is kind of why some turnovers come up. You can always get a tipped ball, things like that, you can always get things that are funny bounces or things that just don't go your way sometimes, so that's the cause of some, but it's also being conscious of it. As the quarterback, you can't be worried about throwing interceptions, you can't say, 'Alright, don't throw an interception here, whatever you do.' You're not going to be able to play confidently. You've got to be able to make the throws. You have a couple of tight throws here and there and you have to have trust in your receivers that they're not going to let anything bad happen.
"I thought that was big for us. We needed to improve in that and hopefully we can build on that. No turnovers puts us in a situation to win games. We might have to win in the fourth quarter, but the way that things were going in the first half, we had to settle for some field goals, but at least it was three points on the board. We didn't hurt ourselves, we didn't put ourselves or our defense in a bind and take points off the board, so that's important, just knowing that we can play that way and we can play patiently and if things aren't there, we can punt and the defense can get us the ball back and we'll have chances down the road to win the game."
With five critical games coming up, that's a good first step.
*Coughlin had no update on injured players David Diehl, Shaun O'Hara and Steve Smith.
He did not sound optimistic that Shawn Andrews would return to the lineup for the Redskins. Andrews was hospitalized last week with back pain and was inactive vs. the Jaguars.
"The way it worked a week ago was one day he felt good and the next day he didn't," Coughlin said. "So until there is some real concrete evidence that he can maneuver and that he is pain-free, there won't be a whole lot to say."
*The Giants, FedEx and New York Cares will host their 13th annual Coat Drive on Sunday, when the Giants host the Washington Redskins at New Meadowlands Stadium. Fans are encouraged to donate their gently worn coats by bringing them to any of the FedEx trucks and volunteers located at each stadium entrance prior to the game. New York Cares is a non-profit organization that helps warm thousands of men, women and children by providing winter coats to homeless shelters, community organizations, centers for battered women, and agencies serving senior citizens across the metropolitan area.