EAST RUTHERFORD, NJ - At one point during a conference call today, Tom Coughlin assessed how the Giants had accomplished an immediate goal with their victory Monday night over the Vikings.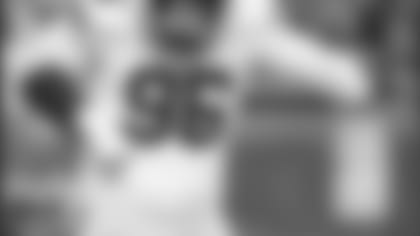 "Overall, we went out to Minnesota with the idea of 'get the win, keep the pace' and that type of thing, and that was accomplished," Coughlin said.
Well, it was...except the going out to Minnesota part. As anyone even remotely interested in the Giants and the NFL knows by now, the team never actually made it to Minneapolis for its scheduled game Sunday against the Vikings. A blizzard forced the Giants to Kansas City, where they spent Saturday night, and then to Detroit, where they stayed Sunday night before defeating the Vikings there last night, 21-3, in Ford Field.
Their Missouri-Michigan odyssey aside, Coughlin accurately summarized that the Giants took a significant step when they controlled the Vikings for their third victory in a row. The Giants improved to 9-4 and remain tied atop the NFC East with the Philadelphia Eagles, who just happen to visit New Meadowlands Stadium on Sunday. Coughlin thought it too early in the week to address the significance of the game in detail, but it's not a stretch to assume that the winner will go on to win the division.
This will be the second time in less than a month that the Giants and Eagles will meet with identical records. Both teams were 6-3 when they met on Nov. 19 in Philadelphia. The Giants overcame a 16-3 deficit to take a 17-16 lead, but gave up 11 points in the final 4:25 to fall, 27-17.
The Giants have not lost since. Philadelphia fell the following week in Chicago before beating Houston and Dallas. So here we go again, the two teams leading the division pack with the same number of wins and losses and playing a high-stakes game.
"When we came away from there with a loss and a game or two after that, we had made the resolve that we needed to get ourselves going," Coughlin said. "And to be able to keep pace, we needed to put some wins together to have an opportunity to play the Eagles again and be in the position that we're in. We all know first place in the division is at stake. What Philadelphia has done and what the Giants have done is to give themselves an opportunity right now to play for the lead. It is of huge significance. And it's the kind of game you want to be playing in the middle of December in the National Football League."
Playing a Monday night game always has the potential to adversely affect a team's preparation for the following week. The coaches of teams playing on Monday night normally use that morning to get ahead in their preparation on the following week's opponent. Visiting teams usually travel with study materials for both the team they will face that night and the one they will meet six days in the future.
But the Giants faced the perhaps unprecedented challenge of playing a Monday game after they had already departed New Jersey to play on Sunday. Because the possibility of playing a day later in a different city wasn't raised until they were already traveling, they had very little Philadelphia material with them. They were able to get a head start, but it was not as big a jump as normal.
"When you play a Monday night game, you prepare for utilizing a great part of Monday in terms of the next opponent," Coughlin said. "We were able to do that. We did not know we were going into a Monday night game so therefore we weren't able to be as efficient as you might want to be with all the time that you have. We did the best we could with it. We did have some down time when we were all waiting for the assignment of the exact schedule that we would keep so that was time that was spent waiting rather than being productive. We did get some work done and we're trying to make up for the rest of it right now."
The players were off today, though many came to the Timex Performance Center for treatments or to work out. Tomorrow, the Giants' practice will be later and lighter than it is on a normal Wednesday.
"We aren't in our normal routine; obviously it's not the same," Coughlin said. "We make adjustments, and we did make adjustments as we usually do after a Monday night game. We allow that the first part of the Wednesday day is also done in preparation. The players come in a little bit later, and that way we do give them a chance to have a good night's sleep and a little bit more rest before they come in to start the new week. That's how we'll catch up. I think that by Wednesday night, we will be on our normal schedule.
"The first thing you do is that our Wednesday afternoon is really nothing more than introducing our first day and will be a little bit better than a jog thru and that gives us a chance I think to catch up and then have two good days with Thursday and Friday being normal."
Presumably, that normality will last this week all the way until Sunday at one o'clock.
*Coughlin said linebacker/special teamer Clint Sintim tore his anterior cruciate ligament in the Vikings game and "as soon as they get the swelling down, he'll have to have surgery."
Sintim will be the 11th Giants player to go in injured reserve this season.
*Coughlin said wide receivers Steve Smith and Mario Manningham were both sore and were undergoing MRIs to learn the extent of their injuries. He had no further updates on either player.
*David Diehl returned to play left tackle after missing the previous four games with injuries and Coughlin said the eight-year veteran's attributes helped upgrade the line's performance.
"His veteran leadership, his positive-ness – all of those things," Coughlin said. "It was very good to have him back."
Despite Diehl's presence, Eli Manning was sacked for the first time in six games.
"We should not have given up the sack," Coughlin said. "He was expecting help there and for whatever reason we got beyond being able to help in that situation, whether we were in a hurry to get out or whatever, but we did think we were pretty well protected over there and it just was a little bit of a breakdown."
*Center Shaun O'Hara, who has missed six games with a sprained foot, "will practice more and we'll go from there," according to Coughlin.
*Coughlin repeated that he was pleased about his players' response to the weekend's changing travel plans and how they played after not having been on the field since Friday. But he was unhappy with one aspect of the Giants' game.
"I thought that the special teams, our coverage teams, let us down and I do think that there were some signs of heavy legs there," Coughlin said. "It's not an excuse, it's just reality. It's what it looked like to me. I'm sure that can be improved upon."