APPLETON, Wisconsin - This isn't what Tom Coughlin had in mind when he called his team road warriors.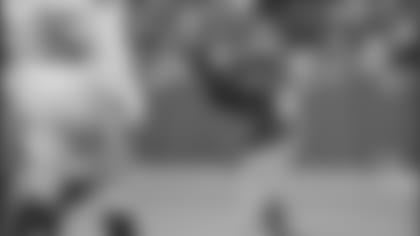 For the second time in three weeks, a Giants' Midwestern trip has been extended beyond its original end date, causing the team to adjust on the fly as it prepares for a game against a division opponent.
Two weeks ago, they were scheduled to play the Vikings in Minneapolis on Sunday, but detoured to Kansas City on Saturday before flying the next day to Detroit, where they finally played the game Monday night. Although they did some work that morning on their next opponent, Philadelphia, the Giants could not devote the entire day to the Eagles because the Vikings awaited them that night.
On their current trip, the Giants had no trouble getting to their original destination (Appleton, where they stay when they play in Green Bay) on their scheduled day (Saturday). But the itinerary has been a work in progress since their 45-17 loss to the Packers in Lambeau Field. Immediately after the game, the Giants learned the blizzard on the East Coast would force them to spend Sunday night here as well. They had hoped to leave early today, but the airports in the New York metropolitan area were still closed. Monday evening, the Giants were told they would not be departing Appleton until early Tuesday morning.
On their laptops in their hotel rooms, the Giants coaches had already begun their preparation for the regular season finale Sunday in Washington.
"We're kind of grinding away with our work with regard to Washington," Coach Tom Coughlin said on a conference call today. "I think that the players have conducted themselves well here with the idea of not being able to get home. They've tried to do the best they can with that. The coaches have gone from the early morning to get started with Washington even though they're not at home. The offense, defense, special teams coaches got on the laptop. I have a laptop. So we're able to push on."
Although the Giants no longer control their postseason destiny, they are still very much alive for a playoff berth. They can get in if they defeat the Redskins and Chicago beats Green Bay or New Orleans loses its final two games, including Monday night in Atlanta.
"There is a chance," Coughlin said. "We do have to have a little bit of help to get it done, but there is a chance. And that's the incentive for us to regroup and try to put together the kind of game we can be proud of."
The Giants are very familiar with the Redskins, having defeated them, 31-7,  on Dec. 5. Although their study is being done in a hotel they didn't expect to still occupy, the Giants' work week shouldn't be significantly affected.
"Practice would still be Wednesday (the normal beginning of the players' work week)," Coughlin said. "I don't see that as any different. I think our study would continue here, if in fact we can't get out tonight (which they can't), then the coaches will go into our first stage, which would be an early Tuesday morning stage of game-planning."
Coughlin said between flying to New Jersey and busing to the team's Timex Performance Center offices, "we're probably going to lose half a day when that happens."
The Giants have not been able to physically fly, but the experience of having to plan on the fly during their previous trip has helped the Giants be more productive this time.
"Yeah, we've been through it so we quickly adapted and went right to work," Coughlin said. "We did that last time as well. There really is not much down time. This morning, the first buses were to go at 9:00 and 9:15, just reporting for the travel. When we found out the news, we quickly changed back to being in the hotel. The first information we had as far as the updates were that it'd be at noon, so we went to work and got that update, and then it became five so we went back to work and that's where we are right now. Are we more prepared? We're simply just as prepared. We do have the ability through new technology to take the games that have been taken off, which would have been the (Redskins') game yesterday against Jacksonville. That would've been done this morning by our coaches and verified. Then, we would have the total package. In the meantime, the guys who are not taking it off or verifying are looking at all the games including ours between the last time we played and now."
Coughlin said the players have not been involved in the early preparation for the Washington game, which is standard procedure time of the week.
"The players are normally off, except for looking at yesterday's game, they're off anyway, so the players are not involved," Coughlin said. "This is strictly coaches trying to get ready. Now, there will be one or two guys that will come by the meeting rooms where the coaches are and they may stand in the back a little bit or give a little bit of information, but by and large that information is not going forward until the players are gathered for an official meeting."
Beyond their convoluted travel plans, the Giants are sitting in a hotel in a small Midwestern city wondering what has happened to their season in the last four-plus quarters. Since holding a 31-10 in the fourth quarter against the Philadelphia Eagles, the Giants have been outscored, 73-17. They were less than eight minutes away from taking over first place in the NFC East. Now they need help to make the playoffs as a wild card.
"We're disappointed," Coughlin said. "I think the players are very disappointed and unsure of how this came about, as many of us are."
"We haven't played well," defensive end Justin Tuck said. "For whatever reason that is, I don't know.
"I really thought we were going to come in (to Green Bay) and be the more physical football team. I thought we were going to shut down what they wanted to do on offense. Our offense was going to control the clock and hold the ball. But it didn't happen. They had a lot to play for. They played harder than we did. It's a sick feeling in my stomach to be able to say that, considering what we had at stake."
Coughlin was particularly disturbed about an offense that committed six turnovers, including four interceptions by Eli Manning.
"Unfortunately there were bad throws, there were things you wish you had back that weren't real considerations, for example the football to the back that was intercepted," Coughlin said. "There were times where Eli has gotten away with that, where he's flipped the ball to the back and it has not been a sack and we haven't lost the yardage, but certainly we paid for that last night. I just think there were – not taking anything away from their secondary, but if the play is not there, if it isn't something that you think is going to give us an opportunity to keep the ball, then we've got to get rid of the ball and that probably is the one thing that I would say.
"I don't think there's any question that he's trying like heck to make a play and I think he knows our circumstance. The only thing is, we're down 14-0, we come back and tie the game, they go up 21-14, it's halftime. The game is right there, it's on the field, one 30-minute part of the game is gone, now it's time to express ourselves in a different way. I think it lets the air out of our team a little bit when we turn the ball over and it's very difficult not to. We have a bunch of classy young men and they conduct themselves well, but if you're a true competitor, this is difficult now – the field position part of it, the fumble right away (by Ahmad Bradshaw on the possession of the third quarter, leading to a Green Bay field goal), the fumble on Brandon (Jacobs') fall – we're going down and will definitely be in field position, we did back the one score. These things hurt. You're in a game and you know it's going to be a very, very tight game and I've been saying this all year, but this is what I believe in, other than points scored, points against, it's turnovers and there's a lot of – the word psychological was mentioned earlier and let me tell you, there's a lot of psychological stuff that goes along with this, too."
Coughlin was also displeased with a rushing attack that produced only 90 yards one week after running for 100 yards vs. Philadelphia.
"I'm disappointed," Coughlin said. "It bothers me that the consistency is not there. We went through times where we had a lot of changes and we fought our way – I'm not saying anything about these last couple of opponents, who were obviously very good, but we're disappointed."
They're not yet home, but the Giants are working on making amends in a final game they hope will be a springboard to the postseason.