EAST RUTHERFORD, N.J. –** Tom Coughlin said today that anyone targeting Eli Manning as the reason for the Giants' poor start should swing their sights to him.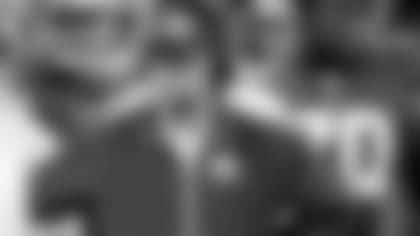 View Gameday Photos from Week 5 "Actually, what should happen is people should shift it to me," Coughlin said on a conference call. "The guy is trying to play the best he can. He's certainly trying to do too much. He knows his team and he knows his responsibility. He's an extremely accountable guy and he's going to do everything he possibly can. Sometimes it's not to be done that way. I'm not making any excuses, either."
Manning has taken much heat – or, as Coughlin put it, "I know that we're maligning my quarterback today and, believe me, there's a bunch of people involved in that" – in the wake of the Giants' 36-21 loss yesterday to the Philadelphia Eagles in MetLife Stadium. The Giants trailed by a point in the fourth quarter when Manning threw the first of his three interceptions on consecutive possessions. The Eagles quickly scored touchdowns after the first two picks and all but clinched the game with the third.
The loss dropped the Giants to 0-5 with the next game Thursday night in Chicago. Manning leads the NFL with 12 interceptions and the Giants' 20 turnovers are nine more than any other team that has played the same number of games.
When an NFL team posts those kinds of numbers and struggles as the Giants have, blame falls on the quarterback and the head coach. Coughlin said those criticizing Manning are off the mark. He also revealed that he spoke to Manning today. Beyond hinting that Manning is still unhappy about what occurred yesterday, Coughlin didn't publicly say what they discussed.
>> EXPERTS LOOK FOR ANSWERS

"We did visit today and he feels bad about the game, just as we all do," Coughlin said. "We're suffering from remorse from an opportunity lost. But he's certainly going to get right back up again in preparation, a very short preparation for the next opponent. I know that part will be done properly and I wish I could bring his spirits back up, but it takes a little bit of time. Unfortunately, it's very, very close to yesterday and he'll bounce back. He'll bounce back, but we did talk. Yes."
In his 10 seasons as the Giants' head coach, Coughlin has often said the players win games and he loses them. He wasn't backing away from that today, when the Giants remain stuck in one of the most dispiriting stretches of his tenure.
"I'm the head coach," Coughlin said. "Things aren't going the way they should. My concern is about our team and our team staying together and rallying, looking at the facts. I will say this to you: every guy on this team wanted to win and play hard to give our team a chance to win yesterday. Of course, when you spend that kind of effort, it hurts. But my concern is for these players and the fact that they come bouncing back from this and get ourselves ready to go.
"It's a team game, and yes, the head coach is the guy that's responsible for the losses, and the players need to be there for each other in all circumstances and in this one, criticizing the quarterback for the outcome for everything there at the end of the game really is not right."
Giants players today expressed support for both Manning and Coughlin.
"(Manning is) so proud of the way he plays and wants to play great each and every week and when things go the opposite way…the type of person he is, he takes a lot of that blame," wide receiver Victor Cruz said. "But that's not the way it is. It's everyone. It's the receivers. It's the offensive line. It's everyone that's to blame for some of these losses and some of the things that have happened out there, but it's a full team effort. It's not just one guy. You can't just put the blame on one person."
Linebacker Spencer Paysinger stood up for Coughlin after the coach took ownership of the loss.
"Coach Coughlin is honestly one of the best coaches I've ever had," Paysinger said. "He's one of the best coaches in the NFL, hands down. When he says that, I automatically respond in my head, no. The coaches can only put us in the right position, but it's up to the players to take those actions. We're on the field, 11 players offensive, defensively, and special teams. He can't put all the blame on himself. He's a great coach, but some of the blame has to lie on the players.
"When any player has a coach that can take the blame on him, you do learn to respect that. I, myself, have the most respect for Coach Coughlin, but I do know when I'm on the field, I'm there to make a play. I'm there to help the defense as well as everybody else. For us and me in general, I know I have to make those plays and can't put all the blame on our coaches."
The Giants certainly have room for improvement in several areas. They've allowed an NFL-high 182 points (and been outscored by exactly 100 points). The Giants have allowed at least 31 points in each of their first five games, the first team to do that since the 1954 Chicago Cardinals. It's the first time the Giants have surrendered that many points in each of five consecutive games.
The rushing attack is also the league's worst, averaging only 56.8 yards a game. The Giants yesterday committed 12 penalties (for 136 yards), their highest total since they had 13 in the 2009 season finale at Minnesota. Brandon Jacobs lost a fumble, in addition to Manning's interceptions yesterday.
"Twelve penalties and four turnovers," Coughlin said. "You're not going to win anything (doing that)."
Nothing galls Coughlin as much as those 20 turnovers that have crippled the Giants' quest to win a game.
"We all know the number of turnovers is in a terrible state and it's the one thing that I preach, period," Coughlin said. "That rubs salt on the wound with me every time something like that happens."
The Giants led the Eagles until late in the third quarter. They've been in four of their five losses until that same juncture, when they start giving away the ball and their deficits balloon.
"They're close games at that point in time and then they become, because of the turnovers, non-close games," Coughlin said.
So what can the Giants and he do about it, beginning Thursday night in Soldier Field?
"There's no simple formula," Coughlin said. "I'm not going to give you one statement that answers all. We have to go back to work. We have to go back to work and we have to do a better job. We've got to figure out how to solve this issue. We talked about playing well. We did play well in the third quarter. We talked about four quarters. We've got to figure a way to play a whole game and not turn the ball over."
Until they do, Coughlin and Manning will continue to shoulder the blame for the Giants' shortcomings.
*Coughlin said running back David Wilson, who did not play in the final three quarters because of a neck injury, experienced "some kind of tingling." No decision has been made about Wilson's availability for Thursday night. "He's got an injury and he's being thoroughly evaluated and we'll see the results," Coughlin said. "Hopefully, we'll get some results about that. He has to have a full medical appraisal of what happened. We'll wait on that."
*Wilson was one of nine players who did not participate in the Giants' jog-thru today. The others were center David Baas (neck), long snapper Zak DeOssie (back), cornerbacks Corey Webster (groin) and Jayron Hosley (hamstring), defensive end Damontre Moore (hamstring), tight ends
Brandon Myers (ankle) and Adrien Robinson (foot), and safety Cooper Taylor (shoulder).
Linebacker Mark Herzlich (toe), defensive tackle Linval Joseph (ankle), wide receiver Louis Murphy, Jr. (ankle) and cornerback Terrell Thomas (knee) were limited.