EAST RUTHERFORD, N.J. –** Three weeks ago, Peyton Hillis and Jon Beason were in football purgatory, the former without a job, the latter without a role on a team for which he had played for seven years.
NFC East Roundup
How is the division shaping up with seven weeks in the books...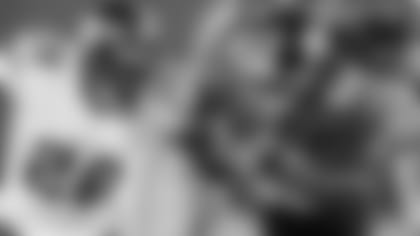 Giants vs. Vikings Photo Timeline Today, they are vital members of the Giants, who took the first steps toward turning around their season with a 23-7 victory over the Minnesota Vikings last night.
Hillis and Beason each made a significant contribution to the team's cause. Signed just five days prior to the game, Hillis led the Giants with 36 rushing yards, tied for the team lead with five receptions and scored a touchdown on a one-yard run in the third quarter. Beason, who joined the Giants in a trade with Carolina on Oct. 4, led the Giants with nine tackles (five solo) as the defense held Adrian Peterson, the defending NFL rushing champion, to just 28 yards.
"To be able to come in a short amount of time and complement your team and play well and contribute, it's a huge positive," coach Tom Coughlin said today on a conference call. "I think it does breed confidence and it does breed the idea that there is something perhaps we didn't have that now we have. I think (Hillis and Beason) have both, in their own way, inspired others and I hope that will continue."
Each player brought an impressive resume to the Giants. Hillis had rushed for 2,470 yards and 21 touchdowns in five seasons that took him from Denver to Cleveland to Kansas City. He ran for 1,177 yards and 11 scores for the Browns in 2010. But this year he was released on Sept. 21 after spending two months with the Tampa Bay Buccaneers, for whom he did not play a regular-season game. Hillis and his wife, Amanda, returned to their Tennessee home while Hillis hoped for another opportunity. The Giants gave it to him after David Wilson suffered a neck injury and Brandon Jacobs hurt his hamstring. Last night, Hillis capitalized on that chance.
"I thought Peyton played really well," quarterback Eli Manning said. "Coming in here on a week's notice, he did a good job just understanding protections, blocking when you had to, getting out on the routes, a couple big completions and third down conversions. He did a good job and he got out at times and ran the ball hard. He's going to be a help for us. He's a big, strong, athletic running back, and that will be good on third downs. So it was good getting him, and I think he'll be good for us down the road."
Hillis didn't have a complete grasp of the offense, but he certainly knew enough to contribute significantly on a night when rookie Michael Cox was the only other available healthy running back.
"A lot of things you just did on the move," Hillis said. "Sometimes it worked out. There were a couple plays out there where if I'd caught the ball, it could have been a long way running for me. We got the win, that's the important thing, and I know from week to week, I'll get better.
"There's a lot of room for improvement on my side. I think that I did some things to help the team win and other things, I didn't. I'm just glad that I can be with the organization and we got the win."
How does he feel about going from unemployed to the starting lineup in less than a week?
"I'm very blessed to be on this team, in New York, with great fans," Hillis said.
Beason was the Panthers' first round draft choice in 2007 and a Pro Bowler each season from 2008-2010. He started the first 71 games of his career at middle linebacker and the first two this season at weakside linebacker before playing just one snap in his final game in Carolina, ironically, against the Giants.
The Giants sent a late-round draft choice to the Panthers for Beason, who started and led the team with 12 tackles in Chicago six days after his arrival. He is already a defensive leader who stressed the importance all week of gang-tackling Peterson. In the season's first 22 quarters, the Giants' defense allowed 174 points (not counting their opponent's five return touchdowns). With Beason entrenched in the middle, the unit has allowed only three points in the last six quarters (again, not counting a punt return score last night).
Beason brushed aside a suggestion his arrival has been the difference.
"All I want to do is do my job," he said. "Do my job, bring energy, try to get guys lined up so they can go out and hunt and do their jobs. (It's a) coincidence, maybe. But like I said, I just try to do what I can.
"We're just doing our job. Guys are prepared, guys are playing hard, playing with a purpose. Whenever you get 11 guys on the same page and are giving that consistent effort, fight, fight, fight, fight, great things happen."
While Beason tries to minimize his contribution, his teammates and coaches do not.
"He's been a Godsend for us," said defensive end Justin Tuck. "That guy, just his passion for the game and the knowledge. There are so many times out there on the football field he sees things before they happen. He is getting guys in the right spots and he is very vocal. That leadership is something we needed and he's done a great job. I think he's brought our young linebackers with him, too. So, it seems like every week he's starting, he's getting a little better, a little more comfortable, a little bit more aware of how we play and he's taken that and made it his own and he's really helped our defense a lot."
"He's a pro's pro," Coughlin said. "He's excited. He loves the game, he loves the competition. He's physical. When you listen to him you know there's confidence there. He is bright eyed, he's energetic. He's done a very nice job in a short amount of time."
And like Hillis, he's done it when the Giants needed it most.