EAST RUTHERFORD, N.J. –** It's fair to say no position group on the Giants has as wide open a competition for starting spots this summer as the linebackers. And one preseason game does not provide enough evidence to make a final decision.
Coach Tom Coughlin praised the group in his review today of the Giants' 18-13 victory last night in their preseason opener in Pittsburgh. But the coach would not or could not single out a specific linebacker who rose above his brethren.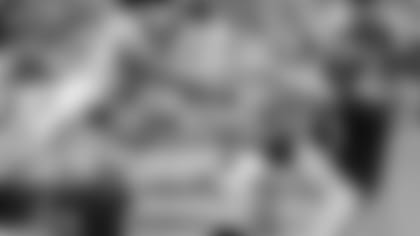 Gameday Photo Gallery](http://www.giants.com/photos/photos/Gameday-Giants-vs-Steelers-Game-Photos/5707cfd6-4833-4d46-871b-ea5eaaabcb1a) "I think there were flashes, I really do," Coughlin said on a conference call. "I don't know that there's any one particular individual that made enough plays or a whole lot of plays in order for me to say that. But we were steady. We didn't give up a touchdown (by the Steelers' offense), so somebody was doing a good job in there."
The linebackers are currently so interchangeable for several reasons. Chase Blackburn and Michael Boley, who started a combined 25 games last season, are no longer with the team. Mathias Kiwanuka, who started four games at strongside backer, is again a fulltime defensive end. Keith Rivers was limited to 11 games and six starts in 2012.
The Giants' linebackers have yet to establish themselves individually or as a group. The starters in Pittsburgh were Mark Herzlich in the middle, fellow third-year pro Spencer Paysinger on the weak side and the veteran and former first round draft pick Rivers on the strong side. Jacquian Williams was on the field in nickel packages. Aaron Curry, Dan Connor and Kyle Bosworth, all presumed to be in the mix, played as reserves.
Coughlin was questioned about Herzlich, who was credited with one solo tackle.
"In that position, the mike backer position gets the signals and calls the game as it comes off the sideline," Coughlin said. "So Mark had that opportunity. He does an outstanding job with that. We're analyzing the linebacker play the entire preseason so that we can get the right people on the field in the right spots. So it's ongoing and Mark, I'm sure, will be a guy that will tell you that we played pretty good last night, but we can all play better."
Paysinger led the Giants with five tackles (four solo). Connor had three (two solo). None of the other backers had more than two. Williams knocked down a Ben Roethlisberger pass. Coughlin was displeased with Pittsburgh's 58 rushing yards in the first quarter (including three runs of nine or more yards).
"Right off the bat, we were reached," Coughlin said. "They came out running the outside zone play and we did get in a position where we were reached. We didn't get off the blocks and didn't get to a point where we could reject the front and the ball carriers were able to slash and make yardage and a couple of times cut the ball back. I think we'll do a better job once we get a look at this tape and understand our gap responsibilities, but this is going to continue to be an objective for us."
Coughlin was asked whether the Steelers' rushing total was due in part to the Giants' linebacker flux.
"I'm hoping that the combinations that we go with," Coughlin said, "whether that's by our decision or by the result of the injury factor, we're hoping those combinations will provide the necessary strength or techniques in order to accomplish what our objectives are. We're not saying it's going to be a perfect alignment. That just doesn't happen. So the guys that are available to us or the combinations we decide upon are in there for that reason."
Not surprisingly, Coughlin was still annoyed with running back Andre Brown for mishandling a pitchout and losing the ball to Pittsburgh.
"Naturally it concerns me and it concerns Andre, too, because it was careless," Coughlin said. "I don't care how much and how long you've played the game. There are certain things that have to happen before you run the ball. You've got to look the ball in. If it's going to be a toss or a pitch or a pass or whatever - first, you have to catch the darn thing and put it away and cover it up before you can go on to the next objective. I'm sure he's going to learn a lot from that and to his credit, he went back right in and did some good things. So that idea of looking the ball in, I don't know how that escaped him last night, but for me, that was the whole reason for the turnover."
Rookie quarterback Ryan Nassib played the fourth quarter and had one completion in four attempts, a 29-yarder to Julian Talley.
"He needs to keep getting his feet wet just like anybody else does," Coughlin said. "It's a brand new experience and we'll keep that in mind as we set the order and the number of snaps as they are to be divided up for the next game. Now in truth, he got just as ma
Coughlin said he expects Justin Tuck to practice tomorrow. Tuck missed two workouts last week and the Pittsburgh game because of tightness in his back. Offensive lineman Justin Pugh, who has been sidelined for a week with a concussion, has been cleared to return to practice.
Wide receiver Kris Adams underwent surgery to repair the fractured left ankle he suffered in Pittsburgh. Backup offensive lineman Chris DeGeare, who sustained a knee injury, was undergoing evaluation. "We do have the normal aches and pains from having played and I won't know the real consequence of those things until I get an evening report from the training room," Coughlin said.
The Giants next play on Sunday, Aug. 18 at home vs. Indianapolis.