When Cody Latimer signed with the Giants on March 19th, it didn't look like there was going to be a chance for him to compete for a prominent receiver role with Big Blue. Odell Beckham Jr., Sterling Shepard and Brandon Marshall were all accomplished wide receivers primed to return from an injury plagued 2017. It was a numbers game that didn't compute in Latimer's favor.
All that changed on April 19th, when the Giants terminated Brandon Marshall's contract after a failed physical. The door is now open for younger wide receivers on the roster like Latimer, Roger Lewis Jr., Travis Rudolph, Hunter Sharp, Keeon Johnson, Marquis Bundy, Amba Etta-Tawo and Jawill Davis to earn a virtual starting spot as the team's third wide receiver.
"I think it's a big opportunity, but not just for me, for all the guys," Latimer said. "Nothing is set in stone and we are all out here every day working and putting our best foot forward. At the end of the day, we are going to see what happens. We are all bringing it, and it is a great opportunity and I'm happy to have it and make the most of it."
Marshall was the most physical imposing receiver on the roster at 6'5 and 232 pounds. Even though Latimer stands at just 6'2 and 215 pounds, he believes he can step in and be a change of pace to what Odell Beckham Jr. and Sterling Shepard bring to the field.
"You'll get a physical receiver and a fast receiver, good hands, great hands, going to make plays on the ball," he said.
Latimer will benefit from having a familiar face in the wide receiver room with him. Tyke Tolbert, the Giants new wide receivers coach, was Latimer's position coach for all four of his years in Denver and will now have the chance to help him learn Pat Shurmur's offense.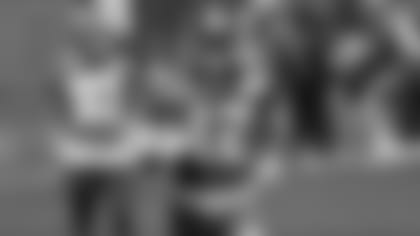 "It's been great," Latimer said. "I've been with Tyke my whole career. Being able to move here with him has been amazing. I'm glad they put their trust in me and to bring me here. It's been great learning this new offense. It's very explosive, throwing the rock around and getting well-adjusted to it. I've been in a couple offenses so it is something that catches on easy for me. It is an everyday process. We are all still learning and started at ground zero. We're doing a good job and everything is coming together."
Latimer's time on the field in Denver playing was very limited. He started only three games over the course of his four pro seasons, catching 25 passes for 445 and three touchdowns. He was stuck behind two very productive wide receivers in Demaryius Thomas and Emmanuel Sanders. During Latimer's four years there, Thomas had 389 catches for 4,955 yards and 27 touchdowns, while Sanders totaled 303 catches for 4,126 yards and 22 touchdowns.
"I learned lot from them," Latimer said. "They were great receivers. They were like big brothers to me. We still communicate to this today. I learned a lot, how to be a pro. I watched Emmanuel take notes for years, him and DT [Demaryius Thomas], how they study, all the extra work they put in and I try to apply it here. I'm one of the older guys on the team here, so I try to tell the young guys and show them what I learn daily, like having to stay late and get extra work with the quarterbacks. You mess up a throw during practice, didn't get a good connection, you stay after that and get that route with the quarterback and build that trust. I learned more pro things, studying, how to take notes, how to do extra and when I come out here just lay it all on the line."
Even though Latimer did not play a lot of snaps on offense for the Broncos, he did play a lot on special teams. It's something he hopes to carry on in his time with the Giants.
"(I'm) a guy that's hungry, be a gunner, something that has kept my career," he said. "Staying humble, knowing what I got to do to keep a job. Special teams is near and dear to me and they've seen and it and I'm going to bring it here."
Latimer hopes to make more noise as a receiver with his new club. He was the 56th pick in 2014 NFL Draft, a pick the Broncos traded up for, using their 63rd, 171st, and a 2015 fourth rounder to make. He caught 72 passes for 1,096 yards with nine touchdowns in his final season at Indiana as a junior. There could be untapped potential that Latimer wants to display with the Giants.
"I'm trying to show them they brought a great player here," Latimer said. "I'm here for a reason. I'm hungry. I'm here to win championships and I'm here to bring an attitude."
The Giants hope they see that on the field when OTA's begin next week.