EAST RUTHERFORD, NJ - The Giants finished the 2010 season with the same record as the NFC East champion Philadelphia Eagles, the same record as the playoff-bound Green Bay Packers and the same record as the 2007 Giants team that won Super Bowl XLII.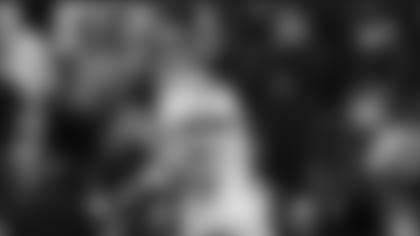 But alas, their season is finished while others play on. Three losses to the Eagles and Packers in the final seven weeks of the season first cost the Giants the division title and then a playoff berth. A season-ending 17-14 victory yesterday in Washington left them with a 10-6 record, but when Green Bay beat Chicago, the Giants lost the NFC's last postseason berth on a tiebreaker.
So today was for cleaning out lockers and saying goodbye, reflections and the frustration that comes from wondering what might have been. The Giants were an odd mix, accepting their fate and taking responsibility for coming up short, but defiant in their belief that they are better than a non-qualifier.
"Overall, I'm disappointed in the outcome of the season," said quarterback Eli Manning, who threw for 4,002 yards and 31 touchdowns, but also tossed 25 interceptions. "We thought we had potential. We thought we had players to make it in the playoffs and make a run, and we didn't accomplish that. We didn't play well enough at times of the season to make it into the playoffs."
 "I know there are teams in the NFC that are glad we're not in the playoffs," center Shaun O'Hara said. "Because we would have finished that the right way. There are a lot of teams that didn't want to play us down the road. We're a good football team. We're a physical football team, and we've won games and lost games at the wrong time. When you look at when we were 6-4 after we lost to Philly and we ended up going 4-2, that's the right way to finish a season. We didn't get in, and we're of course all upset and disappointed because that's why you play this game – to get in the playoffs, get into the dance. But I think this is a really, really good football team with a great coaching staff. And it's unfortunate at 10-6, we should be excited, we should be preparing for the playoffs, and instead we're not."
That lament was echoed by owners John Mara and Steve Tisch, who each spoke today to the media and players in the locker room and by Jerry Reese, Tom Coughlin and Manning, all of whom held news conferences in the auditorium in the Timex Performance Center.
They each had their personal slant on what had happened, but they were variations on a theme. The Giants were a good team that hurt themselves with turnovers, miscues and missed opportunities, most notably failing to hold a 31-10 lead in the fourth quarter of what became a 38-31 loss to Philadelphia on Dec. 19.
"Obviously, I was hoping Chicago helped us out, but we had opportunities earlier in the year to seal our own fate," defensive captain Justin Tuck said. "One thing you always learn in this league is to handle your own business and don't get in the situation where you have to rely on somebody else. We have to win, and it didn't work out as far as the playoffs go. You come back next year and hopefully you take advantage of the missed opportunities we had this year.
"We had a good year. Ten and six is nothing to hold your head down about. Obviously, it wasn't good enough, and we always have a goal of reaching the playoffs and going deep in the playoffs and hopefully winning the Super Bowl. It didn't happen this year, but we're not going to hold our heads down about it. We had opportunities, and you try your best to learn from them. Hopefully, that's being carried over to next year and it gets us to work a little harder in running and work a little harder in lifting and propels us to where we want to be next year."
Reese was hoping his traditional season-ending news conference would be held later in the year.
"I'm really disappointed to be here talking to you guys about 10-6," Reese said. "I really felt like we had an opportunity to go further into the playoffs, get into the playoffs I should say, and really do some damage when we got there, but it didn't work out that way. I'm really disappointed, even more so than last year because we put ourselves in position and that's what our goal is every year, to put ourselves in a position and we put ourselves in position and we just did not finish the job and that's very disappointing.
"If you just look at where we were with seven minutes left in the Philadelphia game, you guys would have been writing about how great we were and we let that game slip away and we were fighting for our lives and we go to Green Bay and for whatever reason – I can't put my finger on that, why we don't go there and play better than we did – and then scramble around yesterday and get a win, but you can't depend on other people helping you get to the playoffs, you have to do it yourself and we were right there on the doorstep to do that and we didn't do it, so it's disappointing. "
Reese specified where the team played well and where it needs improvement.
"There were some positive things that came out of the season for sure and there were some negative things as well," Reese said. "The positive things: the young receivers, Hakeem (Nicks) when he was healthy played really well, Mario (Manningham) stepped up and played well, some more young guys we feel like can come in and do a good job at receiver as well, hopefully Steve Smith will make it back with a full recovery from his injury. We had to shuffle the offensive line a bunch, we were able to do that – some young guys got to play quite a bit. I really feel bad for Richie (Seubert, who dislocated his kneecap in Washington) because really, to me, he is the MVP of the team, but I feel bad for how he went down yesterday because he really kind of saved it for us along with everybody else. Everybody was in it together, but Richie has really held that offensive line together for the most part.
"On the defense some positive things: we were really good on third down for a lot of the season, we were really dominant at times with the pass rush. The disappointing things are, for me: the coverage on the back end of the defense. We have to make more plays on the back end. We gave up too many explosive plays on the back end of the defense and we've got to get that corrected. Offensively, the thing that jumps out at me on the negative end is that we turned the ball over too much. Defensively we were up there in sacks – I think we may be either number two or three in sacks in the league – and we were number one in takeaways I believe. Offensively, what jumps out at me is that we turned the ball over too much, we had too many giveaways. Those are things that can be corrected and I believe that Tom Coughlin will correct those things."
Coughlin spoke of the Giants' NFL-high 42 turnovers and the injuries that sapped the wide receivers and offensive line of depth and talent.
But he feels better about his team than he did a year ago, when the Giants finished with losses to Carolina and Minnesota by a combined score of 85-16. The 2010 Giants closed the season by winning a division road game.
"We're a better team right now," Coughlin said. "Unfortunately we have a ton of injuries and the way that the injuries struck that one position (receivers) is just…I don't even think…it's unheard of. To lose receivers like we did this year and to go back and forth like we did and to go back and forth even with the offensive line situation. Fortunately, for the most part, our defense stayed pretty solid, but in most years you're going to have injuries in this league, we all know that, and you're going to play through them and you have teams that have them and keep on going and we did, too. We just hope that at the beginning of every year, what is your wish? You'd like to play the season with your players, the ones you put together in the beginning."
Although the media spent the final weeks of the season speculating about Coughlin's job security, the coach paid no attention to it and it was never an issue to Mara, Tisch and Reese. Mara told reporters in the postgame locker room in Washington that Coughlin would be back, a move that was met with universal support in the locker room.
"Coach Coughlin is one of the most prepared and energetic coaches," Manning said. "He loves being the coach of the New York Giants. He loves football, loves coming in every day and the excitement of preparing, practicing, and playing the games. The players feel that energy and that passion and it rubs off on us. I think guys have a lot of respect for him, trust him, and know that he's going to get us prepared to play."
"Like I've said before, I wouldn't want to play for anybody else," offensive lineman Rich Seubert said. "We had 10 wins this year. That's something to be proud of. Obviously, we want to be in the playoffs and have a chance, but we were hungry this year and we're going to be even hungrier next year."
Coughlin is as deeply disappointed at not making playing the playoffs as anyone, but that didn't preclude him from praising his players.
"I love this team, I love these guys, I think they're strong character people, we work together on everything, we're all in it together, we're all for one, one for all and that's the way that it has to be," Coughlin said. "It's a group of guys that don't make excuses for anything, they accept responsibility, they accept whatever takes place. They've done an outstanding job this year of adjusting to some very unusual circumstances that surround the game. They've done a good job of that. We've had a couple of huge disappointments, emotionally we weren't to where we should have been. We did come back to a certain level last night, but it's an outstanding group of guys who by and large are on the same page, they're focused, they come to work, they prepare themselves, they play hard, there are all kinds of personalities just like there always is, but as I said, I'm very, very appreciative of the kind of effort, the attitude, the enthusiasm, and the fact that this year's team was a very responsive team."
Perhaps next year that will help carry the Giants into the playoffs.