Tight Ends Coach Michael Pope also met with the media in early June during Giants' OTA's to give an update on the team's progress:
RE: Adrien Robinson
A: Adrien Robinson appears to have gone into the Land of the Believers and yes he has been making some good progress. He is understanding assignment-wise – just in our most recent meeting. But the plays are still not the lines on the page that we give them for instruction. So he is doing a lot of the assignment things correctly. Now we have to get him to adjust to the way the defense is playing on each particular play and to make the best decisions based on how the defense is playing. But he is running well and he has his weight down some. The quarterback is starting to find him. He is hard to miss – he is the tallest tree in the forest out there. So he is a good target. But we are more than mildly pleased with the progress that he has made from an assignment standpoint.
Q: With Bear (Pascoe) playing at fullback now, it would seem there is an opportunity there…
A: It is a great opportunity for him. We are very sad about Henry Hynoski. It is just an accident, but Bear has played a good bit of fullback for us. Actually he played about 160 snaps at fullback last season. So he is aware of the assignments. There are still some finite things that he can get better at there. But it gives us a great deal of flexibility because when Hynoski is in the game they pretty well know that there are some limitations as to where he will line up. He is pretty much a backfield player. When we can put Bear in with one of these other guys, now we can do a lot more things as far as open formations – a little more difficult for the defense to predict where they can't just key on one of the those guys and say the ball is going there. So that helps us. It helps us a little bit more …..
Q: Bear had said that this is probably where he is most versatile.
A: There is a good bit of size and there is some speed. And if these memory pills will kick in, hopefully he will be able to learn those assignments and be able to go and play these multiple positions. Because it is a great advantage for us, offensively, and creates some problems for the defense when we can take these guys who normally play in by the tackle – play them out in space a little bit more. So that presents some problems for the defense.
Q: Very often you get players who you really have to work with to get them up to speed – the pro passing game. I would imagine that is not the case the (Brandon) Myers.
A: These guys are more gifted – the whole group of them are, really. Robinson and – there was a good basketball player and he tells me he is a good basketball player. But he has inbounding skills. He can go up and hit the higher balls. And of course Myers has a good bit of that. He had a good chemistry out at the Raiders. He had a lot of catches there last year. So yeah, you can see he has those kinds of athletic skills. With no pads on you can still see why he was a good person for us to try to replace (Marcellus) Bennett with.
Q: It is not often that there is a guy sitting out there with 79 catches.
A: Exactly.
Q: He is a naturally gifted pass catcher?
A: He is a good receiver. I think at the Raiders he was more of an intermediate receiver. And now our passing game does allow the tight end to get more vertically down the field – flag routes – double seam routes – post routes – that kind of thing. And he appears to have the skills to get those balls. He has a little bit of a jet that can accelerate and go get a ball that is a little deeper. You may not think he is going to reach it, but he has that little bit. So we are very interested to see him in pads.
Q: Chase Clement - what is it about him that you really like?
A: When I first looked at him I had visions of Jake Ballard. Just because he was a good blocker on the goal line. They seldom ever threw him the ball. But when the ball was snapped he had kind of that tough-guy mentality – old school. But he really had a motor and he would come up. And often times because those ….job mixes now are so spread out you have to find them on the goal line or short yardage or something like that. So we looked and looked and looked. And he just looked like that kind of a person. He is not going to be an all-world receiver way down the field, but as far as being explosive and flexible, and he has pretty good football savvy. There was a little concern about a back injury. We got that looked at and there doesn't appear to be a problem. So we are kind of excited to see him. He was here; he left and then came back. So he has only really been here a couple of practices. But I think there is something to work with there.
Q: He left; was he signed?
A: No, he came here and didn't pass the physical. So they just had to do more research on him. As a free agent sometimes they are a little bit anxious about signing guys that maybe don't pass their physical. But he went back and got clearance from the doctors. So we will be anxious to see. Those kinds of guys – often times maybe they don't have the speed that you might be looking for to be a marquee player. But they are necessary on your team. The other thing, he can rifle the deep snap. So maybe we work with him. He might have some future there. They are all in these shorts – I call them pajamas – out here. You really can't tell an awful lot.
Q: Just about everybody you talked about….
A: Yeah. That is how the games are played. So it is a good group to work with. There are some names that people won't be very familiar with, but hopefully…
[VIEW PHOTOS OF THE TOP TIGHT ENDS TO PLAY UNDER COACH POPE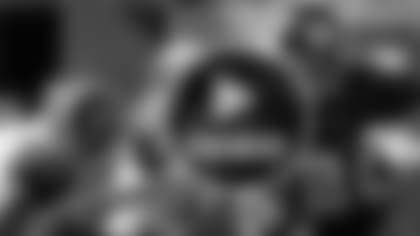 ](http://www.giants.com/media-vault/photo-gallery/Mike-Popes-TEs/92e1a206-6683-40eb-9d64-3614ef00a91a)