5) Working back from his third major knee injury, cornerback Terrell Thomas appeared in live team drills for the first time of training camp this year. He saw action as the nickel corner, and we began the countdown with his pass breakup intended for Victor Cruz.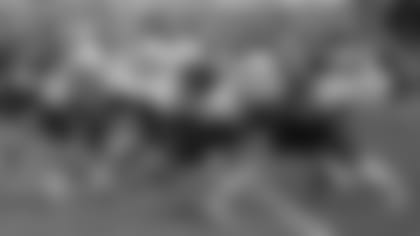 Photos: Training Camp Practice 4) Running back David Wilson flashed his ability to change directions on a dime, cutting through the first and second layers of the defense on a handoff on the first play of practice.
3) Linval Joseph broke through the line of scrimmage and wrapped up Wilson, the ball carrier, to thwart the offense's designed run play.
2) Rueben Randle, earlier praised in the day by offensive coordinator Kevin Gilbride for his smooth routes, ran a comeback to perfection and grabbed a pass from Eli Manning on the sideline.
1) Second-year tight end Adrien Robinson made two nice catches in practice, including a hookup with Manning for a big first down in the four-minute drill.