EAST RUTHERFORD, NJ - Three reserves were added to the Giants injury list and will not practice today as the team begins preparations for its home game Sunday against the Detroit Lions.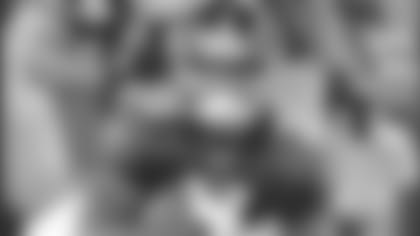 None of the three - running back D.J. Ware, wide receiver Victor Cruz and defensive back Brian Jackson – appear to be seriously injured. Ware has a sore groin, Cruz a hamstring injury and Jackson a neck issue. All three players get the bulk of their playing time on special teams.
"Victor has a hamstring that for some reason, somehow in striding Monday occurred," Coach Tom Coughlin said. "We have a groin with Danny – which he looks pretty darn good today. I'm impressed with the way he's bouncing around today. He has more of a positive attitude about that. And then Brian had a stiff neck or a sore neck after the game. He feels a lot better today, but still has some of that around."
Center Shaun O'Hara, who has missed three games with ankle and Achilles injuries, will participated in individual drills in practice. "They slowed him down (in tests) yesterday to put him in there today," Coughlin said.
Linebacker Keith Bulluck, sidelined for two weeks with a toe injury, "was scheduled to do the individual – I'm not sure he's going to get that far today," Coughlin said.
Fullback Madison Hedgecock (hamstring) ran on Tuesday, but not at full speed.
Coughlin offered no update on defensive Mathias Kiwanuka, who has been sidelined with a bulging disk in his neck for the past two weeks.
Running back Ahmad Bradshaw (ankle) and safety Kenny Phillips (knee) will practice today. Bradshaw is not on the injury report, Phillips is.
Offensive lineman Kevin Boothe, who has been on the physically unable to perform list, is eligible to begin practicing next week. "A lot will depend on exactly where he is," Coughlin said. "There will be no setback with him. If he's ready to practice and ready to go, then we'll give it full consideration. We don't have to rush into that, because of the fact the bye week is coming up."
Beginning Tuesday, Boothe can practice for up to 21 days while the Giants evaluate his health and capabilities. At that point, they can add him to the active roster, release him or place him on season-ending injured reserve. That 21-day window can begin as late as the day after the ninth week of the season (Nov. 9).
Tackle Will Beatty, who underwent foot surgery after the season opener, "is doing quite well," Coughlin said. "I would say he is advanced, but with these things, you have to go real slow….he's making good progress."