Dreams are coming true for rookies all around the NFL right now. Among them are future Pro Bowlers, Super Bowl champions, and even a Hall of Famer or two. But it all starts with the first game. With that in mind, here are stories from veterans about their NFL debuts – the good, the bad, and even the downright ugly ones. Speaking of…
QB Eli Manning
It was the 2004 season opener after a franchise-changing offseason, which included the hiring of head coach Tom Coughlin and acquiring Manning, the No. 1 pick, in a draft day trade with San Diego. The Giants kicked off the year in Philadelphia with future Hall of Famer Kurt Warner under center, but they found themselves down 31-10 with 2:37 left in the game thanks to three touchdown catches by Terrell Owens in his Eagles debut. So Coughlin put in the 23-year-old from Ole Miss to get his first taste of the NFL. On the very first snap, Manning handed the ball off to Tiki Barber, who ran it 72 yards for a touchdown.
"This is easy," Manning said to himself.
"Then I took the biggest hit of my life on the last play," Manning said. "That was my 'Welcome to the NFL' hit for sure."
Unseen by Manning, Eagles defensive end Jerome McDougle caught the quarterback scrambling to the right side and delivered a hit that pinballed Manning off fellow defenders Darwin Walker and Keith Adams. Manning fumbled the ball as the clock expired to end the game.
"He was behind me, I kind of spun back into it, I went horizontal," Manning said. "So, it wasn't good."
"I thought he was dead," his father, Archie, said after the game.
OT Nate Solder (with New England)
The 17thoverall pick by the Patriots in 2011 started Week 1 as a rookie at right tackle. He made his debut on "Monday Night Football" against the Miami Dolphins at Sun Life Stadium. The Patriots won, 38-24, putting them on a course that eventually ended with a loss in Super Bowl XLVI to the Giants.
"Karlos Danby was their inside linebacker. I pulled on one play and I hit him and I felt like I hit him as hard as I had ever hit anyone in the whole college experience, and he knocked me back into the line of scrimmage. I came off and felt like my shoulder was separated and that was like the first or second series. I remember a lot about that game. Another time we were coming at like the 10-yard line and we run this play, I miss my first guy, miss the second guy, I think I miss a third guy, and the running back makes them all miss and scores a touchdown. And I'm like, 'Yeah!' [Offensive line coach Dante Scarnecchia] is like, 'What are you celebrating about? You didn't block anyone.' I'm like, 'I don't know, we scored.'
"What else happened? It was a Monday night game and Miami had been talking a lot of trash about how they were the best corners and the best backfield in the NFL. We went and put 500-something yards (622 to be exact) on them, a bunch of points, just kind of beat them down on a hot Monday night in Miami. I was playing against Cameron Wake the whole time. I did OK, I had never played right tackle, but I did OK for my first game and everything. My coach sat me down and he said something like, 'The media is going to hype you up and say you did a great job and all this stuff, but don't listen. Just keep working, keep getting better.' It was a good message I thought. It was definitely true. Wes Welker also had this 99-yard touchdown. It was a blitz-zero, we were backed up on our own goal line, and Tom [Brady] just flicked it out there. I'll never forget, it was a gap protection where we all just slide down. You can't screw it up really, and the coach is screaming at me, 'You've just got to block down.' I was like, 'I think that's what I did.' Even in the film the next day, he's like, 'Why wouldn't you just block down?' 'I think I did.' I still to this day don't know what he was yelling at me about. We scored a touchdown. There were plenty of other plays he could have yelled at me about."
Advice to rookie self: "As hard as camp is and all the preparation you put into it, it's only given you a chance to be successful. I was really thankful that I had a lot of veteran guys – Matt Light and Logan Mankins and Tom. Boy, I had some guys around me that knew what it was all about. When you're a rookie, you don't know what you don't know. So I think just keep putting one foot in front of the other. Don't take anything the media says certainly. You've got to keep pushing forward. Listen to your coaches, and every day has got to be an improvement because whatever you are at that point, the first game of the season, you're going to far improve on that if you keep working. And you have to improve on that because even if you're a good rookie, you're still a rookie and the next year you've got to be better. By the end of the season you've got to be better, the next week you've got to be better because you don't know where the season is going to go based off of one game – good or bad. Each game is different. Each opponent is different."
K Aldrick Rosas
A few days before the Giants flew to Dallas for their 2017 season opener, Rosas told the team that he was expecting the birth of his daughter any day back in his home state of California. She was born the morning of the game.
"I was like, 'Oh, I know, I'm not [missing the game], but after the game I'd like to fly back.' They're like, 'All right, well yeah, that sounds good.' And then a couple minutes later, 'Well, Mr. Tisch [chairman and executive vice president Steve Tisch] is flying back to California. You can just hop on with him.' That was one of the most amazing moments of my life. That was pretty cool. I'm so grateful they'd do that for the kicker. It was a lot of emotions. It was my first NFL game. I just had a kid. Oh my gosh. But it was fun. It all worked out. That's one of the days I'm going to remember forever. I barely got any sleep that night. It's been great. This organization has done a lot for me, and I'm truly grateful to be here and just keep it going now."
Advice to rookie self: "I think just after that year, I guess the biggest thing for a kicker is just staying out of your own head. So if I can just go out and pretend I'm in my backyard just kicking, that's when I feel I'm most comfortable and a sense of relief to go out there and do it and have fun with it."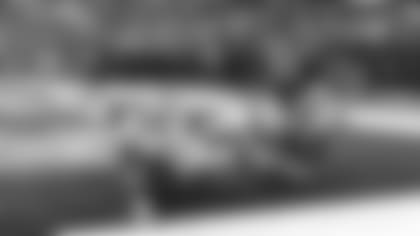 WR Sterling Shepard
The 2016 second-round draft choice started Week 1 on the road against Dallas and caught the second of Manning's three touchdown passes, a nine-yarder in the second quarter of a 20-19 victory.
"I just remember I was itching for a touchdown all preseason, and it really didn't come my way. I had a couple of shots in the end zone, about two times, but never really got my hands on it or it wasn't a catchable ball. So I was looking forward to getting in the end zone. Odell was saying, 'It's going to come this game.' I'm like, 'If they call it, I'm going to go get it.' They called it, so I went up and went to go get it. Yeah, it was the best feeling in the world."
Advice to rookie self: "Just play the game you've been playing all your life. Don't think the moment is too big. Don't overthink anything. Just settle down and play the game you've been playing since you were five."
LS Zak DeOssie
Like many Giants, the eight-time special teams captain and two-time Super Bowl champion began his career on the road against the Dallas Cowboys. His came after the Giants selected him in the fourth round of the 2007 NFL Draft, the year they won Super Bowl XLII.
"I was nervous as all hell. I was on the front line of kickoff return, and I know exactly who I was blocking: No. 25 [Patrick] Watkins. I knew he was super-fast, but little did I know. So I sprinted back as fast as I could, knew where he was going to be, turned around, and never saw him because he had already passed me. So I ran over to the wedge and tried to get in other people's way, but I ended up getting in my own teammates' way. So they yelled and screamed a little bit and went off to the sideline and it was all downhill from there. It was a big moment. I remember being nervous but also very, very excited for the opportunity to start something I've always dreamt about."
Advice to rookie self: "If you miss your guy, go hit somebody else as hard as you can."
S Michael Thomas (with Miami)
Undrafted out of Stanford in 2012, Thomas had to wait all the way until Week 15 of the following year to make his NFL debut. He spent nearly two seasons on the 49ers' practice squad before the Dolphins signed him to their active roster on Dec. 10, 2013, five days before they played Bill Belichick and the Patriots. Thomas won the game for the Dolphins on an interception in the end zone with two seconds left in the home game.
"Good first impression. To this day, I still get hit up by fans and ex-Dolphin players. That was a very memorable moment for not just me but for them, also. It was crazy going from practice squad Sunday to getting that call Monday. I had been waiting my whole career for that call to try to get picked up. And then to get there, what, on a Tuesday night or Wednesday morning, practice on scout team the whole week, not even supposed to play. Coach Lou (current Giants defensive backs coach Lou Anarumo previously held the same position in Miami for six years) was there. He's like, 'All right, 3-1' – nobody knew my name – '3-1, just get in where you can fit in.' I was playing on special teams, but two guys (cornerbacks Brent Grimes and Nolan Carroll) got hurt in the fourth quarter and they're like, 'We need you because we didn't dress too many DB's.' They knew I played nickel in the slot in college and in the preseason, so they put me in there. Tom Brady sees me like, 'What are you going to do?' It's a practice squad guy in there and he's picking on me the whole time. We're up and they're on the game-winning drive, and I think it's first down at like the 20-yard line or something and I get a PBU. The crowd goes crazy. It was just electric. I'm like, 'Oh s*, I'm really here, I'm really playing in the league.' Incompletion, incompletion, so now it's fourth down and coach calls a coverage that gives me help, me and Reshad Jones. Set, hut, [Julian] Edelman goes inside, so I free up, next thing I know the ball is coming. It's like a movie in slow motion. I pick it off, land in the end zone, I'm like, 'Wait, hold up, I just caught my first interception. No, I just caught a pick to win the game. No, that's Tom Brady.' Everybody just went crazy. The crowd is screaming. Teammates are jumping up and down. They still don't know my name – '31!' I cried afterwards and everything. It's just like you're on practice squad for two years and you finally get your opportunity."
Advice to rookie self: "Just thank God you prepared the way you prepared when you were on practice squad. Continue to have that same drive, that same energy. Don't lose that focus. Don't lose that hunger to play the game."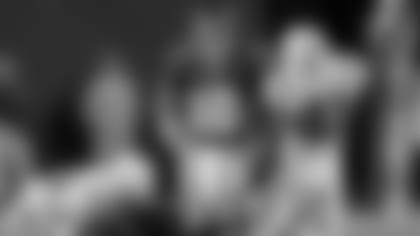 S Antoine Bethea (with Indianapolis)
Bethea has played in 206 games in his career, including two Super Bowls. His first game, however, was a different bowl. The sixth-round draft choice by the Indianapolis Colts, led by Peyton Manning at the time, made his rookie debut against Big Blue at Giants Stadium in 2006.
"It's funny. We were talking about it a little bit yesterday. They called it the Manning Bowl. Lining up against Tiki Barber, Jeremy Shockey and Brandon Jacobs, it was definitely fun. Getting my first start, that was one of the only games I've ever had butterflies the whole game. It was exciting. It was fun. It was a dream come true."
Advice to rookie self: "Just relax. Relax and play the game. Don't think too much of it. Yeah, it's your first NFL game, but it's a game you've been playing for a long time. Just relax and have fun."
P Riley Dixon (with Denver)
Dixon had big shoes to fill after the defending Super Bowl champion Broncos used a draft pick on him in 2016, putting him into a competition with a seasoned veteran. Dixon eventually won the job and made his debut against the Panthers in the opener.
"It was the Super Bowl repeat game. The Broncos had just beat the Panthers in Super Bowl 50, and I got drafted to the team. I was a young kid and I had just taken over there for Britton Colquitt, who in my opinion is one of the better punters in the NFL, a guy I've always looked up to. So to be able to work with him for my first handful of months I was there was amazing and I learned so much from him and he was just an unbelievable guy. So it was kind of a weird position for me playing with the guys you've always looked up to. It was kind of interesting for me. That first game, I could feel the pressure. I don't normally feel pressure in most situations, but I'm in new grounds, I'm on the reigning Super Bowl champ's team. I didn't have the best game. I had a couple sub-par punts, and I remember my last punt, I think it was the fourth punt of the game, out of the end zone. Time was running down. We were up by one, so field position is of the essence there because a field goal will win it. And I didn't have the best punt. Their kicker went on to miss the game-winning field goal and we ended up winning."
Advice to rookie self: "Just trust yourself. Punting is 99 percent mental. I mean, how many punts have you hit in your life? You get on the field – and it's like any position – you start to doubt yourself and your abilities. Just talk to yourself in your head, talk yourself up and know you're more than capable. And have fun really because I think that's the most important part of this game."
G Kevin Zeitler (with Cincinnati)
Less than five months after the Bengals drafted him 27thoverall, Zeitler started at right guard in his Week 1 debut. It was a Monday night, on the road in Baltimore against the eventual Super Bowl champion Ravens, who were led by Ed Reed, Ray Lewis and Haloti Ngata. It did not go well for Cincinnati.
"I remember it was very loud, it was a very good defense. Obviously they won the Super Bowl that year, and I remember me wishing the next day that it had gone better. It was funny, though, every game after that seemed pretty easy in comparison. If you're going to talk about an opener like that – a good defense, talent, night game – that was a big 'Welcome to the NFL' moment right there. Nothing really seemed like that for the rest of the time."
Advice to rookie self: "Just keep playing. Things happen. Just keep moving. Keep going. If something bad happens, just keep moving on because you have how many number of plays left."
OLB Markus Golden (with Arizona)
Golden's 2015 debut was also James Bettcher's first game as a defensive coordinator. Before they reunited with the Giants this season, Golden played three seasons under him in Arizona. They opened with a victory over the Saints.
"I got a hit on Drew Brees, so I felt pretty good about that. Then I made this crazy play in the red zone, where I was playing hard to the whistle. (Golden tackled Khiry Robinson for a third-down stop at the four-yard line.) It was a real nice play. J.B. (Bettcher) used to always pull it up to show people how to play. So after that game, I got a little shout-out. That was a good thing. I made a lot of mistakes, too, in that game. But not too many. J.B. wasn't nervous or anything. It was a regular day for him. I was excited, ready to play, kind of anxious, had anxiety, but good anxiety. It was more nervous because I had prepared for it and I had been waiting on it my whole life, rather than nervous because I'm scared."
Advice to rookie self: "Just go have fun. Same advice my mom gave to me when I talked to her on the phone. Just go have fun."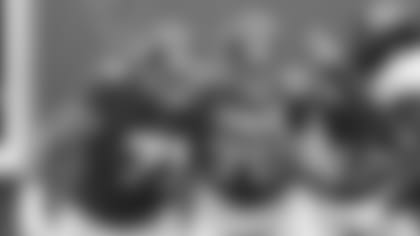 G Will Hernandez
As a second-round draft pick out of UTEP, Hernandez made his debut last season while blocking for eventual Offensive Rookie of the Year Saquon Barkley, whose first career touchdown came on a 68-yard run in the fourth quarter vs. Jacksonville.
"I came from a Conference USA school. Even though we did have a nice stadium, we never packed it, never filled it out. I had played a few big-time schools like Oklahoma, Texas and all that. So I got to experience it here and there, but it was like a once a year thing. To go out there and see MetLife Stadium full, what, 85,000-plus people, it was like, 'Wow, there are so many people here.' That was the first thing, and just going out there seeing how everybody sort of prepares themselves. You could tell there's a lot more focus, and each guy is doing something different for themselves [to get] super locked in. Not only did the amount of people in the stands change, but the speed of the game changed, too. I remember saying to myself, 'All right, pick it up, pick it up, pick it up.' I remember watching [Saquon] running from behind. I had a fast running back in college, too, Aaron Jones, who plays for the Packers. Just watching Saquon run, it's like, 'Wow, that's fast.' Not only did the speed of the game change, but also just seeing how freakishly athletic these skill position players were was pretty cool.
"[Left tackle Nate Solder] talked to me every play. Every play, we were talking, communicating because it was our first time playing together in a real game. We were constantly talking. He was telling me to just block everything out and focus on what you've got to do, your assignment. He was just mentoring me throughout the whole game. At halftime, he was making sure I was good. He was with me there every step of the way."
Advice to rookie self: "I would say: be reliable, do your job, don't let all the outside noise and all the hype – football is football. Just go out there and play your game. Don't be so amused by everything around the field. Just focus on the field."
C Jon Halapio
After he changed teams four times in his first three years, Halapio had yet to play in a game. That changed in 2017, when he suited up for the Giants in Week 7 against the Seahawks.
"I was just on field goal in that one. It was crazy. Just seeing Russell Wilson, just seeing all those guys and just being on the field with all those dudes, it was a cool feeling. It was different from adrenaline. I was star-struck. I was excited. It was just, 'Wow, I finally made it all these years to be active in a game.' When I had my first actual snap as an offensive lineman [three weeks later at San Francisco] was better. It was a different feeling from that. It was a two-minute drive in the 49ers game. At the end of the game, I went in for the last two minutes of the game. I was just like, 'What the heck?' I'm thrown into the craziest situation. We didn't win, but we scored a touchdown and converted a two-point."
Advice: "Honestly, just take of your body more. I think you can always improve in that area. My work ethic wouldn't have changed because I still worked hard."
WR Cody Latimer (with Denver)
Last but not least, the second-round draft choice debuted against Indianapolis in the 2014 season opener, and summed it up best.
"I don't even remember," he said. "I was probably nervous as hell."