EAST RUTHERFORD, NJ - The Giants faced a dilemma in their late practice. They had just one tight end, Bear Pascoe, available for duty. And they wanted to work on their plan for Monday night's preseason opener against the Jets. The solution? Tom Coughlin and his assistants drafted defensive players to fill in on offense.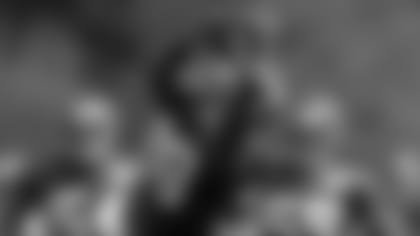 Dave Tollefson, Adrian Tracy, Michael Greco, John Busing and Tommie Hill all lined up at tight end for the scout team offense against the Giants' defense.
Tracy, a linebacker who was the Giants' sixth-round draft choice this year, made what was arguably the best catch of the workout, an over-the-shoulder grab of a Rhett Bomar throw.
"It kind of reminded me of my high school days when I went out there," said Tracy, who played tight end and three other positions at Potomac Falls High School in Virginia. "I actually had a couple looks in college to play, but D-end was the position that I ended up playing. I haven't played tight end since my senior year in high school."
Tracy said he and the other defensive players learned just prior to practice that they would spend time with the offense.
"I was excited because it kind of took me back to my high school days when I had a lot of fun playing that position," he said. "I was going out there and helping the team anyway I can - just give them the best look I can just like the coaches instructed me to do."
"It was a little sail pattern that I had drawn up," Tracy said. "I was just really trying to make sure I executed how it was on the notebook, so I wouldn't get yelled at. A couple plays before I actually had a vertical up the seam, and I thought I was open so I wanted to let Rhett know that he should throw me the ball next time. He did, and I went up and made the catch."
*The first fight of camp almost broke out when Mathias Kiwanuka got into a post-play shoving scrum with ... who else? Rich Seubert. They were quickly separated and no punches were thrown.
*Lawrence Tynes made all four of his field goal tries – actually field goal tries from 34, 43 and 29 yards, plus a 20-yard extra point.
*The list of practice absentees included guard Chris Snee (knee), wide receivers Steve Smith, Mario Manningham and Sinorice Moss (all with groin injuries) and Tim Brown (hamstring and groin), cornerbacks Terrell Thomas (leg) and Corey Webster (glute), safety Michael Johnson (back) and tight ends Kevin Boss, Travis Beckum and Jake Ballard (hamstrings) and Scott Chandler (hip flexor).
*The attendance for today's two practices was 3,540, increasing the camp total to 28,890.
---
I am a huge Bradshaw fan and do you think he could have a huge year? If so, how many yards could he produce in your opinion? Rumors of him starting #1, is this true?
As Tom Coughlin and his assistant coaches point out, none of the backs will be designated as first, second, third, etc. Their workload will be determined by production, the game plan, the opposing defense, the play call – any number of factors. Given all that, Do I think Bradshaw can have a big year? Of course. His offseason surgery corrected his foot and ankle problems and he has run well in training camp. I wouldn't predict a yardage total for him, but he ran for 778 yards last year on bad wheels, so think what he might do when healthy.
If you'd like to submit a question or comment to Michael, click here.
--- ](http://www.nyg2010.com/)**