EAST RUTHERFORD, NJ - Offensive coordinator Kevin Gilbride called it a "huge loss" when Steve Smith suffered a pectoral injury on Nov. 11, but he and the rest of the Giants could take some comfort in knowing the record-setting wide receiver would return at some point during the year.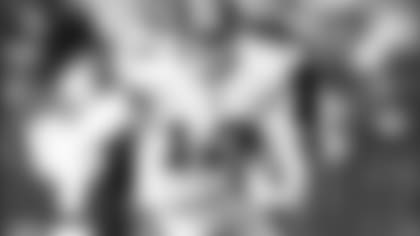 As they began preparations today for their showdown Sunday with the Philadelphia Eagles, the Giants released some sobering news: Smith will miss the rest of the season with a knee injury suffered Monday night in the victory over the Minnesota Vikings in Detroit.
"Steve is injured and will not be able to play anymore," Coach Tom Coughlin said. "He will have surgery on the knee. I feel bad for Steve. He fights his way back, he gets back on the field, he gets a little bit acclimated to game conditions again and then is injured, so our thoughts and the entire thoughts of our team are for Steve at this time. I tried to encourage him after the game because the first news was that it may have been a hamstring or something like that or that type of injury there in the outside back part of the knee. Unfortunately, it turned out to be more than that."
Smith was hurt while making a 16-yard reception on the first play of the fourth quarter, his only catch of the game. He was hooked around the shoulder pads on the right sideline by linebacker Chad Greenway and as Smith tried to stay up, his foot got caught on the turf and his knee bent awkwardly. Smith was examined yesterday by team physician Dr. Russell Warren at the Hospital for Special Surgery and underwent an MRI to his left knee. The diagnosis is that Smith sustained an articular cartilage injury to his knee when he was tackled from behind by Greenway.
Smith will require surgery (which has yet to be scheduled) and becomes the 12th Giant to suffer a season-ending injury this year.
"His presence will definitely be missed in that slot on third down situations and other situations as well," said Hakeem Nicks, the Giants' other starting receiver.
"It's obviously unfortunate for Steve," quarterback Eli Manning said. "I feel for him. That's a tough situation. The good thing is we have a lot of receivers because of the injuries earlier in the year who have been here for the last month or so who are up to date on what's going on. We have Hakeem (Nicks) back and Mario (Manningham) - those guys are playing well. (Derek) Hagan has been here for a month and is playing well and Michael Clayton. We have numbers now where we can put guys in different positions and they can go out there and play well."
But Smith has been a special player since joining the Giants as a second-round draft choice in 2007. In his four seasons Smith has 220 receptions, the most by any Giant in that span. Last year, Smith was the first Giants receiver to play in the Pro Bowl in 41 years after shattering the franchise record with 107 catches.
This year, he missed four games after suffering the pectoral injury but is second on the team to Nicks with 48 catches and third with 529 yards. Smith had a nine-catch, 101-yard game at Dallas and scored three touchdowns.
Nicks, who returned to action against the Vikings after missing two games with compartment syndrome in his left leg, will get more attention from the Eagles' and other defenses without Smith. Nicks has team-high totals of 69 catches for 896 yards and nine touchdowns.
"I don't feel like it puts more pressure on me," Nicks said of Smith's absence. "I just have to rise up to the occasion. Mario Manningham will step up, Derek Hagan will step up. I'm just going to continue to hold it down on my part."
Manningham started three of the last five games and is in line to do so again, but he suffered a hip flexor injury in Detroit.
"It happened on Brandon (Jacob's) long (73-yard) run," Mannigham said. "On the run, I was chasing after (Antoine) Winfield, and felt a little pull. I'll be good for Sunday, though. I don't know how my week is going to be, but I'm going to be alright."
"He does have an issue and hopefully he can progress a little bit each day," Coughlin said. "Hopefully, he'll make progress and hopefully he'll be able to go tomorrow."
Smith will be the fourth Giants receiver to go on injured reserve this year, joining Domenik Hixon (who hurt his knee in a June minicamp), Victor Cruz and Ramses Barden.
"It's another injury that we have on our receiving group," Manningham said. "I don't really feel any pressure. I mean, I haven't missed practice. I haven't missed any games. I still prepare the way I prepare. That's how I look at it. I can't control anything else but what I can do."
Because of the season-ending injuries and the one suffered by Nicks, the Giants have bolstered the wide receiver position, signing Hagan on Nov. 16, Clayton on the 23rd and Devin Thomas the following day.
Hagan has 13 receptions, including a touchdown in Philadelphia.
"When called upon, no matter what the role is, whether he's a gunner or whatever, he's done a good job and we will continue to call on him," Coughlin said.
Neither Clayton nor Thomas has caught a pass.
"They're going to learn week by week," Coughlin said. "You're not going to give them the encyclopedia. They're going to learn the game plan and they've done a good job of that and that's the way that it will continue. How the game plan applies to what you're seeing from the opponent and all the adjustments that go with that. That's how they'll continue to learn that."
"I think we all just bond well together in that receivers' room," Hagan said. "It doesn't matter what the situation is, we're all talking, we're all on the same page just to make sure things are going right. And that's what we need. We all try to stay upbeat and compete with one another in practice, and as long as we keep that going, we know the sky is the limit for us in that room."
Yes, the Giants will miss Smith. But they believe they have the receivers on hand who are capable of helping them defeat the Eagles and succeed in the games that follow.
"One guy is never going to decide whether you win or lose a game," Manning said. "We always have confidence once the game plan is in that with the talent we have on this team, we can go out there and win. We are better prepared now since we've had some new receivers in the past month. We're working with them and we're not scrambling to get guys in different places.
"We have other players and other receivers and guys who can make big plays for us. These last few weeks we've been without (Smith and Nicks) and been able to win some games. We know we can win, we'd love to have him here obviously, but it's the situation we're in and you move forward."
*Coughlin was asked about Philadelphia receiver DeSean Jackson, whose 210 yards (on four catches) Sunday night in Dallas is the most in NFL history by a player with four or fewer receptions in a game. Jackson is averaging an NFL-best 23.1 yards per catch and has touchdown receptions of 88 and 91 yards this season.
"You're trying to ruin breakfast and lunch?" Coughlin said. "DeSean is DeSean. The big play aspect of his game, of what he's done particularly on a first down and did again the other night for the 60 yarder on the first play of the game. You go back and look and see. That aspect of their game hasn't changed. He's their big play guy and (LeSean) McCoy is playing very well, (Jeremy) Maclin had a big game against us the first time around. There's multiple talented guys there."
*Coughlin lauded the play of Rich Seubert, who has played center since Shaun O'Hara sprained his foot at Dallas on Oct. 25. The coach did not rule out O'Hara returning this week.
"There is no way to overstate what Rich Seubert's contribution has been," Coughlin said. "When Shaun is down and he moves into center and we really don't miss a beat, that says a lot about him. Rich loves to play, he loves any challenge, he's a competitor, he's physical, he's tough, he's a great example for everybody. The more the merrier. If we can get Shaun back in the mix, then that will be a good thing."
Regarding O'Hara, Coughlin said, "We're going to move him along further and we'll see."
*Shawn Andrews, who missed three games with back issues, returned to practice on a limited basis.
*Because of the Monday night game against Minnesota in Detroit, Coughlin altered today's schedule for the players and allowed them to report to work a few hours later than normal. As a result, rather than a typical Wednesday practice at midday, the team had a jog-thru from 4:00-5:20 p.m. following early afternoon meetings.