EAST RUTHERFORD, NJ - Are the Giants every going to get any good news regarding injuries?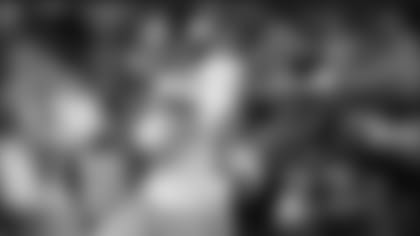 It didn't happen today, when the team's already-depleted wide receiver lost its most productive member. Hakeem Nicks, who leads the team in receptions, yards and touchdowns, is expected to miss three weeks while he is undergoing treatment for Compartment Syndrome – swelling in the lower leg which compresses nerves and blood vessels. Nicks was hit in the lower right leg during the Giants' 27-17 loss in Philadelphia last night. Compartment Syndrome can lead to muscle and nerve damage if not treated immediately. Nicks was undergoing a fasciotomy (a surgical procedure where the fascia is cut to relieve tension or pressure) at the Hospital for Special Surgery this afternoon to address the issue.
The 6-4 Giants, who host the 6-4 Jacksonville Jaguars on Sunday, have lost four members of their season-opening wide receiver corps to injury. Steve Smith, second on the team in receptions and yards, will miss his third game with a partially torn pectoral muscle. Ramses Barden (ankle) and Victor Cruz (hamstring) are injured reserve.
Nicks and Smith have combined for 109 catches, 1,317 yards and 12 touchdowns this season.
"You've got your top two receivers out, it's always a big blow," quarterback Eli Manning said. "But we learn how to fight, learn how to fight through it and other guys got to step up. We got to run the ball, we got to get guys open and get them keyed into what they got do and I got to play great football."
"The guys that are on the current roster will have to step up and play and play better than we did the other night," Coach Tom Coughlin said.
Who's left? Well, there's Mario Manningham, who is third on the team with 38 catches for 500 yards and second with four touchdown receptions. Derek Hagan, who was re-signed when Barden went on injured reserve last week and who caught a touchdown pass last night. Rookie Duke Calhoun, who got his first career reception in Philadelphia. And Darius Reynaud, the return specialist who has not played wideout this season and has missed the last three games with a hamstring injury.
"We just to overcome this and get better," Manningham said. "We just got to get better and got to come together as a receiving corps and got to be on the same page as an offense. I guess the wide receiver core is depending on - I don't want to say 'me' - but depending on us. We got to be big this week. We got to win this week. It's a must-win. We got to win this week." 
"You just move on," Manning said. "You adjust, you think, 'Hey, who's going to fill that spot? How are going to game plan and how are we going to go win this game?'"
Beyond the above foursome, Coughlin rules out nothing. He said the Giants will hold a tryout for receivers tomorrow. They have one on the practice squad in Samuel Giguere. Tight end Travis Beckum,, who also caught a touchdown pass last night, could play more of a receiver role. The Giants could run the ball more, though offensive linemen Shaun O'Hara (foot) and David Diehl (hamstring/hip) remain sidelined. Coughlin wouldn't rule out using safety Antrel Rolle on offense. Rolle played in the wildcat formation when he was with the Arizona Cardinals.
"We're aware of Antrel's athletic skills and as I said, we'll take everything into consideration," Coughlin said.
It's doubtful anyone player or combination of players will adequately replace Nicks, who was enjoying a breakout second season. He is tied for third in the NFL with 62 catches, he is sixth with 800 yards and tied for third with nine receiving touchdowns. Last night, he had a team-high six receptions for 65 yards.
"He's made great strides in just being a playmaker and cutting down on some of the errors," Manning said. "Hopefully, we'll get him back soon to get everybody back for the end of the season, when we need to be playing our best football."
They must first navigate the bridge that will bring them to the final quarter of the season. To do that successfully, they must get contributions from several players who were not expected to play such a vital role – or, in some cases, any role at all – as the Giants fight to be included in the NFC playoff field.
That group most prominently includes Manningham, who is suddenly cast in the role as the team's No. 1 receiver. When everyone was healthy, Smith would often raw double teams. Then it was Nicks. Presumably, Manningham will be get extra coverage from opposing defenses without them.
"No pressure," the third-year pro said. "Just keep doing what I'm doing, just getting better every week. I mean, me and Eli got to be on the same page."
Last week, Hagan was in California, working to stay in shape after being released by the Giants on Sept. 4. Then Barden fractured an ankle and suffered ligament damage in a loss to Dallas and Hagan was summoned to rejoin the team. He caught three passes for 10 yards against the Eagles, including what was then the go-ahead touchdown early in the fourth quarter. Now, Hagan, who can play all three wide receiver positions, he might start against Jacksonville.
"He's rusty, there's no doubt," Coughlin said. "He did some things on special teams that would give you the idea he was right up to par. Offensively, it's a little bit different. He needs some work there, but as far as knowing and learning, he can do that very well. He's done that before. He's been the guy that has played all three spots before."
"I have to be ready," Hagan said. "I have no choice. I want to be ready, and I know I'm ready. I've been in this offense. I know what's going on. Some people, they're not sure how great of a shape I'm in, but I know I'm in great shape. Just because I've been out doesn't mean I haven't been doing anything. I haven't just been sitting at home just sitting on the couch and not doing much. I've been out running and doing what I got to do to make sure I stay in shape. And like I said, the Giants gave me the call, I'm back and just out there trying to help this team and make plays."
Calhoun, a rookie free agent from Memphis, has been brought along slowly. He was inactive for the first three games, then played almost exclusively on special teams for five games. Calhoun stepped in for Barden as the third wide receiver vs. Dallas, but did not catch a pass until last night in Philadelphia.
Now he also might be called on to play a larger role until Nicks and/or Smith return.
"You have to take it as a positive thing," Calhoun said. "Take it as motivation and learn from it. It's football, you just have to prepare for anything. We'll prepare for it."
Tight end Kevin Boss has 21 catches this season and might be called on more often as a receiver.
"We have guys here that can step up and their roles are going to be increased and we're going to go out there and try to make the most of them," Boss said. "We (the tight ends) are going to have to be a part of the solution. Like I said, everyone is going to have to step up and I think we're going to be a part of that hopefully."
While the Giants deal with an increasing number of injuries, their season is approaching crunch time. At 6-4, they are behind Philadelphia, Atlanta, New Orleans, Tampa Bay, Chicago and Green Bay in the playoff race. Because someone must win the NFC West, at least two of those seven teams won't reach the postseason.
But a depleted roster will not affect the Giants' determination or preparation.
"They're men and they're going to have to handle this just like all of us," Coughlin said. "Everybody in this league experiences injuries and how you deal with them is as important as anything else. We'll have to do some things offensively to pull all of this under control, to be aware of what we have and what we don't have and hopefully the burden will go on – let's do a better job up front. We didn't run the ball well yesterday. We didn't create a whole lot of openings. We had one or two runs that were significant, but a lot of them were not and hopefully everybody is going to accept the challenge.
"You deal with what you have. This is the way it is. It's not going to change, but somehow, some way  you've got to put all this together, come out swinging, which I'm confident we will, without a doubt, and find a way to get yourself a win."