Q: Fractured transverse process does not sound very good, short term. Are you worried at all about it?A: I'm not worried. The diagnosis was good and they said there's no nerve damage, and no threat of nerve damage as long as I take the proper precautions on the front end, which is what we're doing right now. I've been staying off the field, wearing a little brace, and trying to do some extra core work. I'm trying to come back as soon as possible.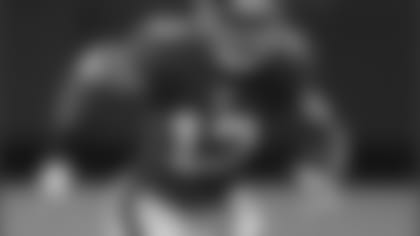 Q: Tom said yesterday that you could be back in a week, do you see yourself doing that?
A: I'm an optimist, so of course. I want to get back out there and, before the season starts, get the rhythm back and get that chemistry going again with the rest of the offense. Of course, you have to take the proper precautions. If something says, 'Slow down,' then you have to do what's smart.
Q: So they haven't given you a timetable as to when you can practice again?
A: No exact timetable. I know you guys have heard it's a pain thing, which is only semi-true. As long as it hurts, and there's pain, it's still protecting the bone. When the pain lessens, the bone is strong enough to handle it on its own. That means there can't be any further breakage or damage. Right now, we might be in that stage where it could get worse, so we're taking the proper precautions. When I can go full, I can't wait. I'm in the pool right now doing some running and swimming and trying to keep everything else strong and ready.
Q: Did it happen on a hit? A: Yes, it actually happened before the Jets game. I played through the Jets game with it. It happened from a hit in practice.
--- ](http://www.nyg2010.com/)**