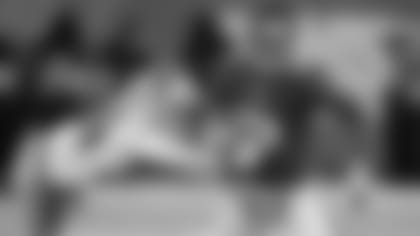 And when he was ruled out on game day, the Giants had to adjust.
That included Rueben Randle, who was bumped up to make the third start of his career and his second this season.
"I didn't know what the situation was," Randle said. "I just knew I had to prepare myself for the week, and whatever happens, happens."
Nicks missed practice to start the week but was able to go in a limited capacity, mostly in individual drills, on Thursday and Friday. Apparently, it wasn't enough.
"He didn't practice all week," Giants coach Tom Coughlin said. "We made the decision not to play him."
"He didn't practice all week, for the most part," quarterback Eli Manning said. "He maybe got a few plays in, but for the most part he did not practice, and didn't practice much on Friday. I didn't know what the circumstances were, but usually if you don't practice very much, there's a good chance you're not going to play."
In his place, Randle gained a team-high 64 receiving yards on three catches against Dallas, including a 22-yarder to convert a third-and-13 for the Giants. It led to their first points of the game, a 21-yard field goal by Josh Brown.
Nicks' absence also meant more opportunities for Jerrel Jernigan and Louis Murphy.
Jernigan tied Randle with a team-high seven targets but caught just two of them for 24 yards. Meanwhile, Murphy caught a four-yard touchdown from Manning that tied the game late in the fourth quarter after the Giants had trailed 21-6 at one point. It was just his second catch in his first season with the organization.
"Obviously, Hakeem [Nicks] is one of our star players and you like to have all of your guys out there, but hopefully we get him back healthy so that he can help us down this stretch," Manning said. "I thought the receivers and other guys did well. Rueben Randle, Victor, and Brandon Myers, we had Jernigan involved, we got Louis a touchdown, so all those guys stepped up and made some plays for us."
However, they wouldn't be able to generate enough offense for a team that was tied for 28th in scoring heading into Sunday's loss to the Cowboys.