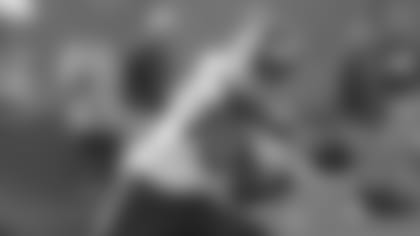 Q: The dropped ball looked like it was just a matter of turning too soon.
A: Yeah. I got anxious and I tried to make a move before I actually caught the ball and I just turned my head for that quick second and it happened that fast that it just slipped out of my hands.
Q: Is that part of the thing with making a catch inside? That you have to think about who's around you it's so crowded?
A: Yeah, definitely. Especially on intermediate routes and stuff like that. As soon as you catch it, you know somebody is going to be coming or is going to be close to you. You have to make a quick move and get as many yards up field as you can.
Q: So you just have to fight that urge to move?
A: Exactly. Catch it first always. Always catch it first and move later.
Q: Do you worry after a drop that Eli's not going to have faith in you?
A: Not really, no. Eli trusts us and he talks to us all of the time, even in the meeting room and stuff like that. As long as he's going through coverages and he reads it out and if we're open, he's going to throw us the ball. He has enough trust in us that he's going to expect us to make plays and throw it to us when we're open.
Q: Any nerves out there in your first regular season game?
A: Not really. I felt pretty natural out there. Right after that drop, I was on punt coverage and I was so upset that I felt like I had to make a play and then I came down and made that tackle. It felt good just to be out there, it felt normal, it felt casual. Those preseason games really helped a lot as far as getting my comfort level up and stuff like that. I felt pretty good out there.