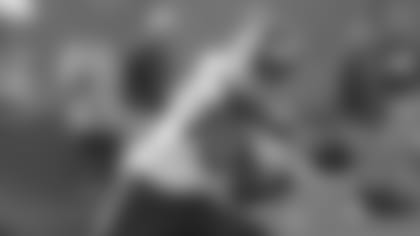 Q: Do you look at this as an opportunity for you?
A: Yeah. When someone in your room goes down you always have to be ready and be prepared to step up and make plays and show the coaching staff that you're ready to play and that they can trust you and that you can be a guy that can be held accountable when he's in there.
Q: How does it make you feel?
A: It feels good, obviously, to go up and know you have an opportunity to get some real playing time this week and make a difference in the game. The other part of me feels really awful for Domenik [Hixon] because coming from last year and then having such a great game [Monday], had an unbelievable catch and then to get the bad news today, it's tough. You just have to, like I said before, be ready to play and go in there and be responsible and understand what you have to do to help this team win.
Q: Will it be good to have a big game against the Eagles?
A: Yeah definitely, especially stemming from how we played them last year and we kind of gave that up at the end. You always want to come in and play your best and hopefully we can come out with the win.