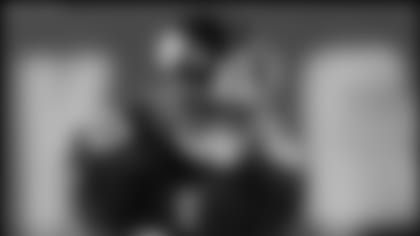 Q: What are your impressions of David Wilson? Everybody raves about his speed. What do you see when you see David?A: I definitely see his speed. I see his explosiveness. I see just a unique ability to change gears and directions at the drop of a dime. He's going to be exciting to watch. I'm excited for when we get the pads on and goes full go. I'm excited to see him play.
Q: Does he add a nice compliment to what you already have? To the stable of running backs that you have?A: Definitely. He's a great compliment. He's going to improve our stable. I think he's going to come in and make an immediate impact.
Q: You made a catch earlier in practice yesterday. You heard those chants from 80,000 people but just to hear it again in a new season, is it fun?A: It's refreshing. Not initially when I caught it, people were going to do it in training camp. It came out and it's always a good feeling just to know that the fans love you and your signature chant. It was cool to hear. I just want to keep it going. Keep on making plays. And keep on giving the fans reasons to chant my name. 
Q: There's no dancing allowed.A: No. My teammates and coaches are not having that in training camp.
Q: What were your thoughts on day one? The energy? The enthusiasm? What were your thoughts on how it went?A: I feel like it went well. I feel like everybody was geared up ready to go. I feel like everybody was excited to begin the year and the practices. I feel like as a receiving corps, we went really well. We made a lot of plays. As a team in general, we just felt like everybody was out there just ready to go. It was a good feeling and it was a good start to training camp.
Q: It seems on day one, on a play like you made the first catch, your feet go out from under you, you're down on the ground… It'd be easy to blow it off and say well I'm not catching that one. Why?A: It just goes back to my way of thinking and my way of playing to just catch everything and I'm never down and out. I always wanted to be able to catch the football no matter what happens throughout the route. I want to be able to get my hands on it and make the play. On that instance, I was able to get my balance back to put my hands on the ball and make the play. That's what I want to continue to do is just keep playing football and fighting to the very end and keep making plays. 
](http://www.gopjn.com/t/R0BKRklDSEBLRkVESEBISEtERw)