10: The number of times the Giants have faced the Chargers in team history, with the series split at 5-5. The Chargers have won the last two meetings in 2005 and 2009. Big Blue last won in 1998 by a score of 34-16 at Qualcomm Stadium.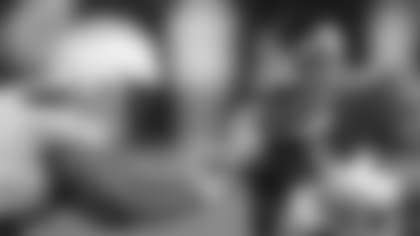 Know Your Opponent: Chargers 9: Earnest Gray caught nine passes in a 1983 home game against the Chargers, the most by any Giant in series history. John Mistler (1983) and Steve Smith (2009) are tied for second with eight.
8: The Giants have not won on the road against eight teams in the NFL under Tom Coughlin, including San Diego, albeit one trip. The others are Baltimore (0-2), Cincinnati (0-2), Cleveland (0-1), Denver (0-1), Indianapolis (0-1), Jacksonville (0-1), and Tennessee (0-1).
7: Despite the all-time series being tied, the winner has won by at least 10 points in seven of the meetings. The only times the victor didn't win by double digits were 1983, 1989, and 2009.
6: The Chargers rushed for 268 yards against the Giants in 2005, the sixth-most by any team against New York in franchise history. Meanwhile, the Giants have rushed for more than 100 yards six times against the Chargers, including a series-high 165 yards in 1975.
5: The Giants intercepted Chargers quarterback Dan Fouts five times in a 1986 victory, their most in series history. Terry Kinard and Kenny Hill each had two for Big Blue while Mark Collins had one.
4: The number of trips to Qualcomm Stadium, where the Giants are 2-2 all-time against the Chargers. Their two victories came in back-to-back trips to San Diego in 1989 and 1998.
3:** Charlie Evans rushed for three touchdowns in a 1971 victory over the Chargers, the most in series history and one off Rodney Hampton's franchise record for most in a single game (Hampton had four against New Orleans in 1995).
2: The longest winning streak that either team had over the other is two games. The Giants won two in a row in 1971 and 1975 and again in 1986 and 1989. Meanwhile, the Chargers won back-to-back meetings in 1980 and 1983 and again in 2005 and 2009.
1: The number of times Eli Manning has played in San Diego, the city of the team that initially drafted him in 2004. The Giants traded for the first overall pick on draft day in a deal that included fellow first-round quarterback Philip Rivers, who remains the Chargers' starter. The Giants lost the game 45-23 despite Manning throwing for 352 yards, two touchdowns and no interceptions.