10:** The number of 50-yard field goals Ali Haji-Sheikh attempted in his Giants career, including a successful 56-yarder in 1983 against Detroit that remains tied for the longest in Big Blue history. Six weeks prior, Haji-Sheikh made one from the same distance in a victory over the Packers.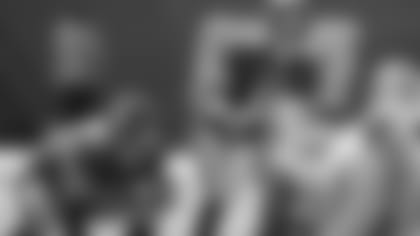 Know Your Opponent: Lions 9: The number of first overall draft picks since Eli Manning went No. 1 in 2004. Of those, Detroit's Matthew Stafford and Indianapolis' Andrew Luck are the only two Manning has never faced (Stafford did not play in the 2010 meeting). Manning and the Giants are 8-4 against the others combined (Alex Smith, Mario Williams, JaMarcus Russell, Jake Long, Sam Bradford, Cam Newton, and Eric Fisher).
8: The number of road wins the Giants have over the Lions in franchise history. They are 8-12-1 as the away team but have won the last four times in Detroit (1988, 1996, 1997, and 2007).
7: The number of 0-0 ties in Giants history, most recently happening in a 1943 stalemate at Detroit.
6: The number of completed passes the Giants and Lions each had in a 1958 meeting. They are the fewest by either team in series history as the Giants prevailed 19-17. New York's Charlie Conerly and Don Heinrich each completed three passes while Detroit's Tobin Rote went 6 of 15 for 32 yards, a touchdown, and two interceptions.
5: The Giants notched five interceptions by five different players in a 1996 victory over the Lions, the most in series history. Tito Wooten, Maurice Douglass, Corey Widmer, Ray Agnew, and Willie Beamon had one apiece.
4: The longest winning streak by the Giants over the Lions is four games, stretching from 1988-1994 by a combined score of 87-34. However, the Giants trail the all-time series 20-19-1 in the regular season.
3: The number of shutouts New York has over Detroit, most recently in 1990 when Pepper Johnson and Lawrence Taylor each had 1.5 sacks and Phil Simms threw for two touchdowns en route to a 20-0 victory. The others were 1943 and 1931, when the Lions were still the Portsmouth Spartans.
2: Eli Manning is 2-0 against the Lions, notching a road victory in 2007 and a home one in 2010. He has thrown three touchdowns and zero interceptions with a 69.6 completion percentage and a passer rating of 102.3.
1: The franchises have met once in the postseason when Detroit spoiled New York's bid for back-to-back NFL Championships in 1935. The Lions won 26-7 at University of Detroit Stadium, a year after the Giants beat the Bears for the 1934 title known as "The Sneakers Game." Detroit's victory was the first of four NFL Championships for the franchise.