Week 3:at Carolina **Series Record: Regular season: Giants lead 4-3; Postseason: Panthers lead, 1-0
10. The number of receptions North Carolina native Hakeem Nicks has against the Panthers in two career games. Nicks missed last season's matchup in his home state due to injury but had three touchdowns in his previous game against Carolina in 2010.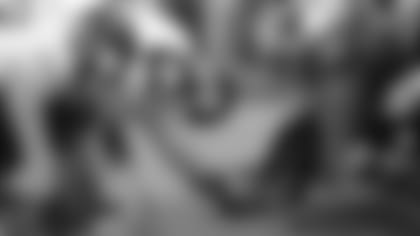 Know your opponent: Panthers](http://www.giants.com/photos/photos/Know-Your-Opponent-Carolina-Panthers/150dd267-5ef9-4ad7-b721-2898a3ecd6dd) 9. The number of touchdowns Eli Manning has thrown against the Panthers in six meetings, including the postseason. Manning is 4-2 against Carolina, completing 120 of 186 passes for 1,313 yards with nine touchdowns and eight interceptions.
8. The number of seasons linebacker Chase Blackburn, the Giants' leading tackler last year, spent with the Giants before signing with the Carolina Panthers in 2013. He wasn't the only player/administrator to move from New York to Carolina this year. Wide receiver Domenik Hixon and new Panthers general manager Dave Gettleman did as well after helping the Giants win two Super Bowls in their tenures.
7. The number of meetings between the two franchises in the regular season. The Giants lead the series, 4-3, but lost their only playoff matchup 23-0 in the Wild Card round of the 2005 season.
6. The number of yards and rushes the Giants held Carolina quarterback Cam Newton to in Week 3 of last season. Newton ran for 71 yards the previous week and 86 the following game en route to his second-straight season of more than 700 rushing yards.
5. The Giants put up the fifth-best rushing total (301 yards) in franchise history against the Panthers on Dec. 21, 2008. The 34-28 overtime triumph in Giants Stadium clinched home-field advantage for the Giants throughout the NFC playoffs.
4.** The Giants have turned the ball over at least four times in four regular-season games against the Panthers, 17 total. However, they did not turn the ball over once against them last season.
3. The number of interceptions thrown by Cam Newton last season against the Giants, coming at the hands of three different defenders. Safety Stevie Brown, cornerback Jayron Hosley, and former Giants linebacker Michael Boley each picked off the quarterback in New York's 36-7 victory.
2. The number of seasons it took the 1995 expansion teams -- the Carolina Panthers and Jacksonville Jaguars -- to make the playoffs. Tom Coughlin took the upstart Jaguars to the AFC Championship Game in 1996, the same year the Panthers fell in their conference title game. Coughlin was 2-0 against the fellow expansion team in his eight years as the head coach of the Jaguars.
1. Sunday will pit two former No. 1 overall draft selections from SEC schools against each other at the quarterback position. Eli Manning was the top pick in the 2004 NFL Draft out of Ole Miss, seven years before Cam Newton was chosen first by the Carolina Panthers out of Auburn.
[
VIEW GIANTS EARLY INJURY REPORT](http://www.giants.com/news-and-blogs/Early-Injury-Wednesday/article-1/Early-Giants-Injury-Report/ba42c925-5e02-4946-a3a5-0dbeabe52e8b)