10.** In his 10th season with the Giants, Tom Coughlin has just one Week 10 victory, coming at Philadelphia in 2008. The Giants are 1-7 (in addition to a bye) in the 10th week of the season under their head coach.
---
RELATED NEWS
Power Rankings
Where to the Giants rank in the latest NFL Power Rankings...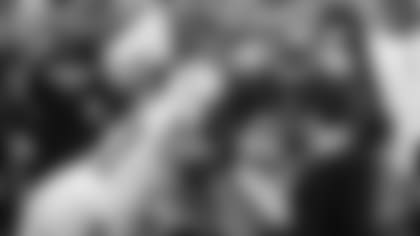 Know Your Opponent: Raiders Roster 9. The number of passing touchdowns in Giants history against the Raiders, the fewest against any opponent that New York has faced more than nine times.
8. The number of times the Giants have recorded at least 40 rushing attempts under Tom Coughlin, including their most recent meeting with Oakland. They ran the ball 41 times for 220 yards in a 44-7 victory in 2009.
7. The number of Super Bowl titles between the two franchises. New York has four: 1986, 1990, 2007, 2011. Oakland/Los Angeles has three: 1976, 1980, 1983.
6. New York is 6-3 coming off their bye week under Tom Coughlin. The Giants, who took their break last week, will try to improve that record when they host the Raiders.
5. The Giants have lost five straight games to AFC opponents – the most under Tom Coughlin -- stretching back to last season. The Giants' drought came off a Coughlin-best seven-game win streak against the opposing conference, dating from 2010-2012.
4. The number of teams Eli Manning has never thrown an interception against, including the Oakland Raiders. The others are Detroit, Miami, and San Diego.
3. Ahmad Bradshaw and David Carr combined for three rushing touchdowns against the Raiders in 2009, tying a Giants record for most in a game vs. Oakland/LA. Coincidentally, another running back and quarterback combo of Ottis Anderson and Phil Simms rushed for the same total in 1989.
2. The Giants have won two straight games (2005 and 2009) against the Raiders by a combined score of 77-28. New York also won two straight in 1986 and 1989 when the Raiders were located in Los Angeles. The Giants are 4-7 all-time against the Raiders and have never met in the postseason.
1. Eli Manning has once achieved a perfect passer rating of 158.3 in his career. It came against the Oakland Raiders in 2009, when he played only five series of the game and completed 8 of 10 passes for 173 yards, two touchdowns and no interceptions.